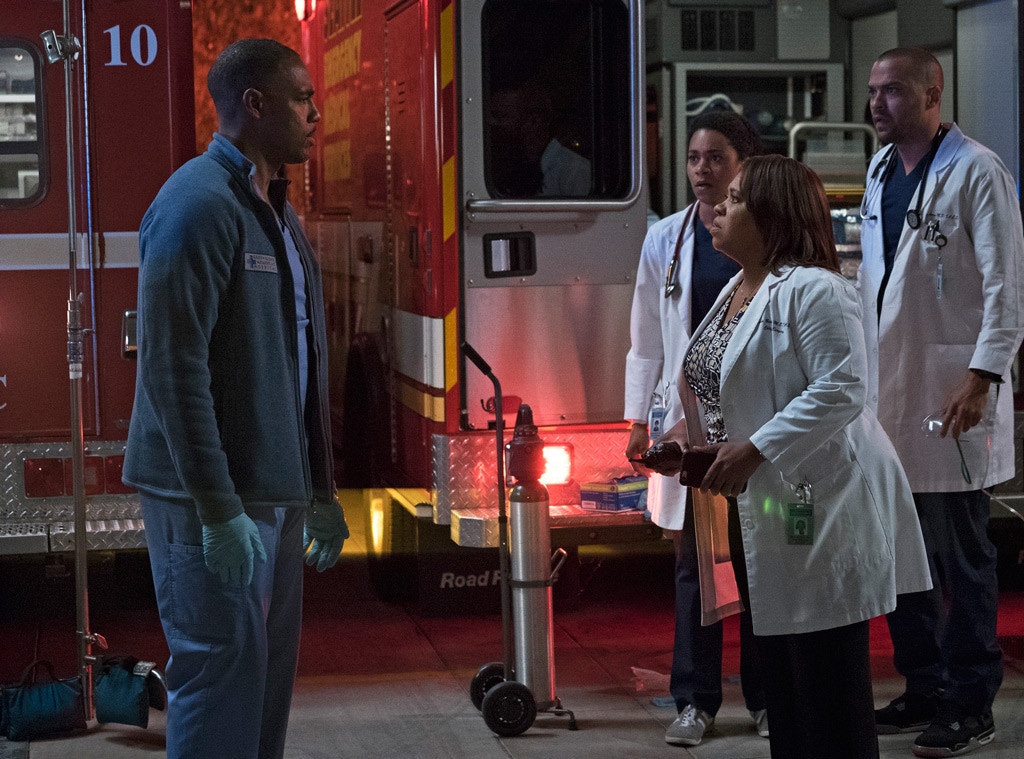 ABC
The upcoming Grey's Anatomy spinoff may still be untitled, but what the show will look like when it joins the TGIT lineup this March is coming into view.
The cast of the Seattle firehouse-set drama, along with the producers, appeared before journalists during ABC's day at the 2018 TCA Winter Press Tour, where they fielded questions about how the series will fit into the larger Grey's Anatomy universe and how often we might expect to see characters from Grey Sloan Memorial mixing it up with the first responders Ben Warren's (Jason George) chosen to work with as he gives up being a surgeon.
"It'll be similar and different. It was a priority for me in thinking about this as a Grey's Anatomy spinoff that it works hand-in-hand with Grey's and was similar in both tone and intensity and humor and heart," executive producer and showrunner Stacy McKee explained. "But there's also an added element to this show that a hospital setting doesn't allow which is that most of our characters are on site and in the middle of action sequences, so there's a certain level of adrenaline and energy that comes with that that you don't necessarily find in the same way at Grey's. You find it in different ways. So, to me, it's very similar in tone and spirit, but also a little bit different as well."
"We want the Grey's Anatomy fans to love this show the way they love Grey's. We want them to be comfortable," fellow exec producer Paris Barclay added. "It's like having dinner at your uncle's, but your mother's still cooking."
Now about those potential crossovers. With the show airing immediately after Grey's Anatomy each week in the 9 p.m. time slot, and with the firehouse noted as being just three blocks away from Grey Sloan, it seems only natural that the world will collide. How often, though? "It all depends," McKee said. "The great thing about it is that we exist in the same universe, so there's definitely the potential to have people or places, in small ways or big ways, and we're excited about all of those possibilities."
"So you've got to watch every episode because you never know who's going to show up," George added.
The series follows George's character as he enters into this latest phase of his career, becoming the rookie in a firehouse populated, in typical Shondaland fashion, with a group of attractive and diverse first responders. Why was Ben Warren the perfect character to spinoff from the mothership? "His character seemed like such an organic character to transition into the spinoff especially once we settled on the idea of firefighting and a fire station," McKee revealed. "If you follow Ben Warren as a character, he has changed careers a couple of times and he always goes after the thing that he thinks will satisfy himself the most in the moment. And he's never satisfied if he's stuck somewhere that isn't fulfilling him. So, it just felt like a really organic, natural transition. Plus he was playing with fire in the finale of Grey's last season."
George may be the familiar face, but it's Jaina Lee Ortiz who takes the lead with the Meredith Grey-like main character Andy Herrera. And as the Rosewood alum admitted, she's thrilled at the opportunity to become Shondaland's latest leading lady. "It feels amazing as a female, especially a Latina, because we don't often see too many Latinas getting shows nowadays. Just to have this honor is fantastic," she gushed. "I mean, we're under the Shondaland umbrella, so females are going to be at the forefront, whatever race, age, size. I'm just happy to be a part of it." 
The untitled Grey's Anatomy spinoff premieres with a special two-hour episode on Thursday, March 22 at 9 p.m. on ABC.