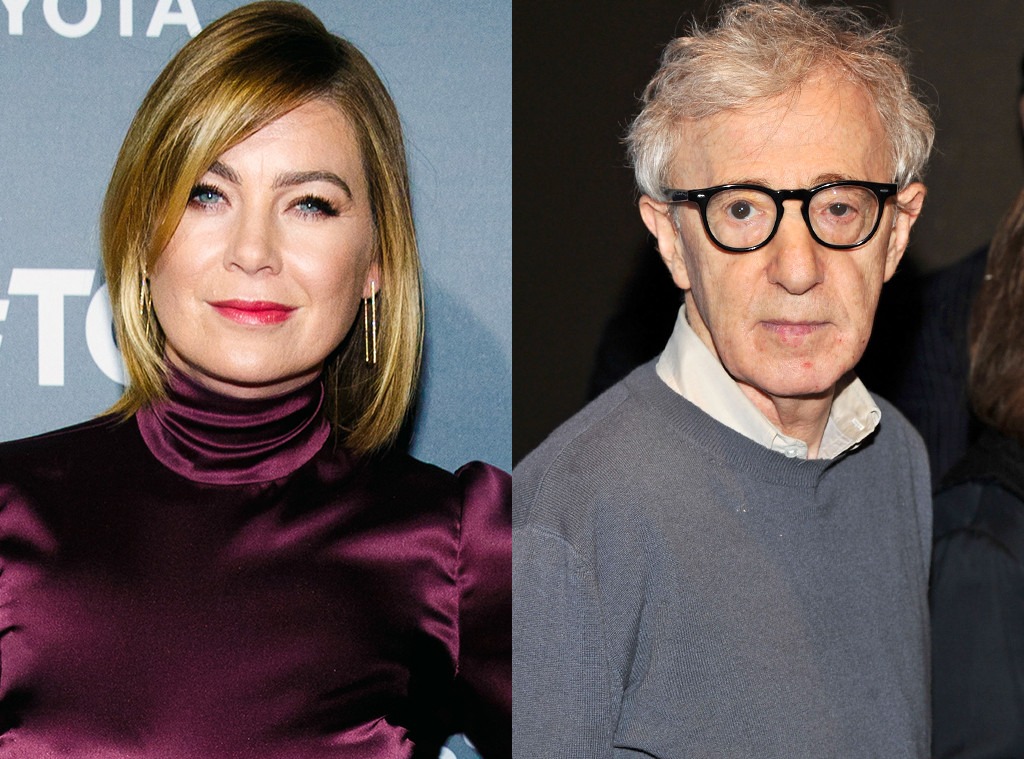 Getty Images
Ellen Pompeo took to Twitter on Friday to slam Woody Allen over his controversial relationship as public discourse over alleged sexual misconduct by powerful men continues to rise.
The Oscar-winning director, who famously married Soon-Yi Previn, who his ex Mia Farrow had adopted as a child, has not responded. Pompeo had made her comments days after Woody's estranged adoptive daughter Dylan Farrow, who has accused him of past sexual abuse, criticized Blake Lively for working with the director, in a response tweet to the actress' endorsement of the anti-sexual harassment Time's Up fundraising campaign.
On Friday, Ellen tweeted she was "shocked" by the "people that work with this man." She also wrote that "he married his daughter...people see what they want to see or don't...Kind of hard not to see who this fool is."
When a user voiced criticism about how some people "separate the professional from the person," the actress responded, "You know what I call that?? Ducking predators and chasing trophies...it's WEAK AF."
Woody has defended his relationship with his wife and has denied Dylan's claims of abuse. He has never been charged with a sex crime. 
Woody and Mia split in 1992, when she discovered nude photos of then-21-year-old Soon Yi, her adopted daughter, at his apartment. They were presented in court during the former couple's custody battle over Dylan and sons Moses and Satchel, now known as Ronan Farrow, who has also spoken out against the director.
Woody testified that he took the nude photos of Soon-Yi at his home about two weeks after he first had sex with her, the New York Times reported. He also said she was the one who suggested that he take the pictures and said he did not consider them to be pornographic, but rather "graphically erotic," according to UPI.
Allen wed Soon-Yi in 1997.
In 1992, she told Time magazine and Newsweek that she never considered him a father figure. She told Time her relationship with Woody changed "when I was 20 and he had no one to go to a basketball game with and I wanted to see one" and that by that time, he and Mia were "long done, and they were going through the motions."
In 2011, when asked if he thinks America is ready to forgive him for his "past scandals," Woody told Reuters, "What was the scandal? I fell in love with this girl, married her...There was no scandal, but people refer to it all the time as a scandal and I kind of like that in way because when I go I would like to say I had one real juicy scandal in my life."
During her Twitter spree, Ellen also criticized Woody over the casts of his films.
"And while we're on the subject & I'm fired up has this fool ever put one poc in any of his movies ever?" tweeted Ellen, whose show Grey's Anatomy is known for its diverse cast. "I wouldn't know because I don't watch that bougie s--t."
"What about Hispanic or Asian actors? Or are Asians only for him to molest? You know me when I get started," Ellen continued.
A Twitter user then pointed out to Ellen that Spanish actress Penelope Cruz won an Oscar for her role in Woody's movie Vicky Cristina Barcelona.
"Wow okay one... good for him," Ellen replied.
The actress' Twitter spree spurred another user to jokingly compare her to late wrestling legend "Rowdy" Roddy Piper.  
On Saturday, after her tweets went viral, many pondered if Ellen posted them while drunk.
"I was 100 percent sober clear as a bell," she wrote on Saturday.
Dylan retweeted several of Ellen's tweets.
"Ellen, thank you," she wrote.