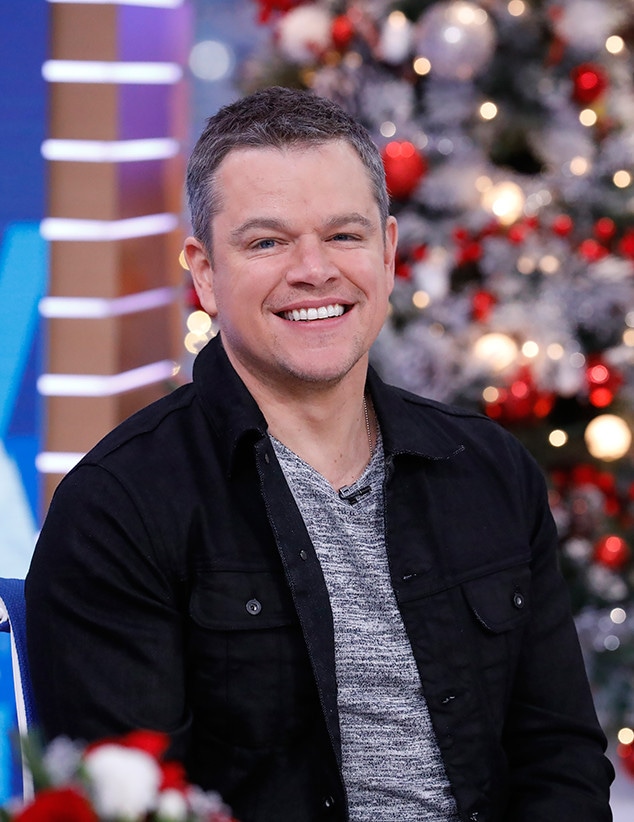 Heidi Gutman/ABC
UPDATE: Matt Damon's ex-girlfriend and Good Will Hunting co-star Minnie Driver and actress Alyssa Milano, who helped make the #MeToo movement popular, both shared their thoughts on the actor's latest comments.
"God God, SERIOUSLY?" Driver wrote on Twitter after quoting an article about Damon's latest interview. "Gosh it's so *interesting how men with all these opinions about women's differentiation between sexual misconduct, assault and rape reveal themselves to be utterly tone deaf and as a result, systemically part of the problem( *profoundly unsurprising)."
Milano wrote on Twitter, "Dear Matt Damon, It's the micro that makes the macro. We are in a 'culture of outrage' because the magnitude of rage is, in fact, overtly outrageous. And it is righteous. I have been a victim of each component of the sexual assault spectrum of which you speak. They all hurt. And they are all connected to a patriarchy intertwined with normalized, accepted—even welcomed—misogyny."
"We are not outraged because someone grabbed our asses in a picture," she continued. "We are outraged because we were made to feel this was normal. We are outraged because we have been gaslighted. We are outraged because we were silenced for so long. There are different stages of cancer. Some more treatable than others. But it's still cancer. Sexual harassment, misconduct, assault and violence is a systemic disease. The tumor is being cut out right now with no anesthesia. Please send flowers. #MeToo."
_________
In Wednesday's episode of ABC News' Popcorn With Peter Travers, Matt Damon shared his views regarding the wave of sexual misconduct allegations in Hollywood—and in doing so, opened himself up to widespread criticism. As more people come forward to expose their abusers, the actor said, "I think we're in this watershed moment. I think it's great. I think it's wonderful that women are feeling empowered to tell their stories—and it's totally necessary."
That being said, Damon argued there is "a spectrum of behavior" to take into consideration. "You know, there's a difference between, you know, patting someone on the butt and rape or child molestation, right?" the Downsizing actor told Peter Travers. "Both of those behaviors need to be confronted and eradicated without question, but they shouldn't be conflated, right?" In the case of Al Franken, for example, he would have "preferred if they had an Ethics Committee investigation." But, Damon argued, "We are so energized to kind of get retribution."
"We live in this culture of outrage and injury, and, you know, we're going to have to correct enough to kind of go, 'Wait a minute. None of us came here perfect.' You know what I mean?"
Damon then cited several disgraced public figures to make his point.
Vince Bucci/Invision for the Television Academy/AP Images
Admitting he doesn't "know all the details" about Louis C.K., who recently apologized for exposing himself to at least five women in professional settings, Damon said, "I don't do deep dives on this, but I did see his statement." (C.K. also confirmed he had masturbated in the presence of some of those women.) Still, Damon found the comedian's response "arresting" and believes he deserves another chance: "When he came out and said, 'I did this; I did these things; these women are all telling the truth,' I just remember thinking, 'Well, that's the sign of somebody who...well, we can work with that.'" Damon worries that "the clearer signal to men and to younger people is [to] deny it, because if you take responsibility for what you did, your life's going to get ruined. I mean, look, as I said—all of that behavior needs to be confronted, but there is a continuum. And on this end of the continuum where you have rape and child molestation or whatever, you know, that's prison. Right? That's what needs to happen. OK?"
On the other side of the continuum, the actor said, "We can talk about rehabilitation and everything else. That's criminal behavior and it needs to be dealt with that way. The other stuff is just kind of shameful and gross...I don't know Louis C.K.; I've never met him. I'm a fan of his, but I don't imagine he's going to do those things again. You know what I mean?" (After C.K. publicly apologized, The Orchard shelved I Love You, Daddy indefinitely, and FX and Netflix cut ties with him altogether.) "I imagine the price he's paid at this point is so beyond anything that he..." Damon said. "I just think we have to start delineating between what these behaviors are."
Franken, meanwhile, made a "terrible joke" when he was photographed groping Leeann Tweeden in 2006, Damon argued. "It's not funny. It's wrong and he shouldn't have done that."
Damon then brought up Harvey Weinstein, whom multiple women have accused of sexual assault and rape; the producer's lawyers strongly deny every allegation of nonconsensual sex.
("Mr. Weinstein has never at any time committed an act of sexual assault, and it is wrong and irresponsible to conflate claims of impolitic behavior or consensual sexual contact later regretted, with an untrue claim of criminal conduct," Weinstein's attorneys recently told E! News in a statement. "There is a wide canyon between mere allegation and truth, and we are confident that any sober calculation of the facts will prove no legal wrongdoing occurred.")
Regarding the dozens of allegations made against Weinstein, Damon said, "There are no pictures of that. He knew he was up to no good. There's no witnesses. There's no pictures. There's no braggadocio. So, [C.K., Franken and Weinstein] don't belong in the same category."
As for Weinstein, he said, "A lot of people said, 'Well, Harvey—everybody knew.' As you were saying, that's not true. Everybody knew what kind of guy he was in the sense that if you took a meeting with him, you knew he was tough and he was a bully, and that was his reputation. And he enjoyed that reputation, because he was making the best movies out there." Regarding rape claims, he said, "Nobody who made movies for him knew...Any human being would've put a stop to that, no matter who he was. They would've said absolutely no. You know what I mean?"
Though he's worked with Weinstein several times, Damon said he tried to keep his distance. "I knew I wouldn't want him married to anyone close to me. But that was the extent of what we knew, you know? So, that wasn't a surprise to anybody," he said. "When you hear 'Harvey this, Harvey that'—I mean, look at the guy! Of course he's a womanizer. I don't hang out with him."
As more people share their stories of sexual assault and harassment, Damon said, "I think the day of the confidentiality agreements is over. I think it's just completely over. Ten years ago, you made a claim against me and I had a big movie coming out, OK? I have $100 million, or I have a movie that is personally important to me coming out, and close to the release of that film, you say, 'Matt Damon grabbed my butt and stuck his tongue down my throat.' We would then go to mediation and organize a settlement. I'd go, 'I don't want this out there. Peter's going to go out and talk to the press and run his mouth, and it's going to be overshadowing the opening of this movie. How much money do you want?' The lawyers would get together, and they do this cost-benefit analysis, and they'd go, 'Oh, this is what it's worth.' And I look at the number and go, 'OK, I'll pay it, but you can never talk about this again. You're f--king lying about this, but never talk about this again.'" Because of social media, everything is different. "The moment a claim is made—if you make that same claim today to me—I would be scorched earth. I'd go, 'I don't care if it costs $10 million to fight this in court with you for 10 years; you are not taking my name from me. You are not taking my name and my reputation from me. I've worked too hard for it. And I earned it. You can't just blow me up like that.' Once a claim is made, there will no longer be settlements. That's my prediction, just based on what I've seen."
"Isn't that a good thing?" Travers asked, noting many women had been unable to share their stories because of nondisclosure agreements. "One hundred percent," Damon replied, adding that "every woman who's coming forward with one of these stories needs to be listened to and heard." As Damon talks to more of his female colleagues, he admitted, "I can't think of any of them who don't have a story at some point in their life, and most of them have more than one."
After the interview with Travers aired, The New York Daily News criticized Damon's comments as "tone-deaf," Vulture argued the actor's opinions were "bad" and The Telegraph called it a "car-crash interview." AV Club, meanwhile, said the actor's "response carries the fire-and-brimstone fury of a nice guy who sees the destruction of his personal reputation as one of the worst things that could possibly befall a Hollywood hopeful." As the backlash against Damon continued to grow, one Twitter user simply wrote, "In 2018, Matt Damon should be cancelled."