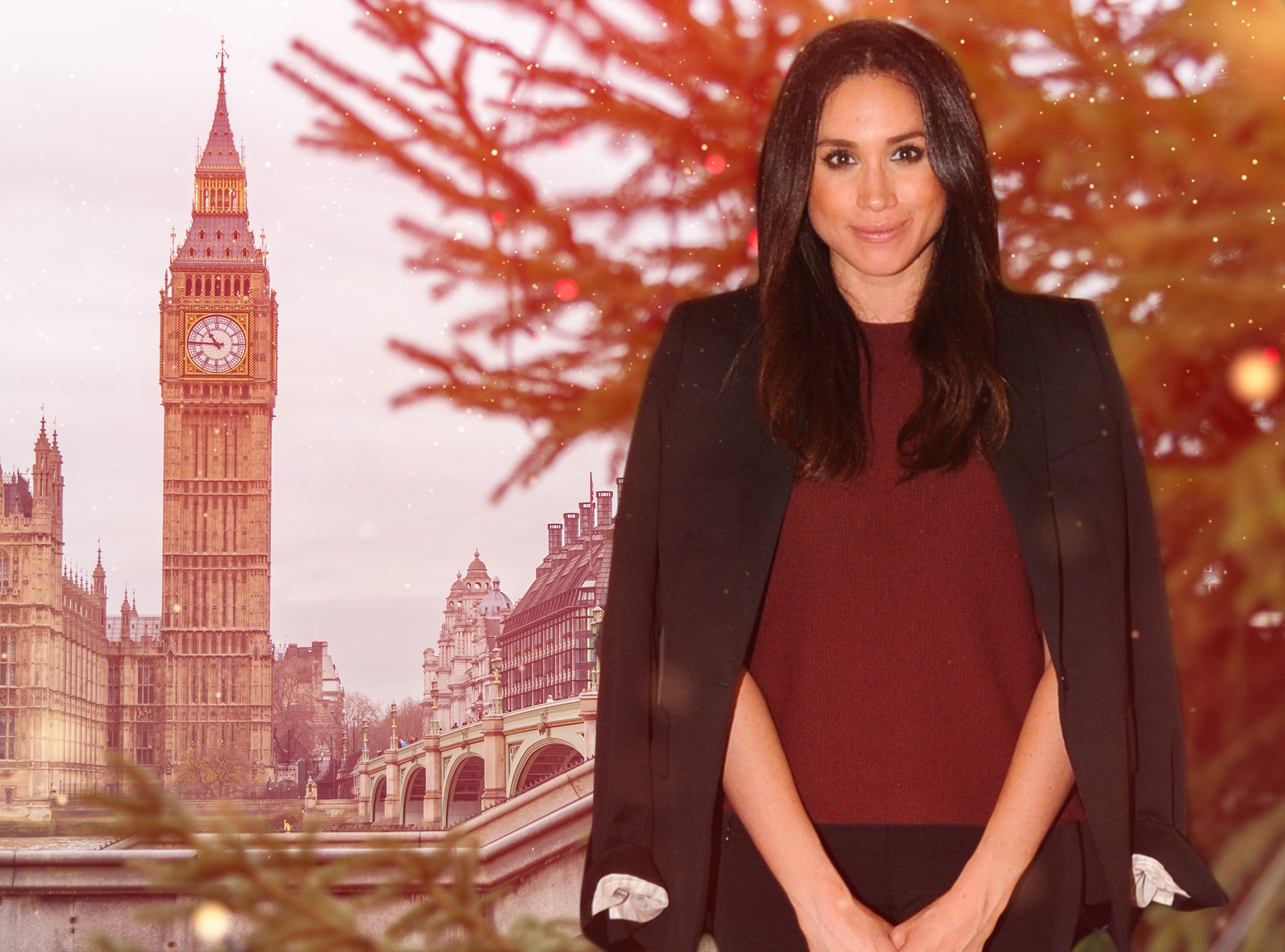 Getty Images/E! Illustration
As Meghan Markle prepares for her first Christmas with the royal family, what she can expect sounds pretty much like a holiday movie come to life. 
The Suits alum and future bride is gearing up to join her fiancé, Prince Harry, and his famous relatives for Christmas this year. As a Kensington Palace spokesman confirmed to reporters earlier this week, "You can expect to see the Duke and Duchess of Cambridge, Prince Harry and Ms. Markle at Sandringham on Christmas Day."
As is traditionally the case, Queen Elizabeth II and her family will join the congregation for a morning service at St Mary Magdalene Church at her private Sandringham estate in Norfolk on December 25. The Sunday Times also reported Markle will join the family for Christmas Eve as well, though that has not been officially confirmed. Nevertheless, the occasion is a particularly notable one considering the 36-year-old is the first fiancée to celebrate the holiday with the royals.
While being a newcomer to any family can be intimidating, Markle has plenty to prepare for as she embarks on her first official holiday royal-style. As such, there are decades of tradition and routine to be aware of. Whether she's joining her future relatives for solely Christmas day or the eve as well, here is a breakdown of what is in store: 
Jeremy Selwyn/Evening Standard/PA Wire
Eating the Royal Way
On Christmas Eve, festivities begin in the White Drawing Room at Sandringham, where guests meet to exchange presents and decorate a tree. Of course, no British holiday celebration would be complete without tea and treats. Scones, sandwiches and cakes are usually among the snacking options. Afterward, guests change into their formal wear and head to dinner. Post-Christmas mass, the royals enjoy a traditional roast turkey lunch buffet back at Sandringham. 
All Dressed Up
Markle should not pack lightly if she's staying for the weekend. With formal dinner for Christmas Eve and church in the morning, a number of outfits will be needed. If her previous appearances have been any indication, no style will be spared!
Bedside Goodies
On Christmas morning, royals wake up to a stocking filled with small gifts and fruit at the foot of their bed.
Eddie Mulholland/Daily Telegraph/PA Wire
TV Time
An annual tradition is for everyone to sit down and watch the queen's speech on television—yes, good 'ol TV—after lunch. Following the speech, the royals enjoy another round of afternoon tea paired with traditional Christmas desserts like chocolate yule logs.  
What to Get the Woman Who Has Everything
Markle certainly will not want to show up empty-handed. When shopping for a gift for Queen Elizabeth II, the actress may want to take note of her future sister-in-law's strategy: making something. For her own first Christmas in the family, Duchess of Cambridge Kate Middleton made a jar of her grandmother's chutney. "I was worried what to give the Queen as her Christmas present. I was thinking, 'Gosh, what should I give her?," the Duchess said in an interview for ITV's Our Queen at Ninety documentary. "I was slightly worried about it, but I noticed the next day that it was on the table."
An Eye for Detail
Unlike other regular households, the presents won't be mixed all around the living room. Instead, presents are usually organized on a white linen-covered trestle table with name cards to indicate who gets which gift.