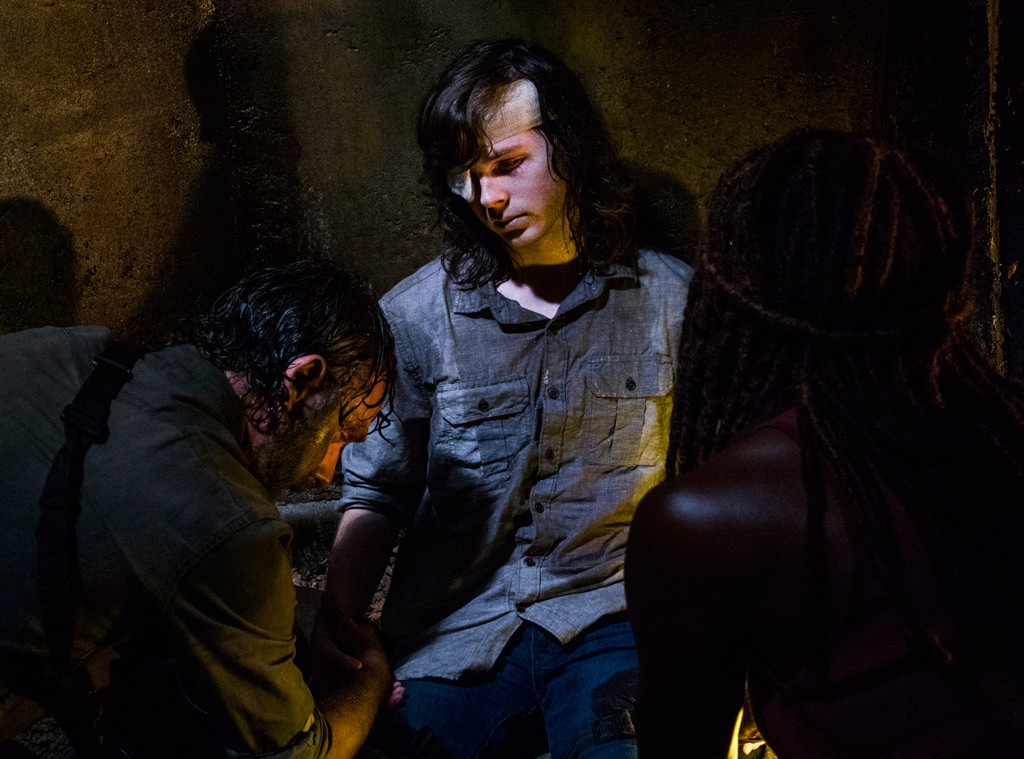 AMC
Well, we clearly didn't see that coming.
Heading into The Walking Dead season eight's midseason finale, we were certain that someone with a penance to pay would settle their debts with their life (coughEUGENEcough), so imagine our surprise as we watched poor Carl (Chandler Riggs) reveal to a horrified Rick (Andrew Lincoln) and Michonne (Danai Gurira) that, after single-handedly keeping the people of Alexandria out of Negan's line of fire, he'd been bitten on the ribs, all but guaranteeing the kid's death. Not only was the death incredibly unexpected, but it also marks one of the biggest departures from the source material that the producers of the AMC hit have scripted yet. 
With the character still alive and kicking in the comic books, even Riggs was left stunned by showrunner Scott M. Gimple's decision to kill him off. 
"I found out when I was doing rehearsals for episode six back in June. It was quite the shocker for me, Andy and everyone because I don't think anyone saw it coming," Riggs told The Hollywood Reporter. "Scott wanted to meet in person because it was such a big deal. We had just finished rehearsing for a scene in episode six and he wanted to meet with me and my mom and dad and talk about what's going to happen."
The young actor, who just bought a house in Senoia, Ga. near where the show films, admitted that Carl still has some story left in him. (After all, he does still have to actually die.) And even though this is the end, he's happy with how the character met his demise. "He was the reason that they all got to safety—because he stalled the Saviors and diffused them from finding any Alexandrians with his smoke grenades and he led them away from everyone and saved everyone," he said. "It was a pretty cool way to go out."
Leading man Lincoln was equally stunned when he learned that he'd be outliving his on-screen son. "My first reaction was silence. Scott Gimple called me up and said, 'You're going to hate this one.' He's very good about alerting the cast when there's going to be a [character] death. I tried guessing four times and was nowhere near Chandler Riggs' name," he told THR. "Scott had to say that it was Carl. I just didn't speak for a minute. I always thought Carl was going to be the one who led the show forward; that Rick would hand over his boots and revolver when he walked off into the sunset in season 28."
While Gimple hasn't defended his decision publicly yet, he did appear on Talking Dead immediately afterwards to shed some light on what happens next.
"That is a bite on his side.… It will play out as bites play out on the show," he said on the aftershow. "It's very important to Carl's story and the entire story, what happens in the next episode. I'm just focused on the fact that Carl right now is alive and he has some business to attend to. That is a one-way ticket. But I'd like to think that the things we see in the next episode are so important to his life and the other characters' lives."
Of course, this isn't the first time the show has wildly veered off course from the comic books. Read on for all of the rest!
Are you still reeling from Carl's mortal wound? Sound off in the comments below!
The Walking Dead returns to finish up season eight in February on AMC.