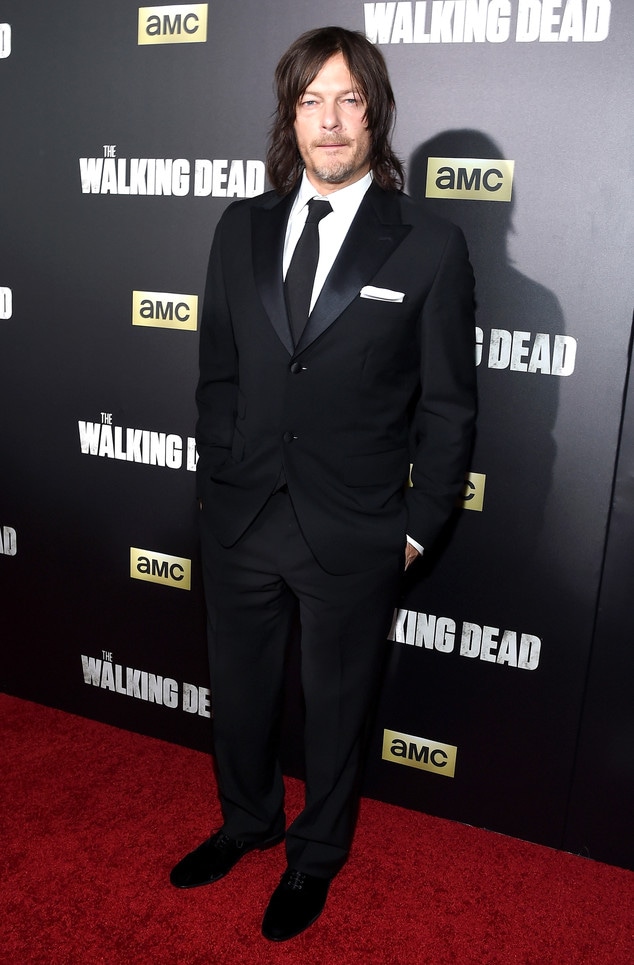 Getty Images
Sometimes fans become a little overeager.
The Walking Dead star Norman Reedus had a pretty big scare over the weekend when a zealous fan decided to bite him at a Walker Stalker event. Yes, bite the actor. A source tells E! News that the incident happened while the woman in question was taking a photo with Reedus and co-star Michael Rooker. But after the time to "say cheese" passed, she leaned in to bite Reedus on the chest!
Apparently her idea of a souvenir was more than just the photo op.
Fortunately police and event security were nearby and jumped in to help Reedus. They escorted the woman from the event and since has been banned from all Walker Stalker conventions and sponsored events where Reedus is present.
Reedus declined to press charges against his attacker because it was "only a nibble" and didn't break the skin, the source adds. 
Since the incident occurred the nibbler took to Instagram to apologize to Reedus; her die-hard fandom apparently made her possessed for a second. "Finally meet the love of my life, and get banned from the rest of the CON and lose two more $100 photo ops with him because I lost my mind…got so excited standing beside him… & just turned my head and bit him!" she captioned a picture on Instagram, per Yahoo!.
"I don't know what came over me. It wasn't my intention to hurt him. I'm sorry Norman!"
Even though Reedus didn't press charges, it looks like he hasn't forgiven the fan just yet—but he does have a sense of humor about it. He also turned to Instagram to address the situation, posting a photo of himself in a shirt that reads, "Do Not Bite Me."
"Um please don't," he captioned the pic, and included a salsa-dancing emoji.
Note to fans: Seriously, don't bite him...or anyone.
On a more fun note, watch the video to see the stars of The Walking Dead play two truths and a lie.
Watch:
"Walking Dead" Stars Play "Two Truths and a Lie"