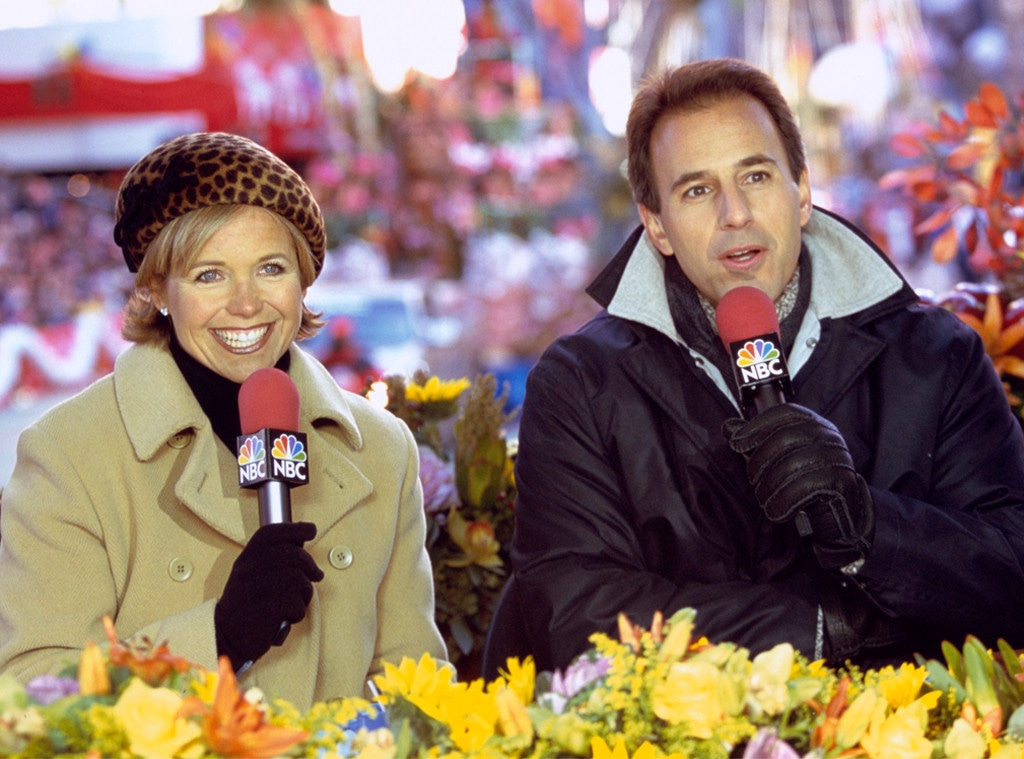 Craig Blankenhorn/NBC/NBCU Photo Bank via Getty Images
For a decade, no other network could come close to capturing the magic being made by Katie Couric and Matt Lauer over at Today.
The congenial pair just meshed perfectly, and together with news anchor Ann Curry and weatherman Al Roker they formed the Fab Four of morning TV—and they had the ratings to prove it. By May 1998, a year after Lauer replaced Bryant Gumbel as Couric's permanent co-anchor, 5.26 million people a day were tuning in. They had not only added almost a million viewers since the same time in 1996, but they were more than 2 million ahead of second-place Good Morning America. NBC's flagship morning show was firing on all cylinders.
To be sure, Lauer and Couric's triumphant nine years together unfolded in an era predominantly unplagued by social media. Twitter came into being just a few months before Couric departed to become anchor of CBS Evening News in 2006. So in an industry that would grow only more competitive and cutthroat as the years went by, that felt like a quiet time over at the Today show, at least to viewers who were largely blissfully out of the loop when it came to the egos and shrewd deal-making driving the action behind the scenes all over the morning show world.
That sort of madness was late-night TV's territory, not for the chipper personalities you got your news and lifestyle tips from in the morning.
Darryl Estrine/NBC/NBC NewsWire
But for all intents and purposes, Lauer and Couric really had a great thing going on after a period of turmoil at Today.
Couric had been at NBC since 1989 and co-anchor of Today since 1991, when she replaced Deborah Norville, who only lasted about a year as co-anchor with Gumbel after Jane Pauley left. (Musical co-host chairs isn't a uniquely 21st-century game.) One of her nicknames as a kid having been "Smiley," Couric subsequently became "America's Sweetheart," a believable blend of perky, compassionate and quick, as adept at covering breaking news as she was at interviewing celebrities and chatting with fans outside the studio.
Lauer and Couric were on the air live when the first plane hit the World Trade Center on Sept. 11, 2001, Lauer having just completed an interview when he got word an incident was unfolding. While morning-show host may be considered one of the cushier jobs when it comes to a network news team, every shred of their journalistic experience—as well as every ounce of their composure, gravitas and adaptability—was called into play on that terrifying morning.
That day may have wedded even more viewers to Lauer and Couric as a unit, as people tend to embrace the familiar in the wake of tragic events. The faces and voices you remember from that day do start to feel almost like family.
Lauer, meanwhile, had frequently substituted for Gumbel before taking over the spot permanently at the beginning of 1997. Easy on the eyes and evincing a certain gravitas (Today's news coverage consistently trumped GMA's in the '90s), yet able to loosen up in the manner required of the host of an oft-light-hearted show, he proved the ideal foil to Couric. Together, they had an easy rapport.
"It was extremely natural when Matt stepped into the chair," Couric recalled to NBC News earlier this year for a retrospective celebrating Lauer's 20th anniversary co-anchoring Today. "And he just crushed it right away."
So joined they were in people's minds as a team, it was all eyes on Lauer to see what he would do when Couric decided to leave.
"As Dorothy said to the Scarecrow, I think I'm going to miss him most of all," she said, turning to Lauer, when she made the announcement on air.
He eased the tension by cracking a joke, saying, deadpan, "Also coming up in this half-hour..." as if Couric herself hadn't just made headline news. They shared a laugh.
With Meredith Vieira on her way in to replace Couric, Lauer agreed to a five-year contract extension through 2011.
"I like where I am on the radar," he told the New York Times in April 2006. "To be completely frank, I'm a little bit nervous about the fact that that may change a little bit."
He continued, "Katie is Katie. There is no question in my mind that Katie has attracted a lot more attention in this role than almost anyone who has ever had it. There are a lot of reasons for that. Some are purely positive. Because she is that kind of dynamic personality. Other reasons have been more tragic." 
Couric made history when she had NBC News televise her colonoscopy (the dramatization of her preparations beforehand is pure gold), part of her ongoing efforts to spread awareness about the disease after her husband Jay Monahan died of colon cancer in 1998. More than 9 million people became intimately familiar with Couric that morning.
Lauer was also very aware of who had been the bigger star of the two as the years went by, and while he may not have always loved that, he also knew that with the greater fame came the greater pressure. And now here he was, the veteran with the bigger salary (reportedly about $1 million per year more than Vieira, who had been poached from The View) welcoming the "newcomer" and hoping for the best. 
"If you are the person who gets the lion's share of attention in good times, guess what: you get the lion's share of attention in bad times," he told the Times. "I think that played out very clearly when our show was in a little bit of disarray over the past year. When the ratings started to slip a little bit and the press really came after us and started to say, 'What's wrong with Today?' Guess what? I escaped fairly cleanly. It wasn't because I didn't have a role in the demise or whatever. I had as much responsibility for what was going wrong as I did for whatever had gone right. People naturally went toward Katie. I thought it was unfair. I also thought it went with the territory."
As far as whether he and Vieira would have that same kind of rapport, Lauer said, "I am loath to predict chemistry and tell you how it's going to go. What we need to do is do some shows together. I hope people don't expect we'll come out of the box in the same place Katie and I are today, after 10 years of working together."
"It's an important time for this show," Lauer said. "I like it here. I can be cagey about it and do all the things you're supposed to do. I like this job."
People did really like Vieira and Today stayed on its perch atop the ratings, but for Katie-and-Matt fans...it was never going to be the same.
Lauer also told the Times in 2006 that he would always be grateful to Couric—whom he started cross-talking with years beforehand when he was anchoring WNBC's early-morning news show that led into Today—for being "in [his] corner" when it came time for NBC to hire her permanent co-anchor.
Couric admitted to Howard Stern in May 2012 that she had "a little crush" on Lauer when he was at WNBC, "'cause he was so funny and so quick." When Lauer went on Stern the following month, he was of course asked about Couric's crush and he returned the compliment (while also reiterating their relationship had always been platonic). "Every man in America was attracted [to her]. She's a very attractive woman," he said.
And now, though Couric hasn't worked closely with him in 11 years, all that time spent as a team, and all the success they had together, must make recent events all the more upsetting.
Lauer was abruptly fired by NBC last week after a colleague made an allegation of sexual misconduct against him. In an email sent to staffers and made public early Nov. 29, NBC News Chairman Andy Lack wrote that Lauer's alleged actions represented "a clear violation of our company's standards. As a result, we've decided to terminate his employment. While it is the first complaint about his behavior in the over 20 years he's been at NBC News, we were also presented with reason to believe this may not have been an isolated incident...We are deeply saddened by this turn of events. But we will face it together as a news organization—and do it in as transparent a manner as we can."
Savannah Guthrie, who has been Lauer's co-anchor since 2012, reported the shocking news at the beginning of the Nov. 29 show alongside Hoda Kotb, who has also known Lauer for 15 years. Guthrie said she was "heartbroken for Matt and heartbroken for the brave colleague who came forward to tell her story, as well as any other women who have their stories to tell."
Ann Curry—who spent less than a year in the co-anchor spot after Vieira left before a lack of chemistry with Lauer led to her firing after 25 years with NBC News—told People at the time that she was "still processing" what happened.
Vieira, who left Today in 2011 to devote more time to her family, has yet to comment; but in the wake of clips of several conceivably inappropriate on-air interactions between her and Lauer making the rounds anew, Vieira's husband, Richard Cohen, reportedly told TMZ that his wife was unaware of any sexual misconduct accusations against Lauer, and didn't witness any behavior like that on his part, when she worked there. Cohen also claimed that Vieira never had an issue when her own banter with Lauer took a turn for the racy, they just had that kind of relationship. They had dinner occasionally with Lauer, Cohen said, and he knew him as a good guy.
After the Lauer news broke, the first words from Couric came in the form of an instantaneously unearthed sound byte from a 2012 appearance on Watch What Happens Live, when Andy Cohen asked her what one of Lauer's most annoying habits was on Today.
"He pinches me on the ass a lot," Couric quipped.
But ultimately Couric, like Guthrie, never gave any indication that she saw Lauer as anything more (or less) than a dear friend. In 2011, when his contract was coming to an end and Couric was leaving CBS Evening News, there was even talk of him them re-teaming, perhaps for a daytime talk show. Couric did, in fact, go on to host Katie for two years, while Lauer signed a new eight-figure deal to stay on at Today, but at the time Couric had nothing but praise for her former partner.
"Matt and I have undeniable chemistry in the most platonic sense of the word," she told People. "We are like an old, married couple. We finish each other's sentences. He is very committed to the Today show. But who knows?"
"You never know what the future may bring," she added. "We may work together. It's hard to say right now. We have a fun repartee."
When Katie premiered in November 2012, Lauer made a cameo in the show's opening bit, featuring Couric waking up after a restless night with scenes from her broadcasting career flying through her head. Wondering if her whole life had been a dream, she turned over and Matt was in bed next to her, Newhart finale-style. Couric also told Wendy Williams that Lauer sent her flowers to congratulate her.
At the time, Lauer's image was still recovering from the hit it took over what transpired with Curry. "Matt and I are good friends," Couric said. "He's a great person and, I don't know, a lot of things get printed that aren't true...and all I know is he's a very, very valuable member of that team. And I think Matt feels a lot of loyalty to the show, which I really admire and respect, he feels as if he's the caretaker, and really wants to be there for the show when the show needs him."
Couric returned to Today in January as a guest anchor for a week, as did Vieira, while Guthrie was on maternity leave. 
"Good morning, everyone," Lauer opened his first show co-anchoring with Couric in a decade. "Welcome to Today on a Monday morning, second day of January, 1997 apparently!" The two laughed and shook hands, pretending to introduce themselves.
Couric just broke her silence, barely, on Friday with regard to Lauer's firing.
Apparently in response to an Instagram question (which was surely one of thousands) about her thoughts on Lauer's behavior and the aftermath, she wrote: 
"It's incredibly upsetting and I will say something when I'm ready to. Thanks for your interest."
As far as this subject is concerned, there may be no one the world is more interested in hearing from than Katie Couric.
(E!, NBC and Bravo are all members of the NBCUniversal family.)