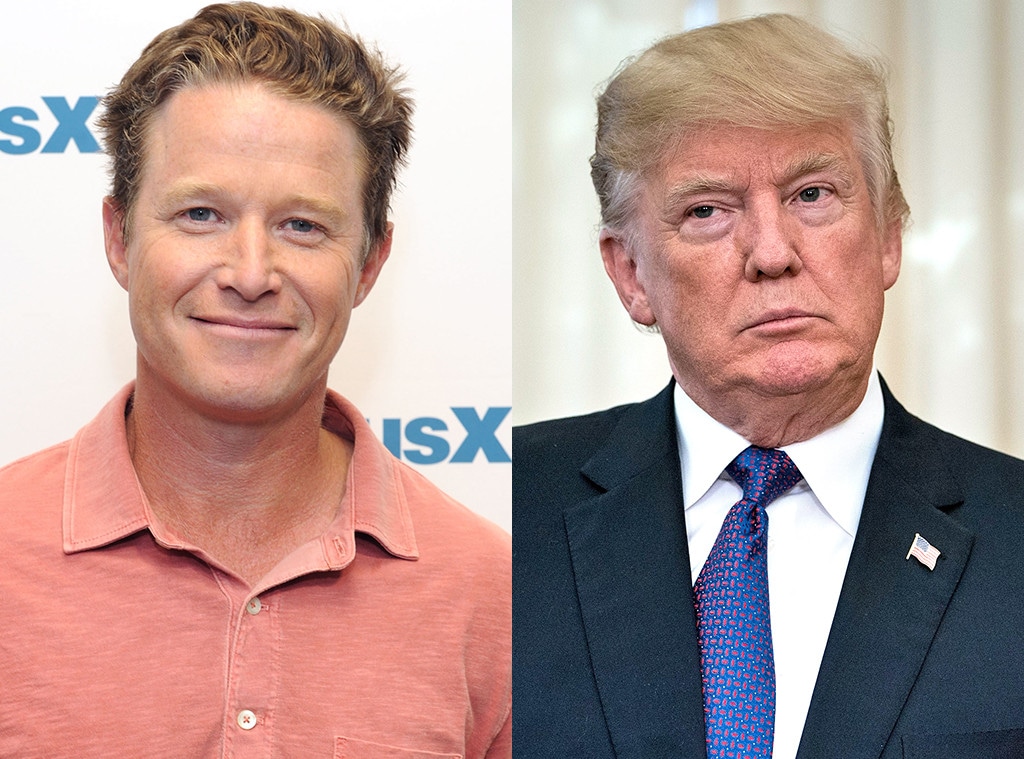 AFP/Getty Images
It was the "locker room" conversation that was heard around the world...
A little over a year after the now-infamous Access Hollywood tapes, in which then-reality star-and-now president Donald Trump can be overheard on a "hot mic" in 2005 talking graphically about women to a bunch of men on a bus, were leaked, The New York Times reported earlier this week that the 45th president has been claiming that the tapes are fake.
But now, Billy Bush, the newsman who was caught in the middle of all of it, isn't letting this one slide.
In regards to Trump's inflammatory "grab 'em by the p--sy" line, Bush has come out to say, "Of course he said it. And we laughed along…"
In the New York Times' op-ed piece, entitled "Billy Bush: Yes, Donald Trump, You Said That," the entertainment news reporter wrote, "Along with Donald Trump and me, there were seven other guys present on the bus at the time, and every single one of us assumed we were listening to a crass stand-up act. He was performing. Surely, we thought, none of this was real."
He added, "We now know better."
The controversial audio recording featured the then-reality star bragging to the men that he could grab women "by the p—sy" simply because he was famous.
Previously, the topic of the tape came up during the Oct. 9 , 2016 presidential debate against Hillary Clinton. At that time, Trump apologized for the headline-making comment.
"No, I didn't say that at all. I don't think you understood what was said. This was locker room talk. I'm not proud of it. I apologize to my family. I apologize to the American people. Certainly I'm not proud of it. But this is locker room talk," he shared during the live debate. "I have great respect for women. Nobody has more respect for women than I do."
However, the NYT''s new report claim that the commander-in-chief is changing his tune behind closed doors.
In Sunday's article, Bush, who lost his job at the Today show a week after the tapes came out, made his thoughts crystal clear on the matter: "President Trump is currently indulging in some revisionist history, reportedly telling allies, including at least one United States senator, that the voice on the tape is not his."
He wrote, "This has hit a raw nerve in me."
Today's letter also makes it clear that Bush hopes his words help change the men, including himself, who said nothing that day.
"Today is about reckoning and reawakening, and I hope it reaches all the guys on the bus."
Bush also wrote that the past year has been an "odyssey."
In addition to losing his job at NBC, the former host also separated from his wife of 20 years, Sydney Davis, whom he shares three daughters with.
Bush finished the remorseful letter with the hope that he's learned from his highly publicized mistakes.
"I know that I don't need the accouterments of fame to know God and be happy. After everything over the last year, I think I'm a better man and father to my three teenage daughters—far from perfect, but better," he concluded.
(E! and NBC are both part of the NBC Universal family.)