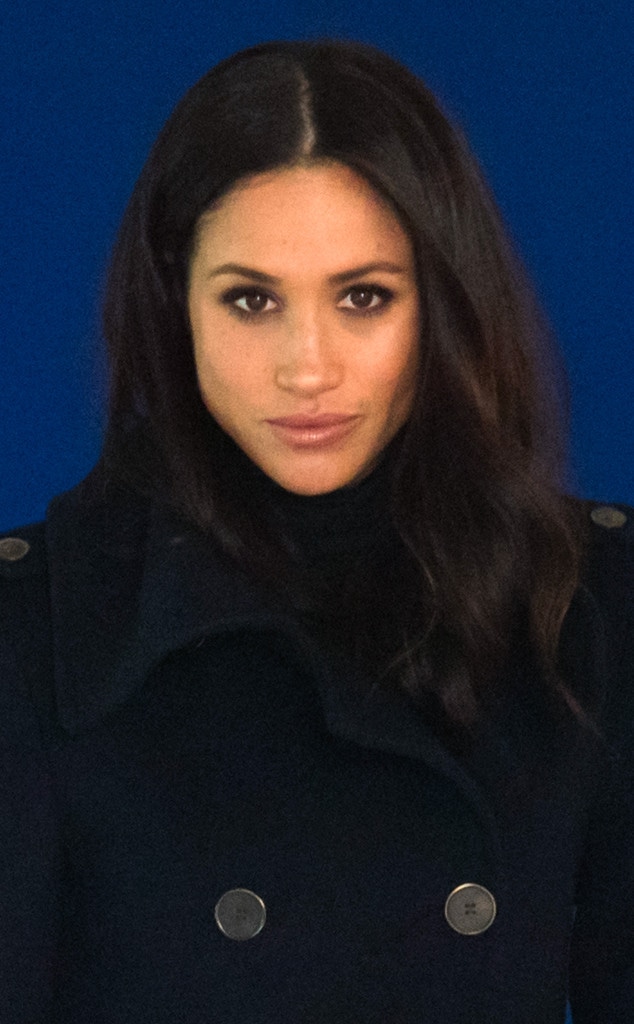 Samir Hussein/WireImage
Meghan Markle is doing things differently than Kate Middleton.
Clarence House announced Monday that Prince Harry had proposed to the American actress earlier this month in their London home. Four days later, the couple carried out their first royal engagement together. It was a quick turnaround, considering Kate Middleton waited 30 days to do the same after Kensington Palace announced her engagement to Prince William in 2010.
Harry and Meghan held hands as they arrived in Nottingham Friday. They took turns greeting the crowd, both together and separately. Harry joked it was "unbelievable" for a "ginger" like him to be marrying Meghan, while she accepted flowers and fielded questions about USA's hit series Suits. "Oh, you really follow up!" she told a fan. "They still have a couple more seasons!"
Braving the cold temperatures, Meghan wore a Mackage wool coat over a Wolford "Portland" turtleneck, a Joseph skirt and slouchy Kurt Geiger "Violet" boots. She carried a Strathberry tote.
Meghan's fiancé complemented her style, as he also wore a navy overcoat.
Harry checked in on the actress, often touching the small of her back as she met members of the Commonwealth for the very first time. Meghan's princess prep came in handy, as she politely declined to take a photo with fans. As she explained, "We're not allowed to do selfies."
The couple's itinerary began with a charity fair, hosted by the Terrence Higgins Trust to mark World Aids Day. They then moved on to Nottingham Academy, where they met teachers and staff members from Full Effect, a program that aims to support at-risk youth. They also saw students perform a "hip-hopera," and before they left, Meghan was given yet another bouquet.
The afternoon event was, in many ways, much more relaxed than the winter evening gala Meghan's future sister-in-law attended when she first ingratiated herself into the royal family.

After announcing their engagement, Kate admitted she was being coached on how to handle her new life in the limelight. "William's a great teacher," she said at a photo call, "so he'll be up to help me." On Dec. 18, 2010, she joined him for a Christmas Spectacular in Norfolk, in support of the Teenage Cancer Trust at the Thursford Collection. In the U.K. TV special celebrating their engagement, William explained that he wanted to "learn from lessons done in the past" in order to give his fiancée the "best chance to settle in and see what happens on the other side."
Kate wore a blazer over Temperley London's "Titan" dress, from the Fall/Winter 2009 collection. It marked the first time she had worn a piece by the British designer, which would become one of her favorite fashion labels as she settled into life as the Duchess of Cambridge.
William, meanwhile, added a touch of flair to his suit with a fuchsia tie.
Because of royal protocols, William—second in line to the throne—did not hold Kate's hand. They walked into the venue side by side, and the BBC said they appeared "relaxed and happy." The Christmas Spectacular included dancing, singing and ventriloquism. Thanks to their support, the concert raised $54,000 for the Teenage Cancer Trust's local campaign to build the first specialist cancer unit for people, ages 13-24, at Addenbrooke's Hospital in Cambridge, England.
Rosie Van Raalte, 16, from Little Melton, Norfolk, said afterward, "They took a genuine interest in what I'd been through and the operation I had. The conversation flowed really well, and they made me feel relaxed, as I was really nervous before I saw them. Once I started talking, I relaxed and even forgot that I was talking to a Prince!" Patient Lucy Smith, 23, from Norwich, added, "We spoke about my treatment and how much the Teenage Cancer Trust had helped me. They were both very friendly, relaxed and down to earth, and I enjoyed meeting them."
Watch Daily Pop weekdays at 12:30 p.m., only on E!