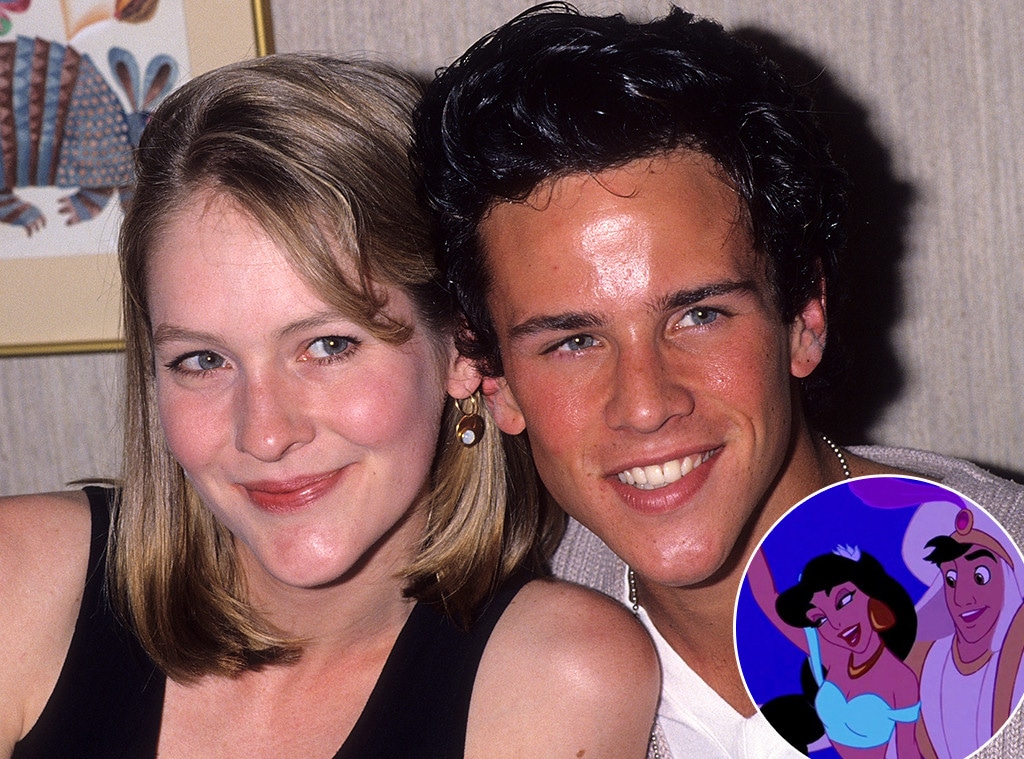 Ron Galella, Ltd./WireImage. Inset: Courtesy of Disney.
Exactly 25 years ago, Aladdin showed Princess Jasmine the world.
The beloved Disney animated film was released wide on this day in 1992 and captured hearts around the globe with its epic love story, the late Robin Williams' iconic performance as the Genie and memorable songs such as "A Whole New World."
To mark the movie's 25th anniversary, original star Scott Weinger shared on his Instagram page a throwback pic of him cuddling co-star Linda Larkin. The actor, also known for playing Steve on Full House and Fuller House, and the actress provided the speaking voices of Aladdin and Princess Jasmine.
The photo shows them at an autograph singing of Aladdin books at a Beverly Hills bookstore in 1993. Scott and Linda have reunited a few times since then, including with other Aladdin cast members.
"Hey Princess @lindalarkinofficial can you believe #Aladdin was released 25 years ago today?" Scott wrote. "I'd lie to you about being a prince just to fly you around the world on a Magic Carpet all over again ❤️❤️."
Linda reposted the pic and wrote in the comments, "@scottweinger ur a true prince even without the [genie emoji] and the magic carpet backing you up! Love you so much! 💜❤️💙."
Robin's daughter Zelda Williams paid tribute to her dad's character on Twitter, sharing a GIF from the movie and writing, "Genie turned 25 yesterday. Little brother [Cody Williams] turns 26 today. Life is full of reminders that time passes so very fast....Now, excuse me while I go reenact this with my baby brother's face."
Relive the magic again when Disney releases its live-action Aladdin reboot in 2019.
The new film stars Will Smith as Genie, Mena Massoud as Aladdin and Naomi Scott as Princess Jasmine. The cast recently filmed scenes for the movie in Jordan.
Mena took to Instagram on Saturday to pay tribute to the original Disney film.
"Happy 25th Anniversary boo!" he wrote. "Crazy to think that when I was a one year-old this story of #Aladdin came to life. And now, 25 years later, I have the honor & privilege to help re-tell this magical #Disney story once again. Get cozy & give it a watch tonight peeps!"