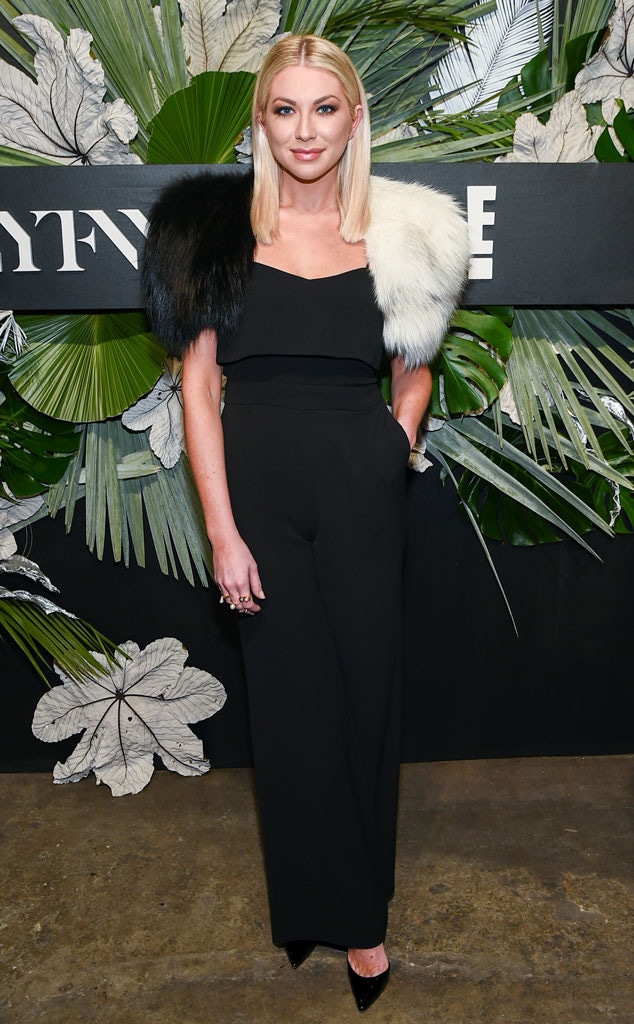 Mike Coppola/Getty Image
Stassi Schroeder says she "crossed a line" with her controversial comments about sexual assault on her Straight Up with Stassi podcast.
On an episode titled "Are We on a Male Witch Hunt?" she referenced people who have accused men of misconduct in a way that angered many listeners. Many felt her remarks mocked victims and the #MeToo campaign. The podcast was later deleted, but two companies, Rent the Runway and Simple Contacts, announced Friday that they'd cut ties with the Vanderpump Rules star over the reported comments.
"My podcast is an outlet for me to share my unfiltered opinion with my listeners," Schroeder tweeted on Saturday afternoon. "But on my latest episode I crossed a line. It was irresponsible for me to make generalized statements about a very serious topic, such as sexual harassment, as it is not my place to speak about anyone else's experiences. I apologize. I will continue to speak my mind on my podcast, but will put more thought behind my dialogue moving forward."
"These 24 hours have been sobering: I want to share your stories on my podcast: on either side, being accused of something you didn't do or being victimized & left helpless," she added.
Watch:
"Vanderpump Rules'" Stassi Schroeder Solves Unsolved Crimes
In a statement, Rent the Runway had said they were "shocked" by Schroeder's remarks regarding sexual assault and the #MeToo movement, adding, "It goes against everything RTR stands for as a company and has publicly advocated. Our 1st ads were slated to run on Mon. but effective immediately we've terminated our relationship with her podcast."
Simple Contacts said in their own statement, "Women are harassed in and out of the workplace and to suggest that the #metoo campaign is made up of attention seekers belittles the pain and suffering so many women experience on a regular basis."
Alyssa Milano first revitalized the #MeToo campaign on social media in October, encouraging survivors of sexual misconduct to further amplify just how widespread the issue really is by sharing their own experiences online. 
Celebrities including Ellen DeGeneres, Debra Messing, Anna Paquin, Sophia Bush, Rose McGowan, Lady Gaga and Rosario Dawson have all participated in solidarity. 
In a previous episode of Straight Up With Stassi, Schroeder made light of the sexual abuse scandal currently igniting Hollywood by comparing herself to Harvey Weinstein. 
"It might be too soon, but I'm more of the Harvey Weinstein in relationships," she quipped. "I'm more of the aggressor. It's not like I'm forcing anyone to do something they don't want to do, but I initiate things because I just like it."