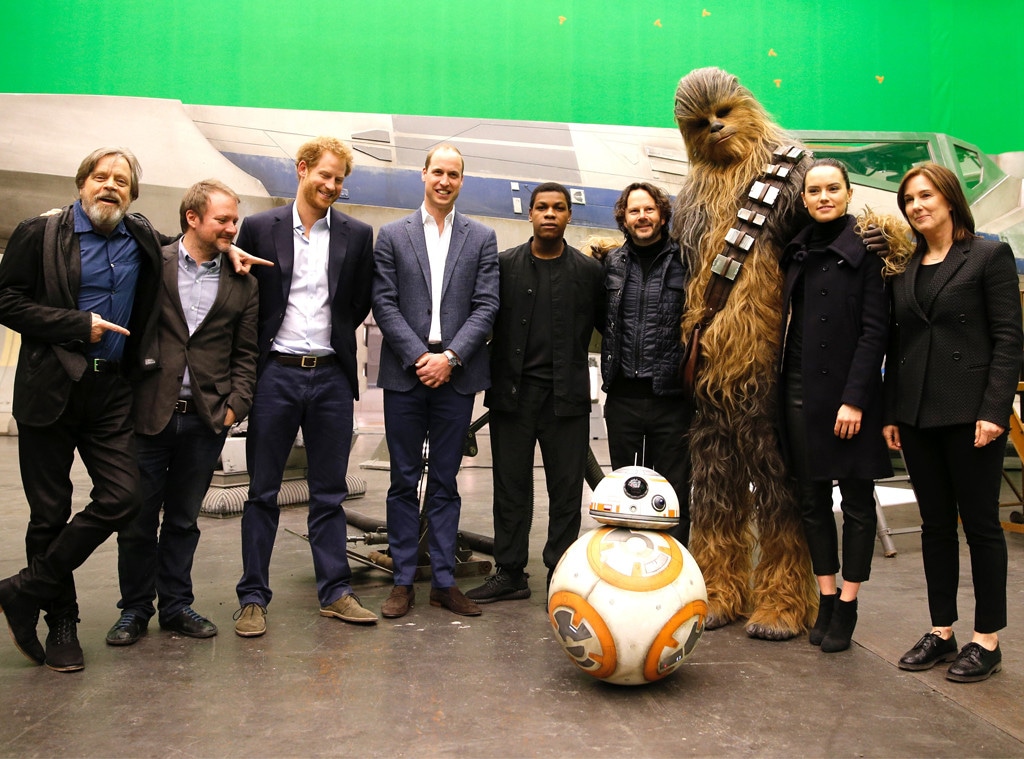 ADRIAN DENNIS/AFP/Getty Images
Keep your eyes peeled for Prince William and Prince Harry in Star Wars: The Last Jedi.
As E! News exclusively revealed in May 2016, the brothers joined John Boyega, Benicio del Toro and Daisy Ridley to film a cameo during a visit to Pinewood Studios. "During what was meant to be a lunch break on the official schedule of the royal tour at Pinewood, they actually sneaked off to Wardrobe and were dressed up as Stormtroopers for a scene with Daisy, John and Benicio," a source said. One of the Stormtroopers—"not sure if [it was] William or Harry," the source said, "was required to pat Daisy's bottom as he walked past her." Walt Disney Studios Motion Pictures, which owns production company Lucasfilm, didn't comment in 2016.
Now, Boyega has confirmed E! News' scoop—and provided additional details.
During a taping of The Hollywood Reporter's Actor Roundtable, Boyega revealed that Tom Hardy and Take That singer Gary Barlow joined the royals for the scene. The four guest stars were "wrapped in Stormtroopers costumes," making for a "strange contrast of a weird family."
ADRIAN DENNIS/AFP/Getty Images
Regardless, Boyega joked, "It's the best of both worlds for me."
(The four men aren't the first to make cameos in the trilogy. In 2015's Star Wars: The Force Awakens, Daniel Craig was disguised as a Stormtrooper and eventually manipulated by Rey.)
It's unknown if William or Harry, who wear masks in the movie, will be reciting any dialogue. Working with members of the British royal family was more "fun" than intimidating. "It was a great experience," said Boyega, who then segued into the significance of his Star Wars role. "You're a child. There's a new planet every day and a new scene to play," said the actor, who returns as Finn, an ex-Stormtrooper. "It makes you feel like you're a part of history in a sense."
Star Wars: The Last Jedi is in theaters Dec. 15.