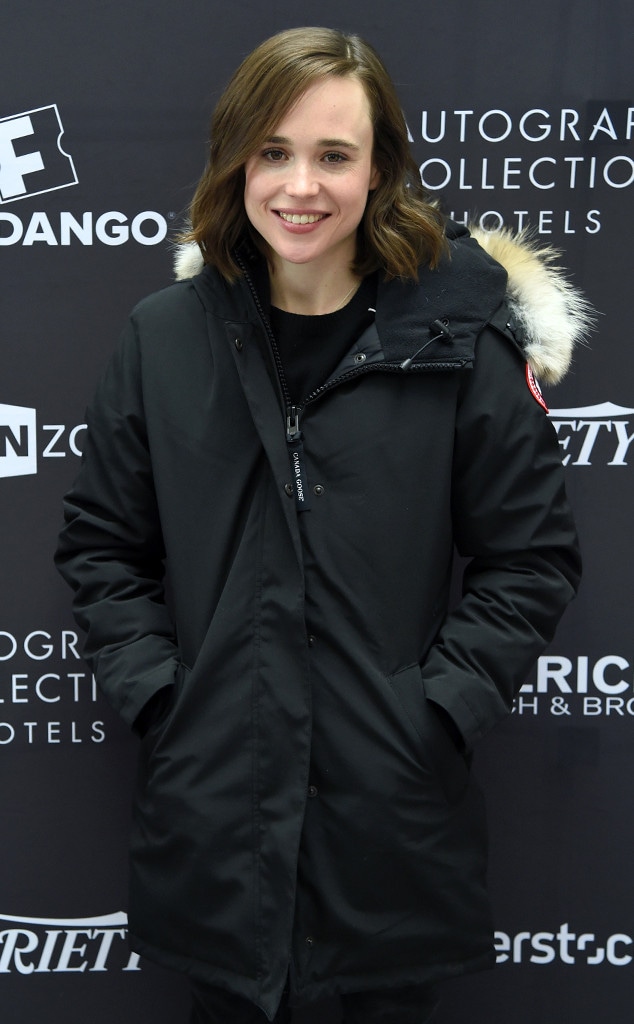 Stephen Lovekin/Variety/REX Shutterstock
Ellen Page is sharing allegations of misconduct against Brett Ratner.
In a Facebook post, the actress claims that the director "outed" her on the set of 2006's X Men: The Last Stand when she was 18. Page, now 30, also shares that Ratner wasn't punished for his "blatantly homophobic and abusive behavior."
Page beings the post, "'You should fuck her to make her realize she's gay.' He said this about me during a cast and crew 'meet and greet' before we began filming, X Men: The Last Stand. I was eighteen years old. He looked at a woman standing next to me, ten years my senior, pointed to me and said: 'You should fuck her to make her realize she's gay.' He was the film's director, Brett Ratner."
She continues, "I was a young adult who had not yet come out to myself. I knew I was gay, but did not know, so to speak. I felt violated when this happened. I looked down at my feet, didn't say a word and watched as no one else did either. This man, who had cast me in the film, started our months of filming at a work event with this horrific, unchallenged plea. He 'outed' me with no regard for my well-being, an act we all recognize as homophobic. I proceeded to watch him on set say degrading things to women. I remember a woman walking by the monitor as he made a comment about her 'flappy p--sy'."
Page then shares that the "public, aggressive outing" left her with feelings of shame, writing that she was "robbed of more than autonomy" over her ability to define herself.
"Ratner's comment replayed in my mind many times over the years as I encountered homophobia and coped with feelings of reluctance and uncertainty about the industry and my future in it," Page writes. "The difference is that I can now assert myself and use my voice to to fight back against the insidious queer and transphobic attitude in Hollywood and beyond. Hopefully having the position I have, I can help people who may be struggling to be accepted and allowed to be who they are –to thrive. Vulnerable young people without my advantages are so often diminished and made to feel they have no options for living the life they were meant to joyously lead."
Page then shares that she got into an "altercation" with the director after he "insisted" she wear a T-shirt with "Team Ratner" written on it. She writes, "I responded, 'I am not on your team.' Later in the day, producers of the film came to my trailer to say that I 'couldn't talk like that to him.' I was being reprimanded, yet he was not being punished nor fired for the blatantly homophobic and abusive behavior we all witnessed. I was an actor that no one knew. I was eighteen and had no tools to know how to handle the situation."
Page also discusses misconduct that happened to her when she was just 16. "When I was sixteen a director took me to dinner (a professional obligation and a very common one)," she writes. "He fondled my leg under the table and said, 'You have to make the move, I can't.' I did not make the move and I was fortunate to get away from that situation. It was a painful realization: my safety was not guaranteed at work. An adult authority figure for whom I worked intended to exploit me, physically. I was sexually assaulted by a grip months later. I was asked by a director to sleep with a man in his late twenties and to tell them about it. I did not. This is just what happened during my sixteenth year, a teenager in the entertainment industry."
Page goes on to write that the "the biggest regret of my career" was working on a Woody Allen movie, 2012's To Rome With Love.
In response to her claims about Ratner, Page's X Men co-star Anna Paquin tweeted, "I was there when that comment was made. I stand with you .@EllenPage."
Page's comments about Ratner follow last week's misconduct claims against the director, made by Olivia Munn and five other women. In response, Ratner's attorney Martin Singer denied each woman's claim on his behalf.
You can read Page's entire post above.
E! News has reached out to Ratner for comment.