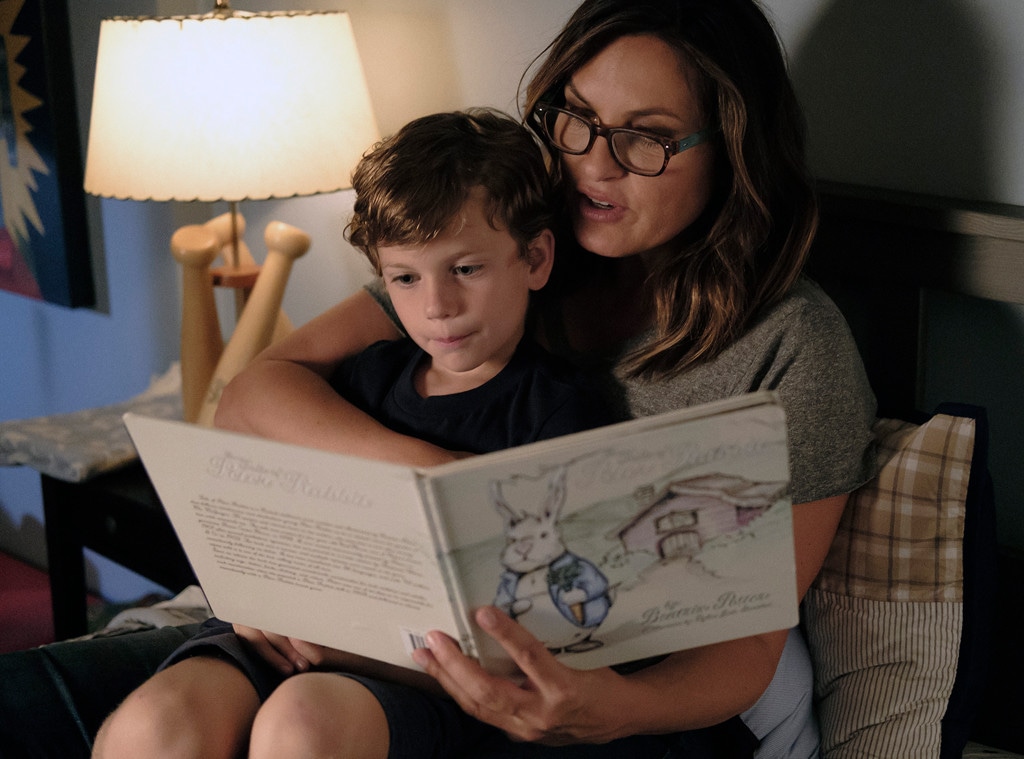 NBC
Mariska Hargitay's Olivia Benson has been through hell and back on Law & Order: SVU. That's to be expected on a show, particularly a cop drama, that is in season 19.
Benson's longtime partner retired unexpectedly, she was almost raped while undercover in prison, was kidnapped, beaten, found love, lost love and finally found happiness and life outside the precinct with Noah, her foster-turned-adopted son. Baby Noah is the best thing to happen to Law & Order: SVU in years.
Hargitay's tenure on Law & Order: SVU is a rarity in TV, and not to discount the other actors, she is the show. There is no SVU without Benson at this point. She is the force that propels SVU forward and brings in the millions of viewers each week.
When former series showrunner Warren Leight came on board with season 13, he spearheaded a look into what makes Benson tick outside the squad room. SVU was never shy about exploring how cases affected the elite squad of detectives, but under Leight's direction, SVU went further. Viewers saw Benson date; they saw her struggle with Elliot Stabler's (Christopher Meloni) departure—there was character development! And then she found Noah and new showrunner Michael Chernuchin is kicking things up a notch.
Noah presents a new challenge for Benson. This isn't William Lewis (Pablo Schreiber) torturing her for two seasons. This is now a woman who has a life outside busting perps, a woman who now has somebody who counts on her besides in the workplace. Noah is somebody to come home to. Giving Benson a son doesn't tie her to happiness to a man; it ties her happiness to a family, to pure love and caring.
By giving her a son, SVU now has a new venue to test Hargitay's acting chops and delve into a whole new world of drama, like when Noah was bruised and told his teacher his mother did it. It's true, she did, but it was done to prevent him from getting hit by a car. The resulting investigation into her parenting gave us a scene that should immediately be on Hargitay's reel for awards submission.
Watch:
Mariska Harigtay Tells What "Law & Order: SVU" Means to Her
"It's deeply in me. I was just saying the other day, I don't know any more where Mariska ends and Olivia starts. They're just becoming so enmeshed and entwined, and I think that's a good thing," Hargitay told E! News about working on the show 19 years in. "You know what? Nineteen years later and I'm finding myself deeply inspired and committed and finding new places to go and challenged. I want to be challenged. As long as that's happening, I'm very happy and very fulfilled."
After a solid few years with baby Noah, SVU aged him up, seemingly to handle the stories they are writing for the character. Ryan Buggle plays him now. In introducing Brooke Shields as Sheila Porter, Noah's biological grandmother, SVU has given Benson an adversary she can't point a gun at and throw on the handcuffs. She's really not even an adversary, but a moral quandary. A threat without being a threat to her safety, but instead her happiness and familial security. The battle between Sheila and Benson is an emotional one, with a toll that is already showing. This is a battle of emotion, it's a gray area where neither party is right or wrong. The courts are on Benson's side, but really there are no sides to this rivalry, just Noah's best interest.  Letting Sheila in goes against every one of Benson's mama bear instincts, it's a true test of the character.
"The character of Shelia Porter and I have this insanely, intense, complex storyline that is excruciating to navigate and so human with everyone having a valid point of view," Hargitay said. "It just explores so much and I'm very excited. And it's definitely unknown territory."
Unknown (and challenging) territory, territory that wouldn't be there without Noah.
Law & Order: SVU airs Wednesdays, 9 p.m. on NBC.
(E! and NBC are both part of the NBCUniversal family.)