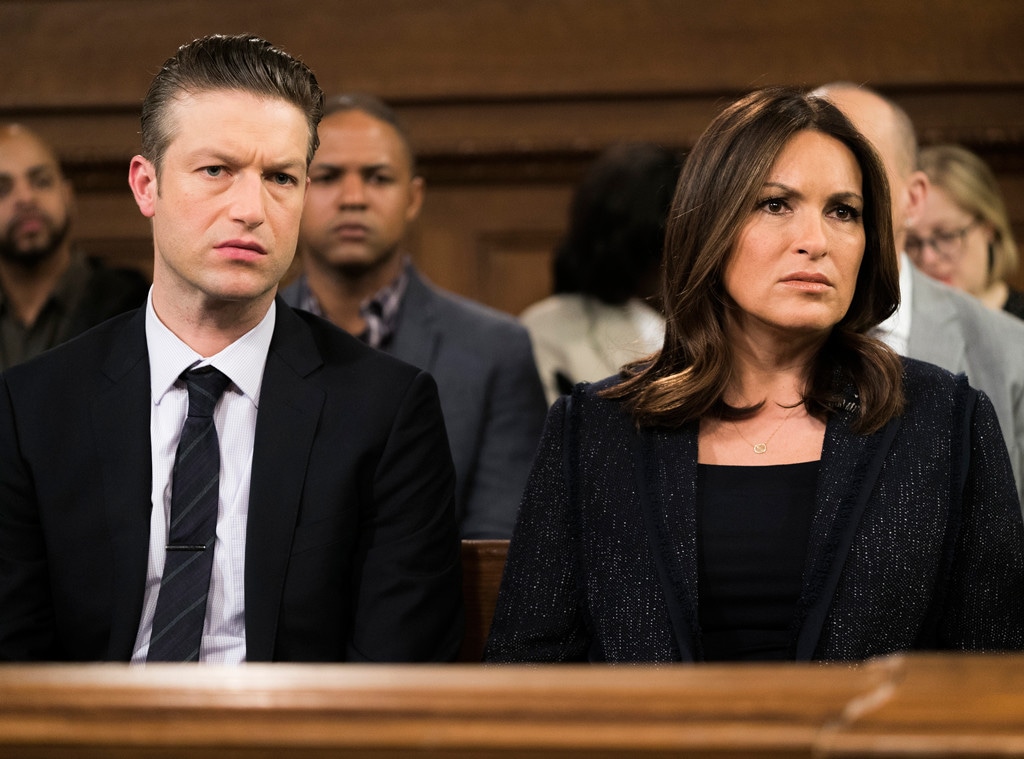 NBC
The perfect song to describe Warren Leight's tenure on Law & Order: SVU? "For Good," from Wicked. Confused? You'll see.
"I've heard it said/That people come into our lives/For a reason/Bringing something we must learn./And we are led to those/Who help us most to grow if we let them./And we help them in return./Well, I don't know if I believe that's true/But I know I'm who I am today/Because I knew you."
When Leight joined Law & Order: SVU, the odds were stacked against him. He boarded a series that had just lost its co-lead, Christopher Meloni, and was entering its 13th season. Most shows these days are lucky to get to a fifth season. But that was the hand he was dealt. Now, 5 years later, Leight is saying goodbye as season 17 comes to a close. Leight is exiting the show with a new deal at Sony. Julie Martin is staying on as executive producer with Law & Order veteran Rick Eick coming on board as showrunner.
"I feel like it's a complete body of work," he told E! News about his time on the show while on set of the SVU season 17 finale. "It was a major lift. When I came in…One of the reasons a showrunner should leave, I think, after a while, is so you don't get bogged down. I think the show, when I came in, especially with Chris leaving, nobody knew what it would be or how it would work. There were all kinds of rumors about this actress is going to come in…I think the first thing I thought was Mariska can carry the show. Because of the first 12 years, everyone thought it's all about their chemistry. Their chemistry probably carried the first 12 years, but I thought Mariska can carry this. I'd worked with other No. 1s on the call sheet and I don't think they had anything she didn't have. So we just started making her the focal point of the show."
As the attention shifted to Mariska Hargitay's Olivia Benson—at first Benson dealing with the fallout of her partner unexpectedly retiring, and then stories shifted to her handling new leadership roles and a new role in her personal life: mother—Leight and his team introduced new storytelling beats.
"She has a personal life. This notion that she had to be unhappy seemed wrong to me. And the show had been on for so long, that if that was the initial conceit, her character needed to age out of that…I had this with Chris Noth on [Law & Order: Criminal Intent]. The rakish bachelor at 35 is one thing, at 50 it doesn't look as good. So, the show had been on so long that you couldn't keep people frozen. They needed to mature and evolve," Leight said.
Hargitay said the writer and executive producer "took the show to new heights."
"Really, when he came, I knew he was brilliant, a genius, but after 12 years I thought, 'Where are you going to go with it?' And where he's gone with this has just been absolutely remarkable," the Emmy-winning star told E! News. "These sort of personal notes that he so beautifully weaves in—I just think he's such a beautiful writer. So empathetic, and he and I connect so much because we're both so [Laughs.] emotional as people. He pitches me stories and wells up. He's a very beautiful, empathetic and deeply talented writer."
Under Leight, SVU has introduced several new characters—just Hargitay's Benson and Ice T's Fin are still there from the previous run—and taken the existing characters down new paths. Hargitay's Benson has had on-screen love interests, not just dates she's called away from to work, and she even adopted a son.
"The complexity of characters has been so interesting and finding all these new things out about the character and going to new places—but mostly evolving and changing. I think that for me, he changed characters. Olivia is a different Olivia than five years ago," Hargitay said. "It is a different character and that's fun for me to play, and also why I'm still here. I think evolution is key. I know that nobody wants to play the same and as people we change, so that's a fundamental truth. I want to be the kind of person in real-life and on the show that is constantly evolving."
Raúl Esparza, who joined SVU as ADA Barba under Leight, credits the showrunner with bringing the show "into the 21st Century."
"I think he created a really amazing ensemble…I think the show was a great, classic procedural show and now it actually belongs on television in the position that it's in, in the kind of atmosphere we have now where shows sort of play in a longer format," he told E! News at NBCUniversal's Upfront. "He jumped it into that."
Peter Scanavino, also one of Leight's new additions to the show, credits the writer with changing not just the life of characters, but his own when he got a guest gig that turned into a full-fledged series regular role. Now he's seen the characters change before his very eyes.
"I think the characters feel like much more rounded human beings. Before, maybe it was just you'd only get to see them as cops. If they had personal lives they were so on the periphery, but now Warren really gets the relationship that one informs the other," Scanavino, Detective Carisi on SVU, told us. "The professional life informs the personal life and vice versa, and I think that's what he really captured. Now we have these fully fleshed out individuals that have great justifications for everything they do. When you see Benson react in a certain way to a child or a victim child, you understand that's coming a lot from Noah…so it's not a side note anymore, that's how it's integrated into the show and I think that's a big change."
But not all of his attention was focused on the characters. Leight brought in real Special Victims Unit detectives and asked where the show could improve with the crimes. Murders were out, murky gray areas were in.
"The more we talked to people and the more we talked to survivor groups and all that, we understood the big issue for detectives at SVU is that the victim is alive, the body is a crime scene and she has to prove that she didn't want the crime to have happened. That was a big shift, I think, in how we approached the show. It was about what the reality is, which is after you get assaulted, you have to go through a horrible crucible. Nobody asks somebody, 'Are you sure you didn't want your TV stolen? Were you drunk when your TV was stolen?'"
Citing the shift in tone and storytelling with crimes, specifically the first episode with Medium actress Sofia Vassilieva in season 13, Leight said that was a "sea change in the show." "That was the thing I think I'm most proud of. We started to talk less about medical issues and less about weird, kinky things, weird serial killers, [and more about] the reality, the day-to-day reality of what happens to people after their assaulted and what are the hurdles people face, the obstacles, and the shaming that goes with it," he said. "The more we moved toward that, the realer the show felt to me."
Those big changes, which are palpable when you catch SVU reruns from the first 12 seasons, are here to stay if Leight has his way as the show preps for season 18 this fall.
"Julie Martin stays, Mariska stays. Rick Eid is an intelligent writer and he's a lawyer, which is weird," he said with a laugh. "So he understands the issues in this world. We wrote more and more toward the gray and I think if the show stays there it will be good for [SVU]."
Under Leight, SVU has been changed.
"It's a major accomplishment," Esparza said of Leight's work on SVU, "and I don't think he gets enough credit for it."
Law & Order: SVU airs Wednesdays, 9 p.m. on NBC.
(E! and NBC are both part of the NBCUniversal family.)