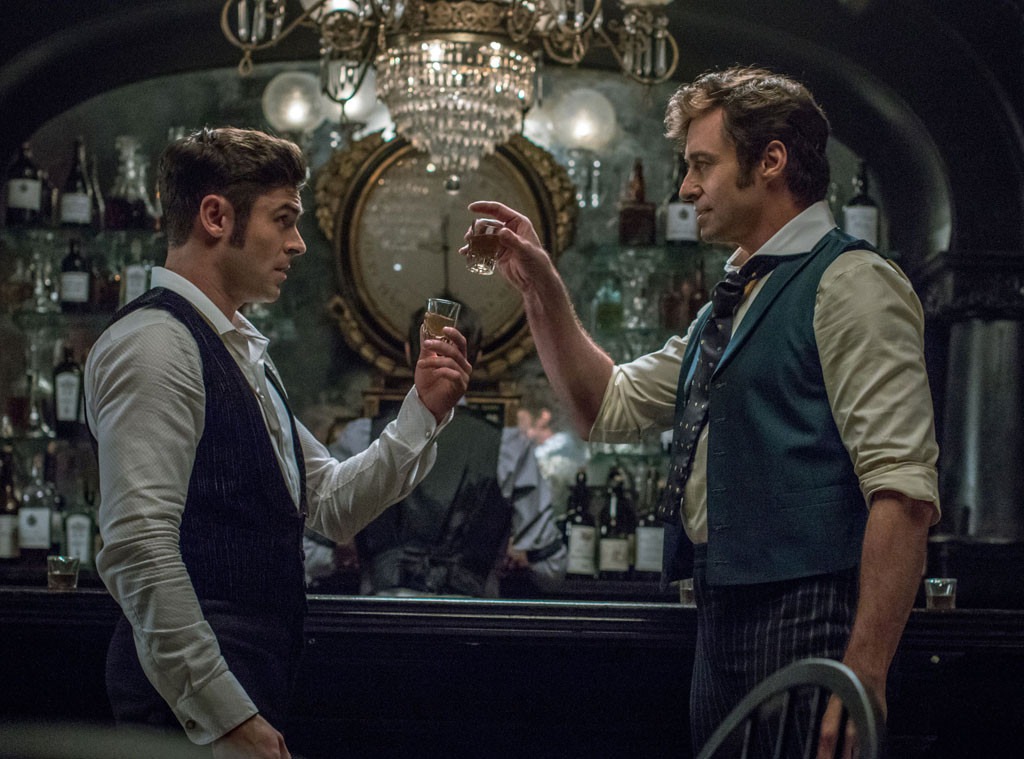 By now, teases of High School Musical reunions, secrets and alternate endings are the oldest click bait in the book. There's never going to be another HSM—at least not in the form that its original fans know—so it's about time to let it go. But those who thrive on nostalgia and are still clinging to a long-gone version of Zac Efron can still find ways to hold on to that memory. 
Take next month's The Greatest Showman. Is it about teenagers? No. Are there basketball games? Definitely not. But by God, there'll be dancing. 
The musical, which also stars Hugh Jackman, Michelle Williams and Zendaya, is inspired by the real-life tale of P.T. Barnum, who founded the Barnum and Bailey Circus. It's holiday inspiration to the very fullest, showing Barnum rising from an out-of-work family man to a world-famous circus sensation. To put his accomplishments into more modern terms, director Michael Gracey described him to Vogue as "the Steve Jobs or Jay Z of his time." 
Jackman plays the eponymous showman—and who better than the actor who has not only won two Tony's, but hosted the award show to tremendous reception? The Greatest Showman has been reported to be Hugh's passion piece, a film he's been wanting to get made for years and helped get off the ground. As the trailer spends several minutes showing, he'll be putting on full hosting-charm for the role. 
Efron plays P.T. Barnum's protegé Phillip Carlyle, a part that requires him to pull out all of the musical theater stops. In the past this casting may have seemed impossible—there were years in which Zac (understandably) shied away from anything too close to his HSM roots. After starring in the onscreen adaptation of Hairspray he famously backed out of the Footloose remake for fear of being typecast. 
But now that he's had a few years show Hollywood how multi-faceted his talents are, he couldn't turn down a chance to star opposite (and learn from) the great Hugh Jackman. As he told Vogue, he met Showman's director years ago at a meeting and when the news finally came in that there was a role for him he was so excited he "wanted to pull over on the 405 and get out of the car and dance." 
And dance he does. As Barnum's second fiddle his character is trained in all things circus hosting, a gig that requires to do all sorts of acrobatics. Efron's moves will lean more classic (think inspiration from Steampunk and the waltz, to start) than his previous dalliances, and expect a lot of trapeze work. 
There will also, of course, be romance. Efron's character falls madly in love with another member of the circus (played by Zendaya). Word on the street is the two have a meet-cute to beat all meet-cutes—Zac himself described the love-at-first-sight as "transformative" and full of "inner joy." Not to oversell it or anything. 
With the circus, the heavy choreography and a musical set in a holiday feel-good tale, the sap-factor could easily swing very high in this movie. Anyone worried about that should be comforted, at least slightly, in the fact that the duo behind the film's score is Benj Pasek and Justin Paul, who won a Tony Award for their Broadway show Dear Evan Hanson and a Golden Globe and an Oscar for a little project called La La Land. 
In other words, Zac Efron is in good hands.