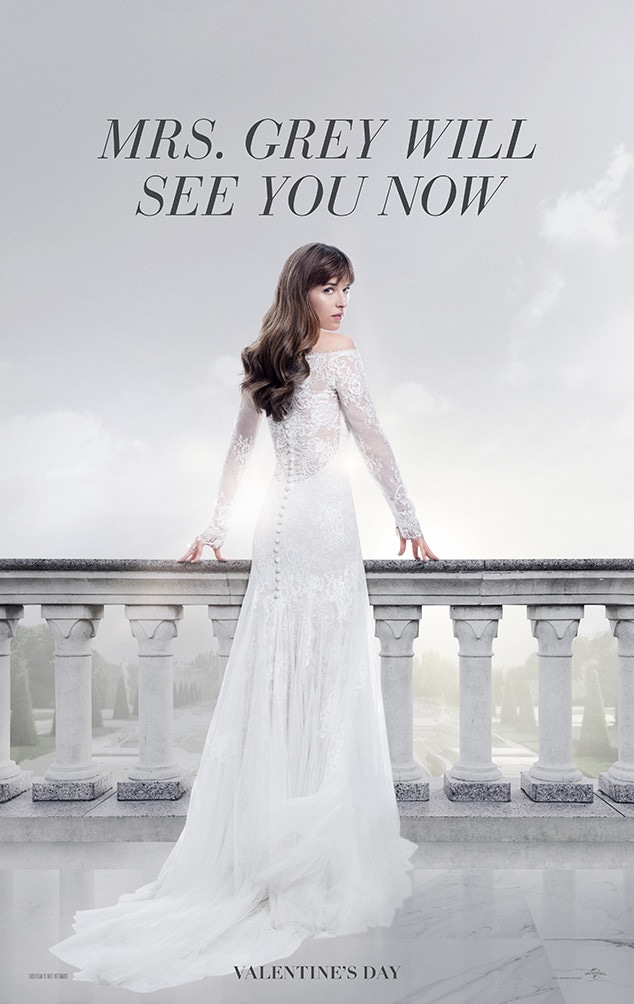 Focus Features
They may not even be back on the big screen yet, but Christian Grey and Anastasia Steele already have fans' hearts racing. 
With the franchise's final chapter, Fifty Shades Freed, slated for a Valentine's Day 2018 silver screen debut, the film's official trailer just dropped to keep fans on the edge of their seats until Christian Grey and his new wife return.
Yes, as evidenced by the trailer (and featured prominently in the book), the two take their relationship from BDSM to Mr. and Mrs. With new gold bands and a mansion in the woods, the lovers try their hand at married life the Grey way—not without the Red Room, of course. However, it seems Anastasia is calling the shots this time around, as she shoots down a flirtatious architect's advances toward her man, challenges his requests and quite literally takes the wheel in the driver's seat as they're chased by a mysterious driver. 
While their big screen return is still a few months away, here's everything we can expect from Mr. and Mrs. Grey:
Universal Pictures/Fifty Shades Freed
1. A Villain Returns
Thanks to the trailer, Anastasia's former creepy boss, Jack Hyde (Eric Johnson), makes his unwanted return looking worse for wear with a knife in tow. In another quick scene, he reaches for Ana while another woman is tied to a chair behind him. Clearly, there's trouble ahead at the hands of Hyde. 
Universal Pictures/Fifty Shades Freed
2. Hot for Christian
It looks like Anastasia has some competition by way of Gia Matteo (Arielle Kebbel), an architect with her eye—and hand—on Christian. It seems like she's not the only one with her eye on the leading man. Christian's old flame, Elena Lincoln (Kim Basinger), also makes a quick appearance in the trailer in her salon during what looks like a visit from Christian. *Cue eyebrow raise*
3. Listen Up
As evidenced by the first two films, the music is just as steamy as the scenes themselves. From Beyoncé's redux of "Crazy in Love" to Taylor Swift and Zayn Malik's hit track, "I Don't Wanna Live Forever," the films have paved the way for some memorable tunes and that sounds like the case once again. A sexy and undeniably catchy rendition of "Never Tear Us Apart" rings through the trailer with vocals from Bishop Briggs. 
"When u wake up & ur cover of "Never Tear Us Apart" by @INXS is in the NEW TRAILER for #fiftyshadesfreed," she tweeted. If that's just a taste of the tunes to come, consider us sold. 
Universal Pictures/Fifty Shades Freed
4. Anastasia's Putting in Work
The last time we saw the protagonist, she was a college grad with a new gig as Hyde's assistant. However, after he's fired for attempting to assault her, she's promoted to editor for the interim. Now, as evidenced by the trailer, she has since settled in at the publishing house as the fiction editor—complete with a new office and assistant. 
Universal Pictures/Fifty Shades Freed
5. Sights for Sore Eyes
While it's less than three minutes long, the trailer packs in quite a few picturesque views as the newlyweds set sail for new destinations. From the looks of it, the two are globetrotting around Europe. While we can't exactly hop a plane with them, the film's travel scenes certainly look like they will be easy on our eyes. 
6. There's Action Ahead
While there's usually no shortage of sex in these films, there also seems to be quite some serious action outside of the bedroom in store for the couple. In between a car chase, hidden gun and knives being pulled, the trailer delivers an unexpected extra punch.