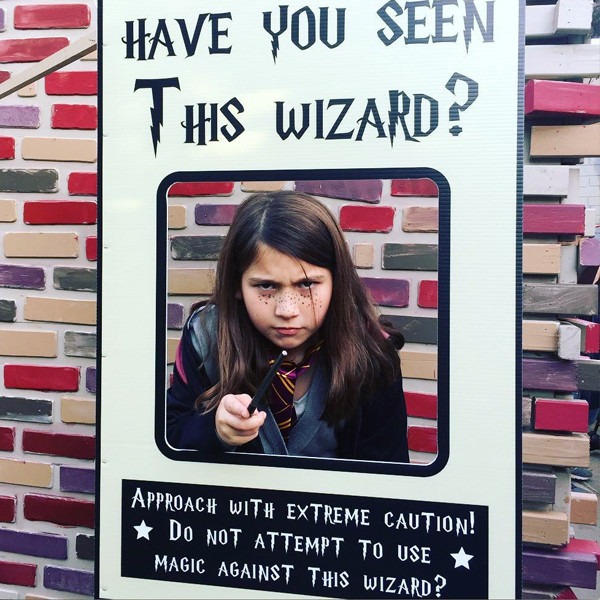 dummaloop/Instagram
The magic of Harry Potter is closer than we all think.
In one small Seattle neighborhood, Jon Chambers knew that his daughters loved and appreciated the Harry Potter franchise. But instead of taking a trip to the Wizarding World of Harry Potter at Universal Studios theme parks or enjoying an all-day movie marathon on Freeform, this proud dad decided to take it one giant step further by making his very own recreation of Diagon Alley in his driveway.
Jon told E! News that the idea came about a few months ago, "In the summer of 2017, I was having a conversation with my girls, Haley and Avery, about doing something fun for Halloween this year. In their minds there was only one choice, a Harry Potter theme. My youngest daughter Avery said 'Diagon Alley' emphatically. I said 'Ok." The girls rushed outside, grabbed their sidewalk chalk and drew out plans for Diagon Alley.
Soon the Seattle tech veteran chose to step away from his most recent job and focus on building the life-size magical world.
Pictures of the project, which Jon tells E! News cost $3K out of pocket, have been going viral on Instagram. Jon shared the finished product that included snow falling on the ground, 3-D props and more than six storefronts.
Jon added he had a lot of help thanks to social media, "I put out a Facebook post with a picture of my haul and asked for help putting together the 24 panels that would eventually make up the basic structure of the alley. The next day nearly 30 friends and family showed up to participate in a panel building assembly line."
As for how long the whole endeavor took? "It was 17 days of furious construction," said Jon.
"#diagonalleyproject looks great in the moonlight," Jon shared on Instagram before celebrating his daughter's birthday in the impressive area. "It's this amazing firecrackers birthday party today in #diagonalleyproject."
In an interview with GeekWire, Jon explained his motivation behind the project. And as you likely could have guessed, he had a whole lot of fun doing it.
"I've always wanted to do something massive for Halloween or Christmas," he explained to the publication. "I was born the day before Halloween, and October is like my power month. So I decided to quit my job and focus on this crazy thing."
The Chambers are hoping to have the project up through Christmas and yes, tourists are more than able to drive by and see the finished product.
Jon told E! News, "We had 2,700 visitors on Halloween alone and about 4000 total visitors or more... we stopped counting."
In fact, this may only be the beginning for the creative dad who's making a whole lot of kids dreams come true.
"I've thought it would be cool to do a Millennium Falcon. On the roof," he teased to GeekWire.
The proud papa says donations for his Diagon Alley Project have been flooding in and he plans to keep going on his wizarding world endeavor.
Jon added to E! News, "We have two additional buildings we are adding, two kids playhouses that will be auctioned off for charity. Gringotts and the Leaky Cauldron."