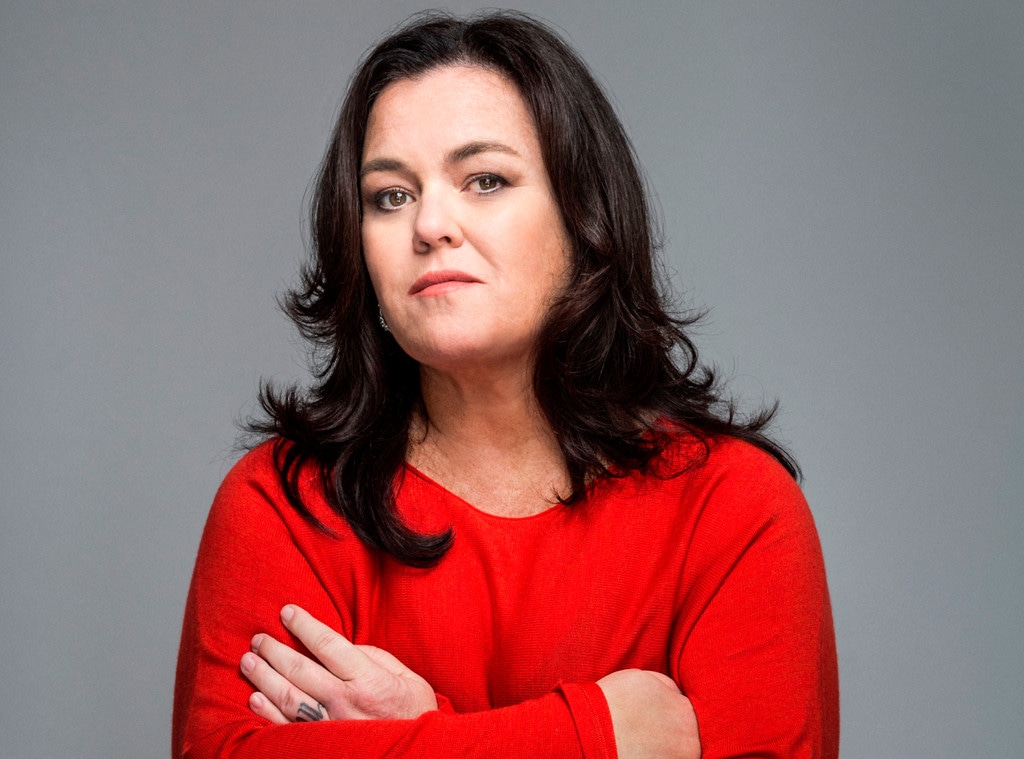 Chad Batka/Showtime
Rosie O'Donnell just opened up about everything from her health to the death of her ex-wife Michelle Rounds in September to her thoughts on Harvey Weinstein.
The TV icon was a guest on the Howard Stern Show Monday and revealed she "should've died" after suffering a heart attack in 2012. A year later, O'Donnell underwent gastric sleeve surgery and she discussed with host Howard Stern how much weight she's lost since the operation during the radio interview.
Take a look at the most shocking moments from her interview below.
1. On Gastric Sleeve Surgery: "This is called the gastric sleeve so they take about, they probably leave a quarter of your stomach, the size of a banana, and they said you put your hand out that's the size of your stomach in general so mine has like a little bit… I'm 50 pounds less than I was."
2. On Her Near Death Experience: "You only have this surgery when you're near death…I should've died. The doctor said there's no reason you survived this heart attack. We don't know why you did, we don't know how you did, you will not survive another one."
Nicholas Hunt/Getty Images For NYFW: The Shows
3. On Harvey Weinstein: O'Donnell had previously spoken out about the Weinstein sexual misconduct allegations to E! News, saying the "stories were not a surprise" to her. On the radio show with Stern, O'Donnell talked about an alleged encounter with Weinstein where he called her a "c--t" to her face. 
4. On Gwyneth Paltrow's Claims Against Weinstein: "I think that a little bit about Gwyneth Paltrow because she came out and said he tried to do something to her. She told Brad [Pitt] and Brad went to him don't you ever. Right, but then she went on and did movies with him later. What did she think he changed?"
5. On Friendship With Oprah and Death of Ex-Wife: "She reached out when Michelle died…very new, it's still very raw. She did reach out and say she was sorry and offered her condolences. She's a very sweet and kind and loving to me, and always has been. We're not buds. I don't call her if I have a lump in my breast…"
6. On The View and Elisabeth Hasselbeck: "I went in there thinking one thing I was going to love her to death regardless like that was my mantra, I'm going to see if I can conquer my innate fear of people who I think are not that smart and not want to debase and diminish them if I could try to lift her…try to lift her up and like I took her to her first Broadway show, ya know, I was very kind of loving to her, like a big sister. When that happened that day and she turned on me live on TV, ya know I was like OK, ya know what I can't do this."
"I said ya know with the war in Afghanistan, I said you know when the United States comes in and kicks down your door and walks in there, who are the aggressors? They didn't do anything to us, they didn't blow up the Twin Towers, why are we in there, why are we doing this? So she said that night, that weekend on Fox, all of the shows she was on and her friends, she said I was un-American person for saying that. And I told her why didn't you stand up for me and she's like I was standing up for you. I said well ya know you're a coward."
7. On If She Would Save Donald Trump If He Were Drowning: "I don't know that I would jump in, I might throw him a floatie…with an anchor. If he was drowning...I probably would which I hate about me. I'm such a bad hater. I don't want him to die. Do I want to him to spend the rest of his life in jail, I certainly do. And ya know what Howard here's what really gets me, sometimes I cry about what he's done to his family. I think of him as Bernie Madoff times a million."