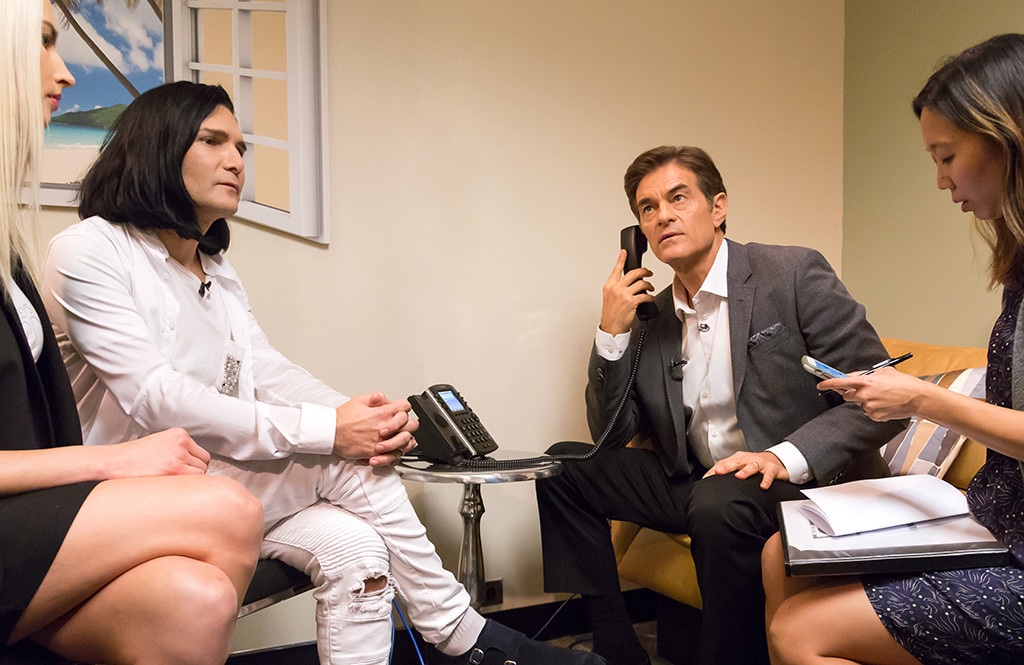 Sony Pictures Television
Corey Feldman says former actor Jon Grissom, who starred with him and Corey Haim in two films, sexually molested him as a child.
The accused man, whose name is often misspelled as "John Grissom," has not commented.
Last month, the 46-year-old Goonies actor released a seven-minute video, saying that he can named six people who allegedly committed sexual abuse and hopes to produce a movie about his life and the problem of pedophilia in Hollywood. The actor had often spoken out about the issue and in his 2013 memoir Coreyography, he named one of his alleged abusers, "Ron Crimson." On an episode of the Dr. Oz show that aired on Thursday, he confirmed to Dr. Mehmet Oz that that man is really Grissom.
"That is him," Feldman said as Oz held up a photo of the former actor on his phone. "That's the guy."
"This guy, on his Myspace page and his Facebook page has pictures of me and Corey Haim," Feldman said. "He still taunts it and flaunts it."
For years, since Feldman's book was released, people had speculated that "Ron Crimson" was Grissom.
"We had to change the names legally," Feldman told Oz. "The lawyers made me change the names...They gave me a list of three or four, you know, names. I picked the one that sounded closest to his name." 
Feldman and Haim, who died in 2010, were frequent co-stars and were dubbed the "Two Coreys." Grisson starred with them in the '80s films License to Drive, in which he played a valet, and Dream a Little Dream, in which he played a P.E. coach. They marked his only credited acting roles.
In his book, Feldman wrote that in 1986 or early 1987, his dad hired "Ron Crimson," a "young, good-looking guy in his early twenties" to work at his acting workshop and management company. The actor said that at age 15, he and "Ron" became friends and partied at clubs with friends together and also allegedly did drugs.
The Dr. Oz show later released a video saying that its legal counsel believes that Grissom served time in prison in 2003 for child molestation, lives in California and is a "fugitive from justice" as he never registered as a sex offender. E! News has confirmed through public records that Grissom was convicted of said charges. 
Feldman said he shared the accusations with the Santa Barbara Police Department  in 1993. A PIO with the SBPD told Fox News, "Our records do not indicate that he named any suspects. If he has any information regarding a crime or crimes that occurred, we encourage him to contact our office or his local law enforcement agency."
Jason Merritt/Getty Images
On the Dr. Oz show, Oz and Feldman were seen speaking with Los Angeles police over the phone. The conversation was not recorded for legal reasons. The LAPD told E! News the incident has been "brought to their attention" but there is no open investigation at this time. A representative told us Feldman can only file a formal report in person, and not over the phone from New York. 
"It seems to me like they are going to take it seriously," Feldman said on the Dr. Oz show. "They are going to do an interview with me when I get back to Los Angeles. However, they did give me the warning that based on the statute of limitations, they can only open an investigation, but they cannot promise that it will be prosecuted."
"I want to give them the names of everybody," the actor added. "I told them that. I said, 'I am going to give you the names of everybody I have any knowledge of and I would like you to start putting the pressure on all of them.'"
In his book, Feldman also identified former talent manager Marty Weiss as one of his alleged abusers and did not use a pseudonym, as in 2012, the man pleaded no contest to two counts of committing lewd acts on a child under the age of 14. He was sentenced to one year in jail and had to register as a sex offender.
Feldman named him again on Megyn Kelly Today earlier this week.
"I was abused by two different people," he said. "The second one ran a child's club in Hollywood...I just found out he's working for the L.A. Dodgers."
He did not name the man.