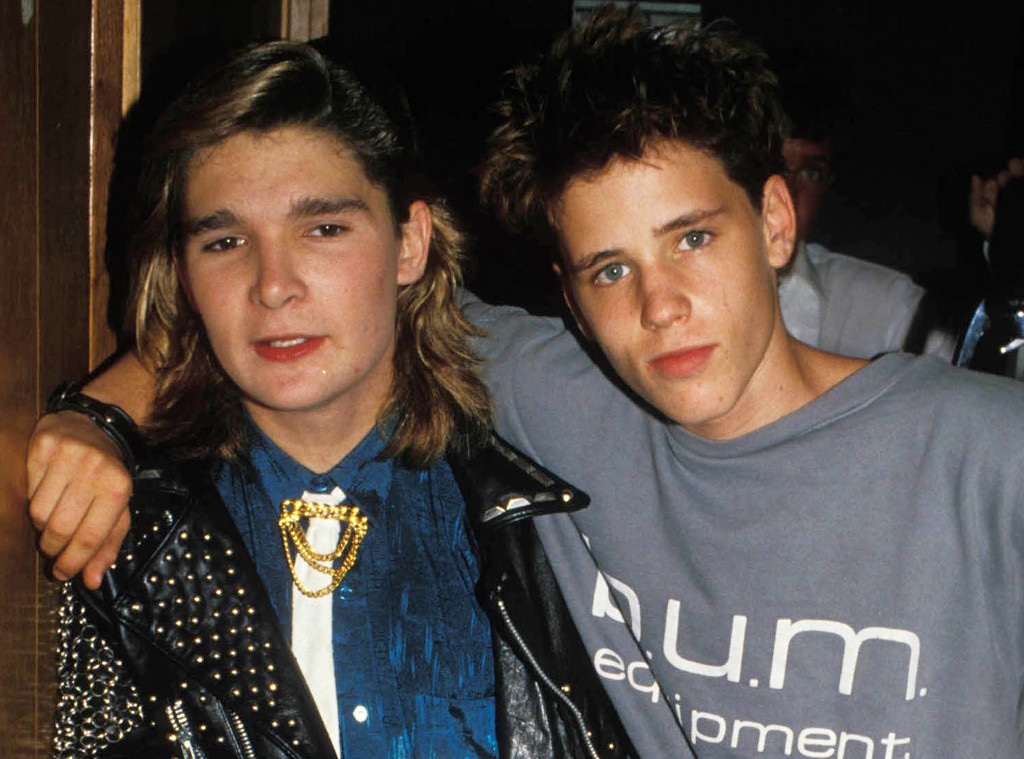 Roger Karnbad via ZUMA Wire
In 1989, Corey Feldman and Corey Haim were barely 18 and on top of the world.
Child actors made good, they had starred in quick succession in three teen classics—the box office hit The Lost Boys, License to Drive and Dream a Little Dream—that meant everything if you were anywhere near high school age at the time. And they had each other, the two Coreys by each other's side as they navigated the wild world of Hollywood.
A world that's never wilder than when you're a young heartthrob, awash in fame, attention, money and seemingly endless possibilities.
Feldman was a Los Angeles native who got his first acting credit at 8 as "Boy at Museum" in the 1979 sci-fi drama Time After Time. He voiced puppy Copper in Disney's The Fox and the Hound when he was 10 and enjoyed breakout roles in The Goonies and Stand by Me. He credited friends Steven Spielberg and Michael Jackson with influencing his decision to become a vegetarian, and he was a big Taco Bell fan.
Haim, who hailed from Ontario, Canada, had auditioned for the role in Goonies that went to Feldman, but instead he scored the title role as a sensitive, smart, bullied teen in 1986's Lucas, featuring Winona Ryder in her first film role as the quirky girl who has a crush on him. In a 1989 interview, Haim described his perfect date night—take a special lady to Dan Tana's (still an old-school favorite frequented by the likes of Leonardo DiCaprio) for Italian food, then go see Rain Man, the movie everyone was talking about at the time, and "thank her for a nice evening and drop her off at home."
Asked about upcoming Valentine's Day plans, he said he was probably going to take his mom out.
Haim and Feldman became inseparable while making the 1987 vampire thriller The Lost Boys. 
"I think the best thing [about that shoot] was keeping each other's sanity, in a way, by laughing a lot," Feldman said during a Larry King Live sit-down alongside Haim in 2007. "Yes, we keep each other laughing and that's the important thing in life, I think, to always be able to laugh."
Feldman cracked, "And then I've been stuck with him the rest of my life."
Asked what made them such a success as a pair, Haim mused, "Besides the name, obviously, which is a very double-bubble type issue...we just clicked, chemistry for ourselves. And people, I guess, get wind of it. Like, 'wow, these two have something off camera, but on camera it's...' They know what they're—we can complete each other's sentences."
"I've worked with a lot of great people through the years," added Feldman. "And with Corey, you know, you set us in front of a camera and tell us to go and it just happens. And there's really no explaining that, you know?"
After The Lost Boys, which co-starred Kiefer Sutherland and Jason Patric, it was on to License to Drive, with Heather Graham and Carol Kane, and then Dream a Little Dream, with Harry Dean Stanton, Jason Robards and Piper Laurie.
The party raged on as the '80s turned into the '90s, but the big-time work didn't follow. The Coreys started to be known for tongue-in-cheek cameos and C-movies, including a direct-to-video sequel to Dream a Little Dream. They stuck together for as long as they could, but life and the fickle nature of Hollywood drove a wedge through their friendship.
"We made an announcement on CNN, actually, where we said, you know, we felt that everybody was starting to get us confused," Feldman told King. "You know, people were calling me Corey Haim, they were calling him Feldman, they were mixing the two names together and it became Feldschmeister."
"And then when we took a break, we both fell into our hard times."
Their high-profile struggles unwittingly made them poster boys for troubled former child stars. 
"When I originally had my problems, and when Corey had his problems and all that sort of thing, we were at the tip of the iceberg, you didn't really see kid stars getting busted at that point," Feldman told ABC News 10 years ago when both he and Haim were asked to comment on the spate of trouble Lindsay Lohan was getting into at the time. "It all started snowballing after that."
But their troubles didn't start once they parted ways—rather, they were both already using drugs as a unit, Feldman calling License to Drive a place to "watch some drug abuse in action." 
"I was working on The Lost Boys when I smoked my first joint," Haim recalled to The Sun in 1994. "But a year before that, I was starting to drink beer on the set of Lucas. I lived in Los Angeles in the '80s, which was not the best place to be. I did cocaine for about a year and a half, then it led to crack. I started on the downers which were a hell of a lot better than the uppers because I was a nervous wreck. But one led to two, two led to four, four led to eight, until at the end it was about 85 a day—the doctors could not believe I was taking that much. And that was just the Valium—I'm not talking about the other pills I went through."
Their decline from young princes of Hollywood to struggling straight-to-video stars preceded the social media-driven world, but the 24/7 news cycle was quick to latch onto the Coreys' issues nonetheless.  
Feldman, who was arrested in March 1990 for heroine and cocaine possession and again for heroin possession that September, said on Nightline in 2007 that he "absolutely" felt guilty for what he felt was a betrayal to his fans at the time.
"Here I was this advocate for [the anti-drug campaign] 'Just Say No,' for all sorts of things that were positive and beneficial to children and I went, 'man, look what I've done'... but that's really unhealthy," he said. "The burden of all this shouldn't be on my shoulders, just as it shouldn't be on [someone like Lindsay's] shoulders."
Asked about those who would argue that Lohan should know better and had all the resources at her disposal to stay out of trouble, Feldman replied, "Nobody picks and chooses their demons."
Haim certainly didn't.
"I think I have an addiction to pretty much everything," he told Larry King. "I mean, I have to be very careful with myself as far as that goes, which is why I have a support group around me consistently."
"I feel real bad for her," the onetime heartthrob, who at one point ballooned to over 300 pounds brought on by his drug use, also said on Nightline about Lohan. "She doesn't realize she's getting sick...she's sick. For me, rock bottom was 'I can't look in the mirror anymore.' I felt guilty about myself, what I was doing, no work anymore. I just did something about it on my own. She's young enough to catch it. I see just a version of me, female, younger."
In 2007, Haim and Feldman—who made nine movies altogether over the years—starred in their own A&E reality show, The Two Coreys, which featured Haim hanging out with Feldman and his wife at the time, Susannah, and was intended to be an unflinching look at their lives, with an absurdist bent. The nostalgia factor combined with the train wreck aspect actually proved pretty magnetic for viewers, and the show was renewed for a second season.
By the time the series returned to A&E in June 2008, however, the Coreys were not speaking—the rift apparently caused by Haim's continued drug use and him showing up high to shoot a cameo in Lost Boys: The Tribe, a sequel to the 1987 hit that Feldman had a bigger part in. 
"We're not on speaking terms at the moment," Feldman told GQ. "There's always going to be some level of friendship. Blood is thicker than water. But I've officially drawn the line. If I'm helping to perpetuate a lie, I'm adding to the problem. Every person needs to hit their bottom."
Feldman added, "I think he's hit several [rock bottoms], but not the one that's taken him to the curb. I know that he's lost teeth. I know that he's lost hair. He's never been arrested. He's never spent time in jail. He's basically the Canadian Keith Richards."
Asked about his falling-out with Feldman, Haim told GQ, "I've been in L.A. for, let's say, four months. He's out of town, and he doesn't call, ever. But at the end of the day, there's always love."
Haim claimed he was back in the game, even taking out an ad in Variety announcing, "I'm back."
"I took an 11-year break back to Canada. I like long vacations," the actor said. "That's what I say to people. They ask, 'Where you been, Corey?' 'Where you been, Haimster?' But I'm getting back into my zone on-set, and it is absolutely what I've been lacking for years."
It was during the first season of The Two Coreys that both Feldman and Haim said that they had been molested when they were starting out in Hollywood as boys.
"That was one of those things that we'd discussed not bringing up. And then Haim brought it up anyway," Feldman told GQ. "You know how there's one thing that your friend's got against you that he could use as blackmail at any time? That was the one thing."
Asked how he thought being abused had affected his life, he said, "I certainly think it affected Haim's. I think it's stunted him. That's the root of why he hasn't had a solid relationship. I went through my own similar problems, and fortunately, I was able to [compartmentalize] it in my brain. Let's not forget that I went through an intensive 10-month rehabilitation process [for heroin addiction]. The only way I could overcome that addiction was to deal with my deep-rooted problems. I wanted to put it out there and give it back to God and all that healthy stuff you're supposed to do."
Insisting (as he would be asked to do repeatedly down the road) that it was not Michael Jackson who had molested him, Feldman said it was his former assistant, someone he hadn't seen since 1986, and he found the whole experience "just kind of bewildering. Despite what people think, I was actually very innocent and very naive at the time. I was your typical American kid."
Frazer Harrison/Getty Images
"That's life in this world. There are people that take advantage of other people—in this case, young, young children," Haim told the magazine. 
"It's something that will be addressed in my inner soul for the rest of my life, and it's something that truly affects me, and I opened up a can of worms, so to speak [by bringing it up on The Two Coreys]. Every day I opened up, like, a can of sardines. It's something I've addressed. Psychiatrists can be helpful. They have the medications and blah-blah-blah. But I don't want any of that, man. I've dealt with this, and I'm dealing with this—second by second, minute by minute, day by day. Everything's cool. It's just like, It happened, it's over, and move on. Let's move on to the next subject."
But while Haim was the one who first brought their shared secret into the light, it's since Feldman who's been carrying the torch—spurred on, perhaps, by the fact that Haim ended up unable to vanquish his demons in the end.
On March 10, 2010, Corey Haim was found dead in his apartment in the San Fernando Valley. He was 38. Though toxicology tests turned up at least eight substances in his system, including marijuana and cold medications, his death was attributed to pneumonia and a preexisting heart condition, officially natural causes.
Those who knew him well, however, had always feared that the worst would happen.
An outpouring of tributes highlighting the teen-cutie roles Haim was known for followed, prompting Feldman to wonder in an interview with Larry King, "Where were all these people to lend a handout, to reach out to him and say, 'you're a legend, you're an amazingly talented wonderful person who's never really gone out of his way to hurt anyone, other than himself?'
"In this entertainment industry, in Hollywood, we build people up as children, we put them on pedestals, and then, when we decide they're not marketable anymore, we walk away from them."
Ultimately, Feldman said, he hoped his friend would be remembered "as a beautiful, funny, enigmatic character who brought nothing but life and lights and entertainment and art to all of our lives."
Haim's movies do live on, but more recently his memory has been inseparable from Feldman's current mission, which, he says, is to expose the people who preyed on young boys such as himself and Haim in Hollywood.
Feldman's 2013 memoir Coreyography was packed with horrifying anecdotes, including what he says occurred with the former assistant he had mentioned to GQ years beforehand. He wrote that a lack of adult mentors and close family members in his life led him to surround himself with the wrong people. 
"Slowly, over a period of many years, I would begin to realize that many of the people I had surrounded myself with were monsters," Feldman wrote. He said that he and Jackson bonded over their respective stories of childhood trauma, the singer's being alleged physical abuse at the hands of his father, menacing family patriarch Joe Jackson.
"People always ask me about life after childhood stardom," he wrote. "What would I say to parents of children in the industry? My only advice, honestly, is to get these kids out of Hollywood and let them lead normal lives."
During a 2013 appearance on The View to talk about the book, Feldman said, "There are people that were the people that did this to both me and Corey that are still working. They're still out there, and that are some of the richest most powerful people in this business. And they do not want me saying what I am saying right now."
"Are you saying they are pedophiles and that they are still in this business?" co-host Barbara Walters asked him at the time.
"Yes," Feldman insisted. "They don't want me here right now. They want me dead."
"You're damaging an entire industry [with those allegations]," Walters suggested, to which Feldman replied, "I'm sorry."
Feldman continued to speak out on the subject anywhere he could, from on-camera interviews to Twitter—and he also continued to insist there were forces at play that didn't want him to talk.
In May 2016, he told The Hollywood Reporter that Corey Haim "had more direct abuse than I did. With me, there were some molestations, and it did come from several hands, so to speak, but with Corey, his was direct rape, whereas mine was not actual rape. And his also occurred when he was 11. My son is 11 now, and I can't even begin to fathom the idea of something like that happening to him. It would destroy his whole being."
Nothing substantial came of it, as tended to be the case. But now, a sea change at least seems to be underway, and Feldman is diving in.
With the growing pile of allegations of sexual assault and harassment against disgraced film mogul Harvey Weinstein leading to a collective outcry about the lamentable treatment of women (and more and more men) in Hollywood and countless other industries, Feldman took to social media:
"4 THE RECORD: I WILL NOT B GOING ON A TALK SHOW 2 DISCLOSE NAMES OF MY ABUSER OR ANY1 ELSES ABUSERS. SO PLEASE STOP ASKING ME 2 DO SO. ALSO LET ME ADD, THIS IS NOT ABOUT FEAR OF BEING SUED! YES THATS A REAL POSSIBILITY BUT THE BIGGER REASON IS SAFETY 4 MY FAMILY! ALREADY OVER THIS! MY CAREER WAS SHUT DOWN, I HAVE BEEN MOCKED & SHAMED 4 DOING WHAT I HAVE DONE 2 THIS POINT! I WOULD LOVE 2 C OTHERS COME FORWARD AS THERE R MANY OTHER WITNESSES 2 THE CRIMES I HAVE ADDRESSED. STILL NOT 1 OF MY PEERS HAS OFFERED UP ANYTHING IN A DECADE!"
Last weekend Feldman said that a report that he'd been busted for marijuana possession while on the road with his band, Truth Movement, was being blown out of proportion. He insisted that he was neither arrested nor put in jail, but "received a misdemeanor" because a crew member had prescription medical marijuana on their tour bus in Louisiana, and they could all clear themselves after they showed proof of prescription.
"IT WAS A BIT OF A GOOD OL SHAKEDOWN!" he tweeted. "AFTER WE PAID THEM IN CASH, THEY ASKED 4 PICS & AUTOGRAPHS, & THEN CALLED THE LOCAL PAPER 2 DO INTERVIEWS. 
"I DO FIND THE TIMING OF ALL THIS IRONIC! BUT HAVE NO FEAR, WE R HEADED 2 HOUSTON, & WE WILL PERFORM THE BENEFIT CONCERT 2NITE 2 HELP RAISE $"
Meanwhile, he has continued to point to Corey Haim as a fellow victim who experienced even more serious violations than he did as a young teen, maintaining that this was part of an ongoing effort to hold the entertainment industry accountable for how it chewed them up and spit them out. But Haim's beloved mother—whom he was living with at the time of his death—doesn't like how her son's onetime best friend is going about it.
Last week Feldman announced a plan to tell all and name names in a documentary about his life and sexual abuse in Hollywood—and he's trying to crowd-source $10 million to get the project off the ground.
"I have a message: The message is, 'reveal your abusers now because you've waited and you've talked about it for a long time,'" Judy Haim, Corey's mom, told E! News on Monday. 
"Today," Judy continued, "because of what's going in in Hollywood, it's opened up a door for all the abused to come forward. None of the other ones are waiting for $10 million to make a movie and then reveal them. I feel very sorry for him and he kept claiming all these years that he was abused and obviously I feel bad for all the victims, including my son." But "I've had enough of Corey Feldman talking about my kid in this manner since he passed away, and you know why it started with him? Because my son opened up a can of worms on The Two Coreys...Corey Feldman is making it sound like my son was passed around in Hollywood by every single man. The reason he's doing this is because my son, he told me and all of his other friends what happened with this one guy.
"My son couldn't keep anything to himself. If you go look at any interview that my son has ever done, he never really hid the drug use, he talked to everybody about everything. That's his life, if he wanted to talk about something that was going on in his own life, he did so. It's not Feldman's place to talk about my kid."
Over the weekend, in an interview with The Hollywood Reporter, Judy called Feldman, more frankly, "a scam artist. If he was serious about this, he'd share the information he has with the police."
"Corey Feldman loved Corey Haim and protecting his legacy is very important to him," Feldman's rep told E! News in response. "They were, are and will always be The Two Coreys. Corey Feldman has been trying to get this truth out for a very long time."
Feldman also tweeted, "U GUYS KNOW I DONT EVER SAY ANYTHING BAD ABOUT ANY1, BUT JUDY HAIM (no longer her last name) IS A BAD WOMAN WHO VEHEMENTLY PROTECTS EVIL!"
This morning talking to Matt Lauer on Today, Feldman said, "I'm not playing around. It's serious stuff and I vow I will release every single name that I have any knowledge of, period. And nobody is going to stop me this time as long as people support this."
While Judy Haim has said that she'll support Feldman's mission "100 percent" if he chooses to speak out and identify the alleged perpetrators "before they abuse any more people," she doesn't see his current request for funding as anything more than a money-making scheme. And her son's memory doesn't need Corey Feldman.
"I keep telling the press: These two were not best friends," Judy told E! News. "They were not friends. What friend does that to another friend?"
—Additional reporting by Beth Sobol