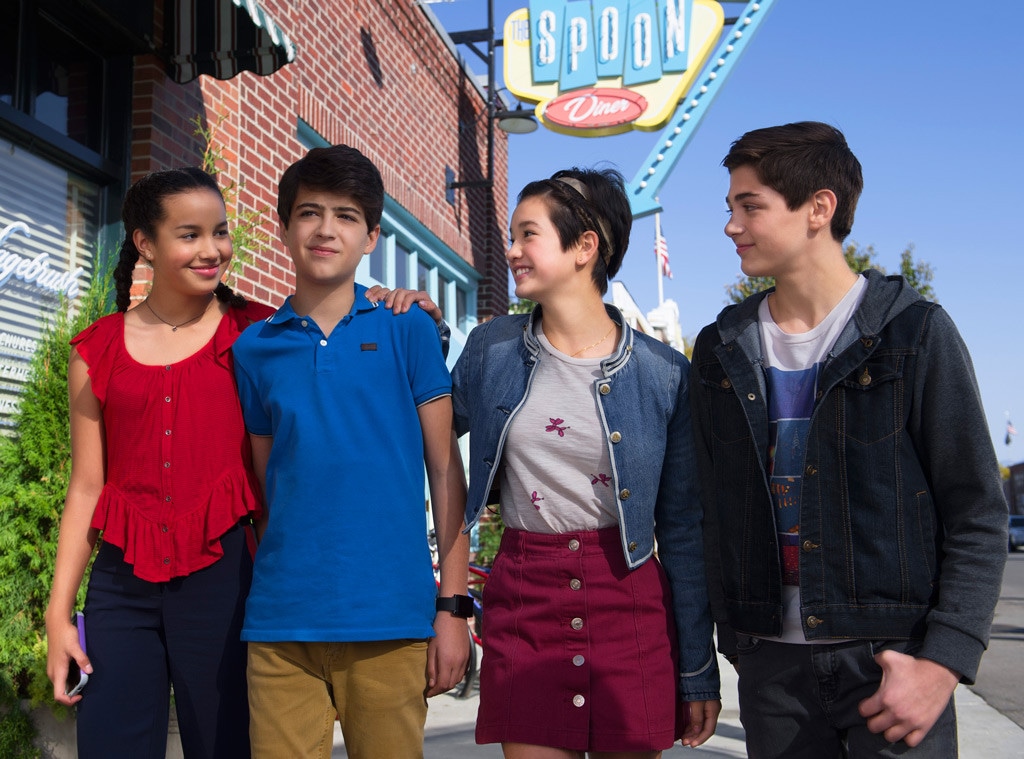 Disney Channel
There's an old Junot Diaz quote that comes to mind whenever I think about what it means for a minority underrepresented in media to finally have their story deemed worthy of gracing your TV screens.
"You know how vampires have no reflections in the mirror?" the Pulitzer Prize-winning author asked an audience at the Bergen Community College in Paramus, NJ in 2009. "If you want to make a human being a monster, deny them, at the cultural level, any reflection of themselves.
"And growing up, I felt like a monster in some ways. I didn't see myself reflected at all. I was like, 'Yo, is something wrong with me?' That the whole society seems to think that people like me don't exist? And part of what inspired me was this deep desire, that before I died, I would make a couple of mirrors. That I would make some mirrors, so that kids like me might see themselves reflected back and might not feel so monstrous for it."
Of course, Diaz, an immigrant to the United States from the Dominican Republic, is speaking about his own cultural experience. But the idea he's getting across could apply to just about anyone in America who doesn't identify as a straight or white or cisgendered. It's an idea that crossed my mind several times growing up as a confused gay kid in the suburbs outside of Los Angeles. And it's an idea that gets right to the heart of why news that Disney Channel will be making history when season two of their hit series Andi Mack introduces an LGBTQ storyline is so vitally important.
The cable network, a provider of kid-driven programming currently available in 91 million homes in the U.S. and countless millions more globally, announced that the second season of Andi Mack, premiering Friday, Oct. 27, will begin to tell the story of a male tween—one of the show's main characters—on his journey of self-discovery after realizing he has a crush on his male classmate. 
Andi Mack, which hails from Lizzie McGuire creator Terri Minsky, tells the story of the 13-year-old titular Andi (Peyton Elizabeth Lee) and her interactions with her family and her best friend Cyrus (Joshua Rush) and Buffy (Sofia Wylie). In Friday's season premiere, Andi will be wrestling with her feelings for classmate Jonah (Asher Angel) while her pal Cyrus, also 13, will come to realize that he has feelings with Jonah, as well. He confides in Buffy—the scene and Buffy's reaction are intended to serve as a positive role model for both parents and kids—even as he struggles with how to share his feelings with his new girlfriend. As the season progresses, viewers will watch Cyrus on his journey that will ultimately result in self-acceptance as a gay individual.
"Andi Mack is a story about 'tweens' figuring out who they are; Terri Minsky, the cast and everyone involved in the show takes great care in ensuring that it's appropriate for all audiences and sends a powerful message about inclusion and respect for humanity," a Disney Channel spokesperson said in a statement.
"Starting conversations about trust, love, relationships and family dynamics is easier when you have a show that you can relate to," Rush wrote on Instagram. "Andi Mack gives young people and their parents, mentors, and champions a meaningful way to talk about these topics and the power to decide their futures. I'm so proud to bring Cyrus' groundbreaking storyline to life and for you to see what we've been working on." 
While the network has featured gay characters before, in a single episode of both Good Luck, Charlie and the animated Doc McStuffins, this marks the first time Disney Channel has introduced its viewers to a main character who is embarking on such a journey of self-discovery. Guided by The Walt Disney Co.'s written statement on its stories and characters, with its emphasis on inclusion "with stories that reflect acceptance and tolerance and celebrate...differences," Minsky and the network sought out guidance from child development experts when crafting the storyline and screened the premiere for organizations such as GLAAD and PFLAG.
"With more and more young people coming out as LGBTQ, Andi Mack is reflecting the lives and lived experiences of so many LGBTQ youth around the country," said Sarah Kate Ellis, President and CEO of GLAAD. "Television reflects the real life world and today that includes LGBTQ youth who deserve to see their lives depicted on their favorite shows. Disney has been a leader in LGBTQ inclusion and there are so many young people who will be excited to see Cyrus' story unfold."
Harking back to Diaz's point above, Zeke Stokes, VP of Programs at GLAAD, gets right to the point about why this sort of representation is so necessary. "It is crucial that LGBTQ people see characters like themselves portrayed in fair, accurate, and nuanced ways onscreen," he said in a statement to E! News. "When LGBTQ characters and storylines are not present, it sends the dangerous message that we don't matter or that we don't exist."
The importance of that simply can not be understated. Even in the best of circumstances, the process of coming to terms with one's sexuality, let along finding the courage to say it out loud to even your closest of allies, is a confusing and scary time in any person's life. And it largely begins in your tween years. (At least it did for this author.) For many, it can be an isolating experience, as many close themselves off from family, friends and their community out of fear that they won't be accepted. So, to see themselves on television, to watch a character their age going through exactly that whey're going through and reaching the other side unscathed? With the CDC reporting in 2010 that the second leading cause of death among young people ages 10 to 24 is suicide, followed by a 2016 report that LGB youth seriously contemplate taking their own lives at almost three times the rate of their heterosexual counterparts, you can't even begin to put a price on that.
But a funny thing happens when you begin representing LGBTQ characters (or characters from any minority group, for that matter). You learn that the benefits of representation are twofold. Not only are you reinforcing the idea to countless scared individuals consuming the media that they exist, they matter and their stories are worth telling, but you're increasing their visibility in a wider landscape, helping to normalize them to a world that may seek to marginalize them or simply ignore them altogether. It's no coincidence that, when then Vice President Joe Biden announced his public support for marriage equality in 2012, he cited Will & Grace as having done more to educate the American public than anything else since. Visibility and accurate representation matter. Period.
"Sharing one's innermost self can be challenging, and to do so as an adolescent can be particularly so, especially when in the midst of figuring it out for yourself," PFLAG National Executive Director Dr. Jaime Grant said in a statement. "Coming out requires honest self reflection, no small amount of bravery, and a safe place with at least one trusted person—a friend, a parent, a teacher—who can hold your confidence...and your heart. Andi Mack's creative team captures this moment of revelation with such thought, care, and authenticity; it will be a memory moment for some, and a teachable moment for many."
With Andi Mack airing in 91 million homes in the U.S., with its median viewer age of 10 and status as No. 1 in its time period among kids six through 14, this teachable moment has the potential to do a world of good.
When TV finally holds up the mirror and allows us to see ourselves, it not only reminds us that we're not so monstrous after all, but it also lets those standing next to us see us as we really are—and sometimes for the first time, too. 
Andi Mack returns for season two on Friday, Oct. 27 at 8 p.m. on Disney Channel.