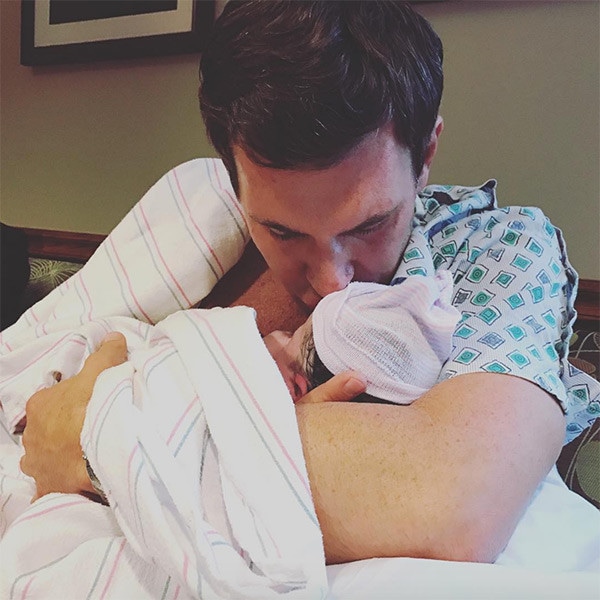 Instagram
Jeff Lewis' baby girl was born one year ago today!
The Flipping Out star and Gage Edward welcomed their daughter Monroe Christine Lewis last October via a surrogate after multiple adoption attempts didn't work out. "At 4:22pm today, I grew up," Lewis wrote on Instagram announcing their daughter's birth. "Welcome Monroe Christine Lewis."
12 days after Monroe's birth, Lewis gave his Instagram followers an update on baby Monore and shared how he and Edward were adjusting to parenthood. The Bravo star wrote alongside a pic of himself holding Monroe, "Day 12 and she's still alive! #milestone #wegotthis #butwearetired."
By December, Lewis had mastered multitasking and was enjoying bonding with Monroe. On Christmas, he shared a photo of himself holding Monroe while playing Pac-Man. He captioned the pic, "Daddy daughter bonding. #bedhead #doublechin #dadbod."
The next month, Lewis shared an adorable pic while walking with Monroe. He wrote alongside the pic, "Sunday morning power walk. #babyweight."
Monroe has even joined her dad at work! In March, Lewis posted a pic of Monroe sitting with him while he worked. "New intern," he told his followers.
In April, Lewis shared his thoughts on babies and sugar. "I think we should avoid sugar," he wrote alongside a video of a bouncing 6-month-old Monroe.
By August, Lewis was dishing about becoming a stage dad. He shared a pic of Monroe inspecting a camera to Instagram with the caption, "Monroe is ready for her Flipping Out premiere tonight. #stagedad."
Now, Lewis is celebrating Monroe's birthday with another special Instagram shout-out. "Happy Birthday Monroe! Love, Daddy," Lewis captioned the cute pic.
Happy birthday to Monroe!
(E! and Bravo are both members of the NBCUniversal family.)