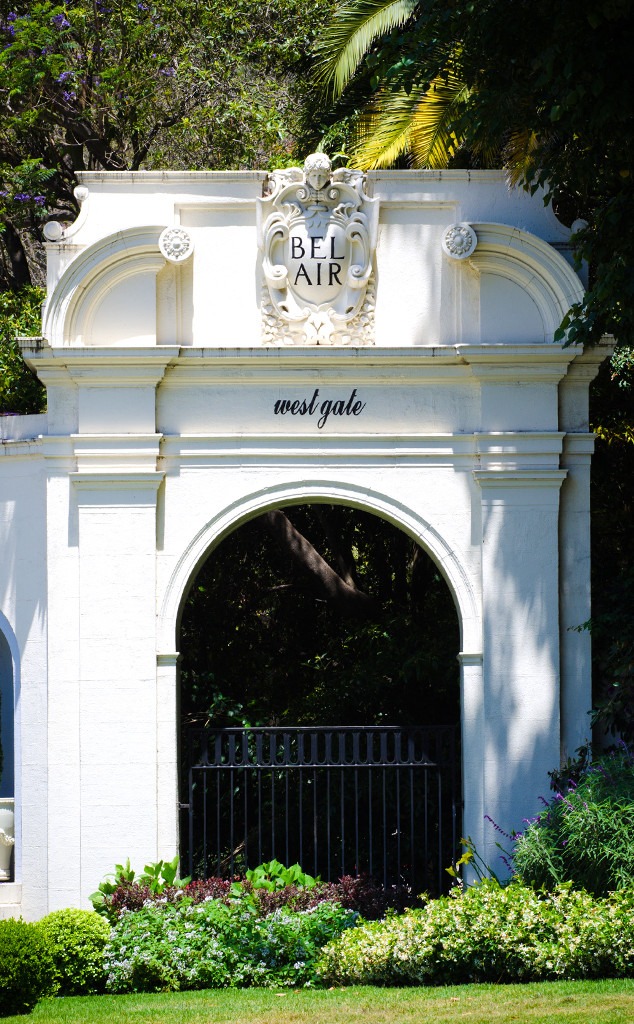 iStock
For regular people, a house becomes a home when it's filled with family, perhaps. Or after throwing your first big dinner party. Or, if we're being completely honest, after you've burned your first pumpkin candle of the season. 
But for celebrities home takes on an entirely different meaning: They require utmost exclusivity and privacy, tight security and of course a dizzying amount of space. Stars buy up real estate all over the place, but in New York and Los Angeles there are certain neighborhoods and buildings that attract more A-listers than others. These are the posh zip codes, the swanky buildings, the gated communities that most of simply gawk at from the outside. They're almost like Harry Potter's Room of Requirements: If you're a celebrity, you can almost will them into apparition. 
And while most civilians will never set foot inside of these enclaves we can get access to some of their insider secrets. We hear the tall tales of the Hollywood Hills, we get the gossip from Bel Air, and if we're lucky someone in the know will dish some pretty fascinating facts. 
First, a little refresher about exactly where it is that all of these A-listers prefer to rest their weary heads. There's Hidden Hills, a secluded community better known as the Exclusive Calabasas (yes, this is for the people who are too rich for Calabasas). It's a 45-minute drive (at least) from central Los Angeles which means that it's almost a suburb of a suburb, but the homes are anything but run-of-the-mill—the gated neighborhood plays host to the mansions of The Weeknd, Drake, several Jenners as well as Kim Kardashian and Kanye West.
A little bit closer in is Brentwood and the Pacific Palisades, where stars like Gwyneth Paltrow and Reese Witherspoon run their Hollywood mom club. You won't find quite the formal gated situation here, but these homes are anything but accessible. Stars also frequent Bel Air and the Hollywood Hills. 
In New York City A-listers are scattered across Manhattan, from townhouses on the leafy streets of the West Village to the quainter Brooklyn neighborhoods, but there are a few places where stars are more concentrated than others. Like the Tribeca building whose tenant list reads like a who's who of past Saturday Night Live hosts—Jake Gyllenhaal, Jennifer Lawrence, Justin Timberlake and Jessica Biel and Ryan Reynolds and Blake Lively, to name just a few. 
The former book bindery-turned-condo complex bills itself as fully paparazzi-proof, with features like below-ground valet parking to keep its residents hidden from the outside world as much as possible. It also has a 24-hour doorman (duh), a roof terrace, a wine cellar and completely ridiculous apartments that are rumored to have features like private indoor pools. 
For mega-rich stars who have their pick of just about every exclusive neighborhood in the country it can be hard to do just that: Pick. But according to Tracy Tutor Maltas, a prominent Los Angeles real estate agent at Douglas Elliman and the newest cast member of Million Dollar Listing, it all comes down to lifestyle. 
"It depends on where each client is in their life," she explained. "The under-30 clients or the ones who aren't married with children will want to be in the Hollywood Hills because it's a faster pace, at the center of everything and with killer views. The Brentwood clientele, say, is thinking about family and kids and being close to great private schools."
She adds that when she's selling high-end property to a celebrity family, school very much comes into play—these A-listers are very particular about where they send their children and can often have their offspring in as many as three different schools at one time. That means they need a home base that makes sense. 
"Ultimately they want a community," she said. "Even a celebrity wants their kids to have normal lives and be close to other kids at their school." 
The biggest stars also need a level of security and privacy in any of their homes. Maltas noted that she does a very strict screening process of any property she shows to an A-list client: "If it's not set back from the street with a huge hedge we're not even looking at it," she says. 
There is a bit of a checklist that stars will refer to when they're choosing their mansions—gated communities are often preferred, as are large lots that are hard to access from the street. There isn't a formal application process to get into these gated neighborhoods the way that a New York City co-op board has final say over who purchases apartments in a certain building, but Maltas says the high price-tag takes care of itself. 
"If you can write the check to get into those exclusive communities, you're going to be able to live there," she said. 
The wealthiest real estate shoppers are really and truly looking for even more than a gated community—they need to ensure that their multi-million dollar pads, whether in Tribeca or Hidden Hills, are outfitted to the nines in security swag. Maltas points out that they use full security teams, cameras all over the properties, and "elements that we don't even know are happening" to protect themselves. 
And once they find the perfect pad it's a bit of an arms race, if you will, to get them. In exclusive neighborhoods and buildings like the aforementioned Tribeca behemoth, there are only so many properties and often several interested parties. 
"There are always bidding wars," Maltas explained. "When something comes along that meets all the requirements a celebrity has, people do crazy things. I've seen people go so far as to release $1 million to the seller—in cash." 
But before any of us go prying for even more details, we should all be aware that the celebrity real estate market is one of the most hush-hush industries around. Stars have huge teams in place—one A-lister buying a home often involves business managers and lawyers, in addition to the brokers—and everyone involved is required to sign lengthy non-disclosure agreements that can run four to five pages. Even the deals themselves are specifically crafted and worded to protect the celebrities at all cost. 
Like everything else in Hollywood, you only know what the stars want you to know.