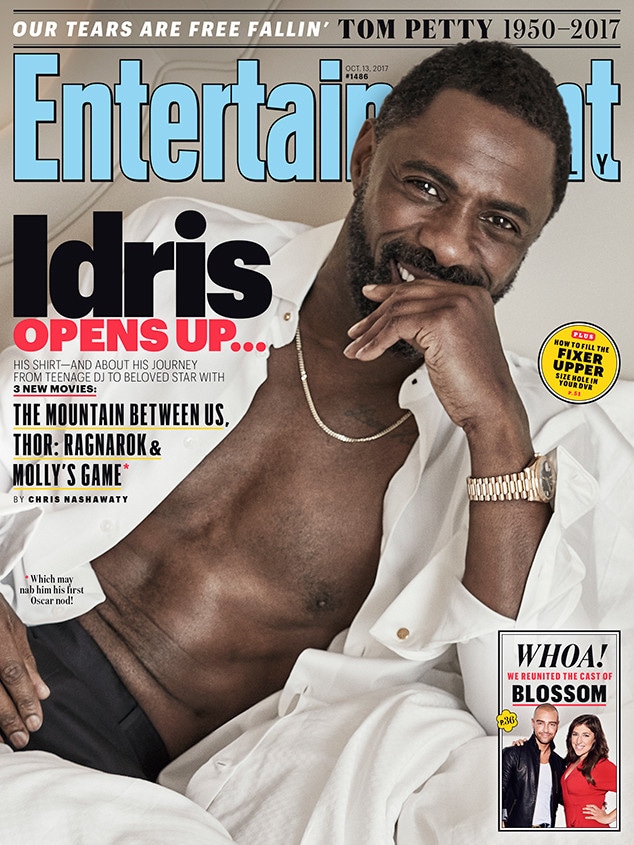 Entertainment Weekly
Don't mind if we stare. 
Idris Elba, 45, unbuttoned his shirt and bared his body for the cover of Entertainment Weekly's Oct. 13 issue.
Besides exposing his chest, the Golden Globe-winning actor exposed what it's like to be one of Hollywood's leading men. In the article, he talked about directing his first film Yardie, his rise to fame and acting in three new films: Thor: Ragnarok, Molly's Game and The Mountain Between Us.
"I like that I'm working all the time and I'm not pigeonholed or stuck in a line," he told Entertainment Weekly. "That may not be great for my bank account, but it's good for me."
The Mountain Between Us premieres this week on Oct. 6. In the movie, Elba and his co-star Kate Winslet play two strangers who are forced to work together to survive the dangerous mountain elements after experiencing a plane crash. Elba and Winslet have a sex scene in the film, and Elba told E! News what it was like to shoot the intimate scene.
"When it comes to love scenes, you have to trust your actor; be respectful of people's comfortability about that. And Kate's great with that," he told E! News. "I think it was weirder for me because I haven't done too many love scenes, if I'm honest."
In addition to being an actor, Elba has another major role: dad. In a cover story for Essence's global issue, for which he also posed shirtless, Elba talked about his children.
"Having a young child now keeps me young, without a doubt," the actor said. Elba has a young son and a teenage daughter. 
Elba and his daughter Isan shared a cute moment when she complimented her father on his outfit at the screening of his film The Dark Tower in New York.
"I have to give him props for this one," she told E! News about her dad's ensemble. "I am actually really proud of him for this."
Check out the Entertainment Weekly's new issue for the full article.