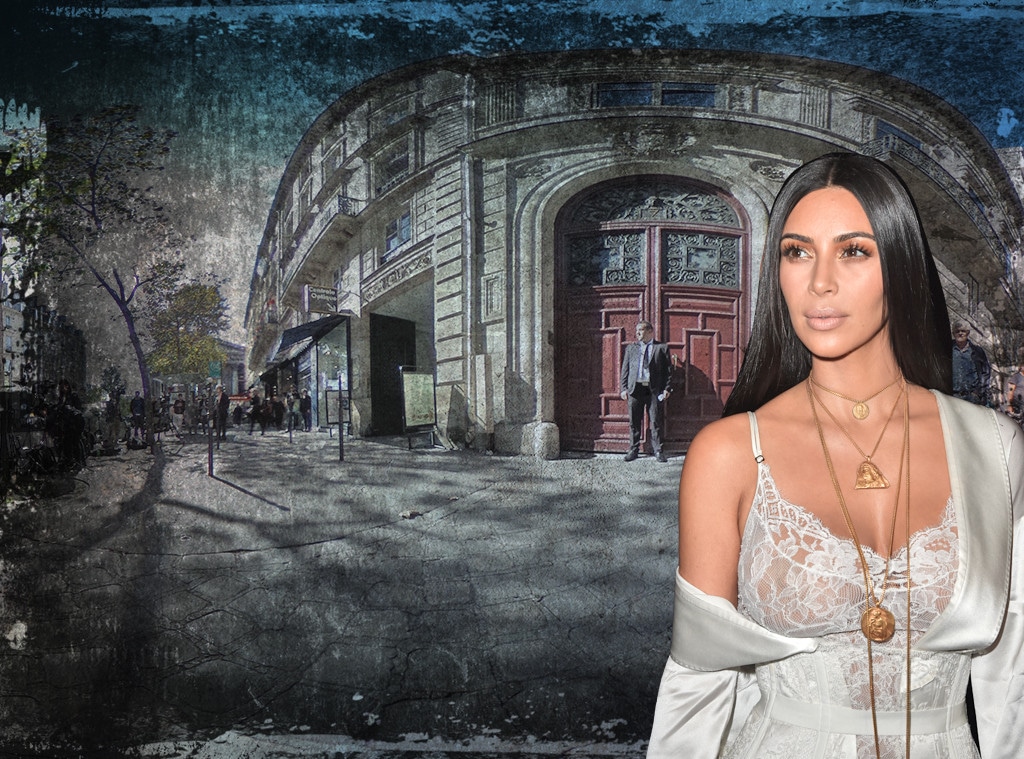 Getty Images/ E! Illustration
A year ago, Kim Kardashian's life was forever changed when she was bound, gagged and robbed at gunpoint during Paris Fashion Week. Five individuals, dressed as police officers, broke into her apartment and stole millions of dollars worth of jewelry. As they searched her belongings, the E! reality star was placed in a bathtub. Once they left, she somehow managed to wriggle her hands free from the plastic ties around her wrists and screamed for help. After police arrived on the scene, Kim's rep told E! News she was "badly shaken but physically unharmed." Kim then boarded a private jet and flew to New York to reunite with her family.
(Kim's two children, North West and Saint West, were in Manhattan at the time.)
As it was both an active investigation and a traumatic experience, Kim stayed quiet for months, going on a self-imposed social media blackout. When she gave her first TV interview about the experience to Ellen DeGeneres in April, she recalled hearing people running up the stairs; she assumed it was Kourtney Kardashian and a friend "coming home drunk" from a nearby nightclub.
Watch:
Will Kim Kardashian West Ever Return to Paris?
But Kourtney was nowhere to be found. Once she realized what was happening, Kim feared the worst. "Automatically, [my] stomach dropped. It's a feeling you can't even explain. Like, I knew that was it for me," she said. "I said a prayer, like, 'I know I'm going to heaven. I hope my kids are OK, and my husband.'" By her estimation, it was "a good seven or eight minutes of torture."
At the time, Kim's friend Simone Harouche was hiding in a nearby room. "She heard what was going on and she heard me screaming," she recalled, "so she called my sister and my security."
But try as she might, Kim couldn't—and wouldn't—forget what happened.
As she recounted to her sisters in an episode of Keeping Up With the Kardashians, the masked men asked, "Where's the rapper's wife?" and demanded "Let us up to her room!" in French. "I was like, 'I have a split second in my mind to make this quick decision. Am I going to run down the stairs and either be shot in the back?'...It makes me so upset to think about it. 'Either they're going to shoot me in the back, or if I make it and they don't, if the elevator does not open in time, or the stairs are locked, then I'm f--ked. There's no way out.'" The robbers, using the concierge as an interpreter, confiscated her $4 million engagement ring from Kanye West.
Watch:
Kim Kardashian West Explains Horrifying Paris Robbery
When they duct-taped Kim's hands and feet, she knew sexual assault was a possibility. One of the men "pulled me toward him at the front of the bed and I thought, 'OK, this is the moment they're going to rape me,'" she said. "I fully mentally prepped myself—and then he didn't." It all happened "really fast," she said on The Ellen DeGeneres Show. "But when I look back and I analyze it, I'm like, 'OK, they weren't aggressive.' It could have been way worse, so I don't want to sound like I'm not grateful. I'm out, I'm home, I'm safe, I'm such a better person—it's OK."
The thieves fled the scene, but police continued their investigation. In January, 17 people between the ages of 23 and 73 were detained for questioning related to the armed robbery. The prosecutor's office said Kim's engagement ring was worth an estimated €4 million ($4.5 million); a jewelry box with contents worth about €5 million ($5.6 million) had also been stolen.
"I honestly never thought that they would catch the robbers," Kim admitted on Keeping Up With the Kardashians. "I just thought so much time has gone on and I didn't really realize how diligent the French police were being and just all the hard work they were really putting into it."
In February, Kim spent eight hours testifying with French authorities at a New York City hotel. As she later told Kris Jenner in an episode of Keeping Up With the Kardashians, "Going in there, I was so worked up wanting to explain it so quickly, and you just can't do that. You just have to be really slow and walk through the entire night, second by second, and it was just really hard."
Watch:
Kim Kardashian West Details Robbery to French Judge
During her testimony, Kim finally got to see pictures of all the people who were involved. "Just by their height and weight, I could tell who from this lineup was in the room with me. I was able to see who confessed. One of them was the guy that was in the room with me," she said. "It was very interesting to hear his story and it was pretty similar to my story. Of course, there was like a few things they're not saying to get lesser charges, but they were pretty honest and did tell most of the story exactly like how it happened. It's really interesting to see what their side of the story is and to hear the background information about how they had been following me and how they attempted to rob me the last time I was in Paris, but my husband was with me."
In hindsight, Kim wishes she hadn't shared so many details about her trip to Paris on social media before the robbery. As for flaunting her expensive taste, she told Ellen, "I don't care to show off the way that I used to. Even though there's nothing wrong, truly—it's OK if you're proud of that and you work so hard and you get something—it's just not who I am anymore."
"It was meant to happen to me. I really feel like things happen in your life to teach you things. It was probably no secret, and you see it on the show—I was being flashy and I was definitely materialistic before," Kim said, adding, "I'm so happy that my kids get this me and that this is who I'm raising my kids [as]—because I just don't care about that stuff anymore. I really don't."