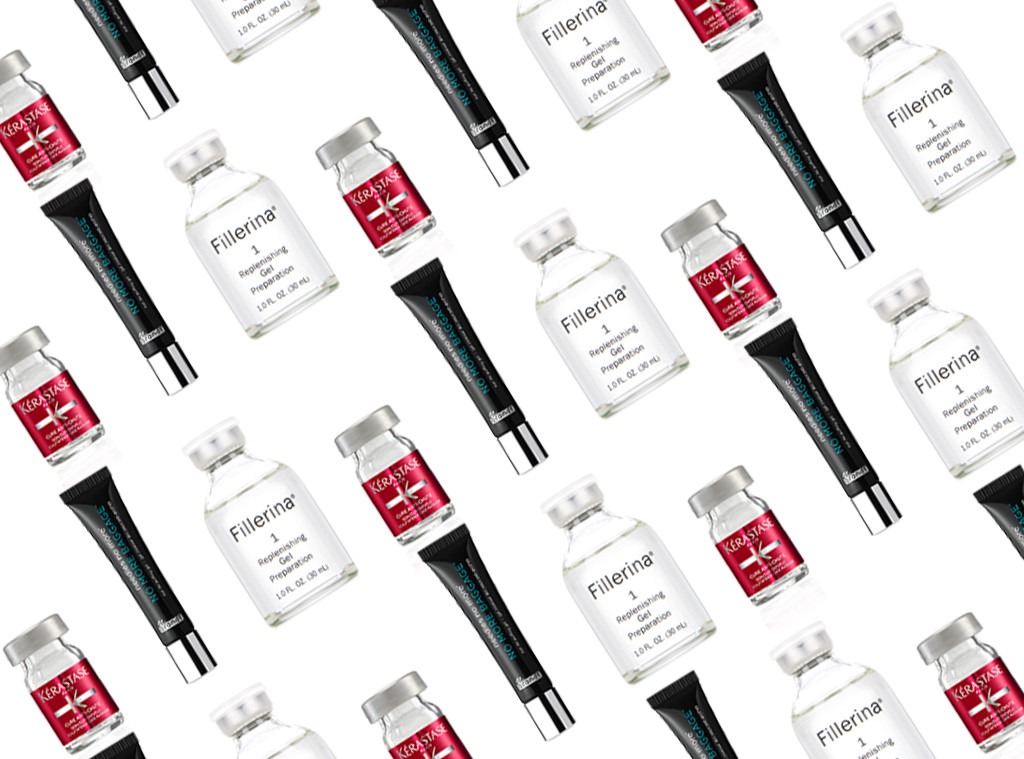 It's no secret: Celebrities love needles, fillers and Botox.
Although some cop to it (thanks for the honesty, Kelly Ripa), there are plenty of stars who stay mum on any artificial plumping assistance—we all deserve privacy, after all. But thanks to a month behind the scenes at fashion week and the Emmys, we learned from industry insiders a few undercover products celebrities use when they don't want to trek all the way to the dermatologist's office. Luckily for you, these magical, growth-aiding products cost a fraction of the price.
There's no doubt that eye cream is a skin-care must, but for those mornings after a long cry or sleepless night, you may need more help than an under-eye moisturizer can provide. Put that frozen spoon down—because this de-puffing gel works in mere minutes. It's no wonder we saw it being used backstage at runway shows during NYFW. Unlike its creamy counterparts, the gel-like formula has more of a custard-like texture, which helps you apply it on top of makeup without smudging or ruining your look. You can use it under makeup, too! While the immediate fix is the appeal, the product lessens the appearance of dark circles overtime with continual use. Just don't forget the eye cream at night!
The minute you open the kit, you may feel overwhelmed. It may look like an at-home fillers set, but rest assured: This treatment is topical only. The formulas are jam-packed with everyone's favorite hydrating ingredient—hyaluronic acid—plus plumping ingredients like peptides and essential oils. How does it work? The first vial is a plumping gel, which penetrates into and adds volume to skin layers that it can reach. The second formula creates a film or barrier over your skin so everything within stays. The effect? Over the next 14 days, you may have a plumper pout, softer skin around your eyes and neck and less fine lines and wrinkles…with no needles needed. Or that's what we're told—actors have been known to use to this treatment before pilot season commences. Hey, not everyone has that Botox budget yet.
Not everyone in Hollywood has a full head of bouncy, shiny hair. For the most part, it's extensions. Celebrities have thinning hair, too; and, while hair transplantation is a thing and costly at that, many stars look for supplements and serums to help them with any hair loss. Enter: Kérastase Spécifique Cure Anti-Chute, a six-week treatment that includes daily application, three times a day. It's a lot of work and it can get messy, but that's the work you have to put in to get density-strengthening and collagen-producing ingredients to work.
Another option gaining celeb attention? Nutrafol, a dietary supplement created by a former male model (so you know it has to live up to standards). Instead of just addressing nutritional deficiencies, these supplements factor in stress, hormones and aging—all factors in hair loss—with vitamins A, C, and D, zinc, biotin and a proprietary complex and blend of ingredients.
Nutrafol, $88 a bottle
We love these products, and we hope you do too. E! has affiliate relationships, so we may get a small share of the revenue from your purchases. Items are sold by the retailer, not E!.