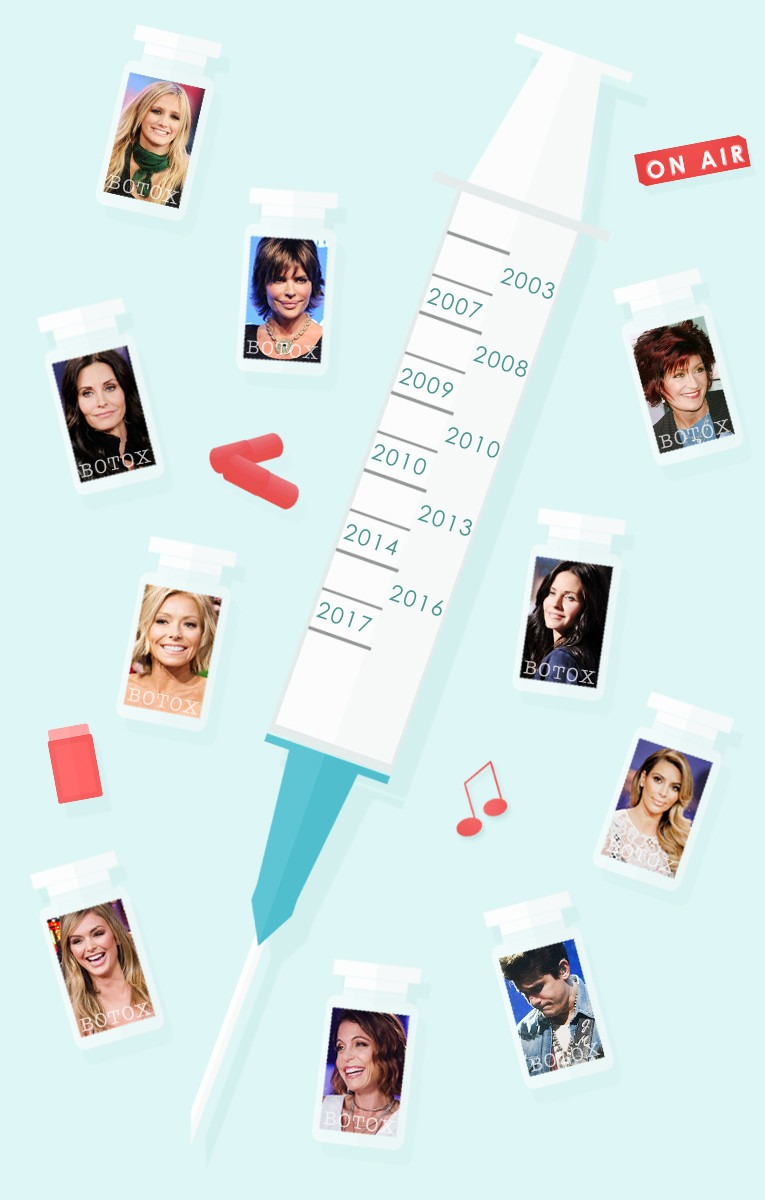 If there's one thing celebs aren't shy about, it's Botox.
When it's your job to look forever young, there's no cosmetic procedure too extreme, but if you ask any celeb nowadays, Botox is hardly that. 
"If you start early enough, in small strategic doses, it's preventative—actually minimizing the progression of wrinkles so that you never get them," explained celeb plastic surgeon Dr. Stafford R. Broumand. 
Reality stars, like Kim Kardashian and Vanderpump Rules' Lala Kent (to name just two), started getting injected for this very reason. But nearly everyone in Hollywood does it: Sharon Osbourne candidly got injected on air in 2003. Although Ashlee Simpson has denied it, she was the first 20-something to get media attention for possibly using Botox to change the shape of her nose in 2007. And in 2014, Kelly Ripa told Andy Cohen on Watch What Happens Live that Botox has helped her get ready faster. 
"It's cut my getting ready time in half," she said. "I'm not advocating for it one way or the other. I'm just saying Botox changed my life."
Today, it's a multi-billion dollar industry. Botox was the top minimally invasive procedure performed last year; there were 7 million recorded procedures performed, according to an American Society of Plastic Surgeons annual survey. 
Surprisingly, it was only in 2002 (15 years ago today, in fact) that Botox was FDA-approved to be used cosmetically. Its history is murky. Long before it was chemically created in a lab to be the Botox we know today, it was a deadly bacteria discovered by a German scientist in the 1820s. Iterations of the toxin in its pure form were used as a poison in World War II, but it wasn't until the 1950s that scientists started to notice some of Botulinum toxin's muscle-relaxing benefits.
In 1978 the FDA gave the go-ahead to start testing on humans, and that's when they discovered other benefits like temporary relief from facial, neck, shoulder and even vocal cord spasms (the same reason why John Mayer opened up about getting Botox in 2013).
By 1988 drug maker Allergan acquired the rights and officially changed its name to Botox—but it was still being used to treat muscle spasms, in addition to sweat wicking and migraines. In 1992 that all changed. That's when a Canadian ophthalmologist and her dermatologist husband accidentally discovered that the injections were safe and effective for the treatment of wrinkles. By 2002, Botox Cosmetic (the frown-line fixer) got its official government approval, and that's when the celebs (and most likely someone in your life) caught on.
"Anyone in their mid-to late 20s and beyond should really start thinking of Botox as a part of your skin-maintenance routine," noted celeb plastic surgeon Dr. Deepak Dugar.
For instance, Courteney Cox first spoke out against the drug in 2008 in Marie Claire, when she admitted to overdoing it and not being able to move her face, a crucial requirement of her job. However, in 2010, she recanted her initial critique, saying if it's done properly, she's a fan. Then, there's Lisa Rinna, one of the early adapters of the procedure. The actress has admitted that while she's used fillers like Juvederm to fill in her cheeks, she prefers Botox: "It doesn't change the shape of my face," she told Momlogic.com. "When you change your face, you don't look like yourself."
The once-taboo subject, however, isn't a cure-all. 
"If people learn one thing on Botox's 15th birthday, I hope it's that Botox is not like Tylenol," said Dr. Dugar. It's not a science; it's an art.
While it varies from patient to patient, the last thing you want to do is pump your face full of Botox. Bottom line: If you want to preserve some motion, go to someone who is experienced and remember that less is more. 
"In the right hands it's truly a wonder drug," agreed Dr. Broumand. "Good plastic surgeons know how the muscles work and where to place it."
"Celebrities are doing what's called low-dose, baby Botox. We literally have one celebrity who comes in every two months for her Botox, because we do such minimal doses for her that you can't really perceive any change. Because she constantly always has Botox in her system at a low dose, she never really gets deep lines and wrinkles," he explained.
OK, so maybe Botox isn't an extreme treatment only celebs get. But brace yourself, it'll cost you: $200-$1,000 per session (depending on the pro), every three to five months, for the rest of your life.
Worth it?