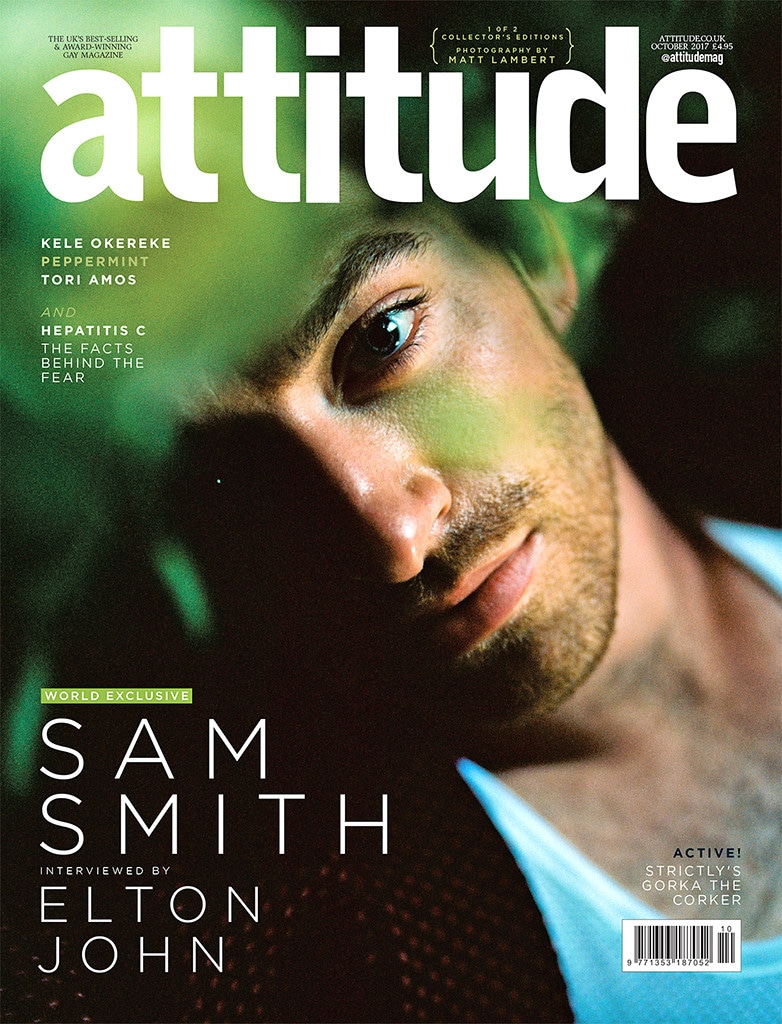 Attitude Magazine October Issue, on sale now.
Not every coming out story is created equal, as was made evident by Sam Smith and Elton John's interview for Attitude magazine's October issue. 
The singer-songwriters spoke candidly with the British LGBT-centric mag, giving readers an insight into their first brushes with sexuality. When Sir Elton complimented Smith on his upcoming track "Him," the pop artist admitted it's "only semi-autobiographical."
"I came out when I was 10," Sam, 25, explained. "I'd just finished primary school, going into secondary school, and I came out to my best friend when I was nine or 10. I was very sure of, and in, myself."
He continued, "When I told my mum she said she always knew, she said she knew when I was three, and my dad just asked if I was absolutely sure. And I was sure, even at that age, but they were incredibly supportive."
The "Too Good at Goodbyes" singer said his father expressed concern over the possible mistreatment of Smith because of the London neighborhood they lived in. "I think my dad was scared for me, because of his own life experience," he said, adding, "I think he saw a lot of kids get bullied and just felt really nervous for me."
"Especially when, at 16 and 17, I used to wear a lot of makeup and dressed very differently at school," Sam remarked. "He didn't have a problem with it, but he was really worried about me."
Attitude Magazine October Issue, on sale now.
When asked if he was ever bullied for being gay, Sam revealed that he did endure some "awful" moments. "I've always said I wasn't [bullied]," he told John, "because I don't think my experience was as bad as others I've heard of, but when I look back at it now, it wasn't the easiest time."
"I was lucky, I had a very good group of friends around me, but some of the other boys could be absolutely awful to me at times. It's nothing that has scarred me, though," Smith concluded.
When it comes to Sir Elton, 70, he said that because of the time period he grew up in, it was nearly impossible to address his sexuality. 
"I wish I had known I was gay when I was that young," the iconic artist told Attitude. "I didn't have sex until I was 23. I grew up in the 50s, sex was never talked about. So, at the start I didn't know anything about sex, which was awful."
Watch:
Elton John Reflects on 25 Years of Legendary Oscars Party
From John's point of view, "It was a different era, a horrible time, with people peeking from behind their curtains. If a girl got pregnant, she was sent away."
It wasn't until he began a relationship with his manager that John came to terms with being a member of the LGBT community. He revealed to Smith, "I slept with the first person I knew was gay, my manager John Reid, and it was only a bit later in life that I became fully resolved to it."
"But then I was like a missile!" John recalled. "I embraced the gay culture, loved life very much, just loved it. And it hasn't harmed me whatsoever, not personally or in my career."
"When I came out in 1976 a couple of radio stations in America burnt my records, but it didn't really harm me."
Read more from Sam and Elton in the latest issue of Attitude.