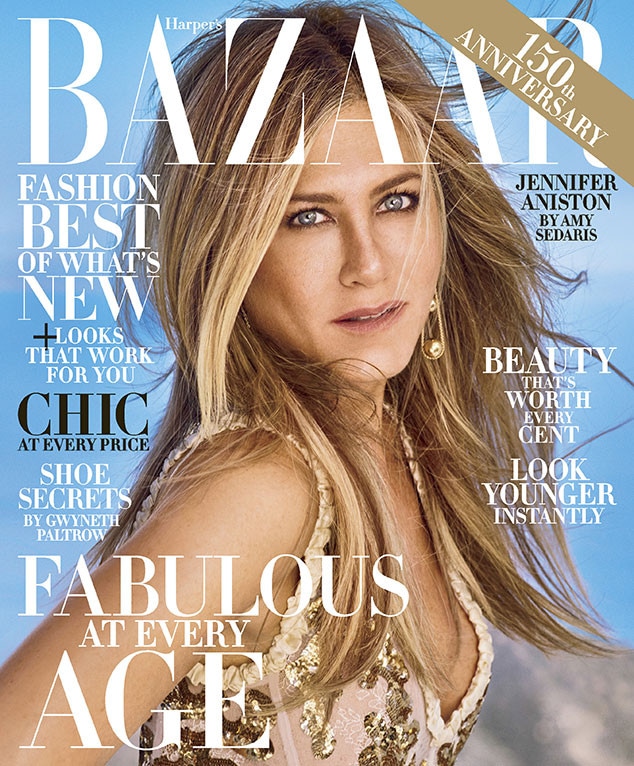 Mariano Vivanco
When it comes to beauty and wellness, Jennifer Aniston is a go-to Hollywood gal. 
For decades, fans have wondered how the star has managed to look exactly the same despite time passing us by. In a new interview for Harper's Bazaar, in which she stars as the October issue's cover girl, the funny lady dishes on elements of her personal beauty routine, from her nails to her vitamins. Starting with her hands, she prefers to go paint-free. 
"I usually just buff my nails," she told interviewer and good friend, Amy Sedaris. "I don't have the patience to let my nails dry. When Justin proposed he put that freaking ring on my finger, and I was like, 'Holy crap, now I'm gonna have to get manicures.'"
While Aniston forgoes polish for herself sometimes, it's among her favorite scents. 'I love the smell of acrylic nails," she told the magazine with a laugh. "We were talking about the nails of the character I am playing in a movie called Dumplin', and she's got to have these horrible French tipped nails. So we were trying out different ones, and I loved the smell."
While the star's also known for glowing bronze skin on the red carpet, Aniston explained she now opts out of tanning. "Being Greek, we love our tanning, but I've been on hiatus. And I miss it," she said. "It brought me a lot of happiness being able to lay out there and get that vitamin D, but I've become very comfortable with a good spray tan.
As for her signature locks, Aniston's mane is the product of longtime hairstylist Chris McMillan. Unfortunately, it sounds like she has yet to harness his magical hair powers. "Everybody leaves going, 'This is the best haircut ever.' Then you wash it and go, 'Oh, God, what is this?' I need him in order for my hair not to turn into a Greek fuzz fur ball," she told Sedaris. 
The Aveeno spokeswoman is also into vitamins—a lot of them. "I take a lot of vitamins, I'm not going to lie," she noted. "It changes all the time because someone will say, 'Oh, my God, you don't take activated charcoal?' Then you go down a Googling hole to understand the benefits of that, or turmeric or dandelion for water retention. Now I'm doing apple cider vinegar in the morning."
If you have absolutely no idea what the star is talking about, it may be time for Aniston to bring her dream to fruition. The star, who has long been associated with health and fitness, dreams of opening her own wellness center. 
"I have a fantasy where you have this beautiful space with facialists, rotating workouts, meditation classes, and a café with recipes that are healthier versions of delicious foods so you're not deprived," she explained for the magazine. "I'm working on it in my brain. Not to sound all woo-woo, but if you go out into the world with inner peace, you're more joyful. There's a life's-too-short policy that I now have with my work; no negative Nancies. So I'm looking forward to my facial."
Amen, Jen!