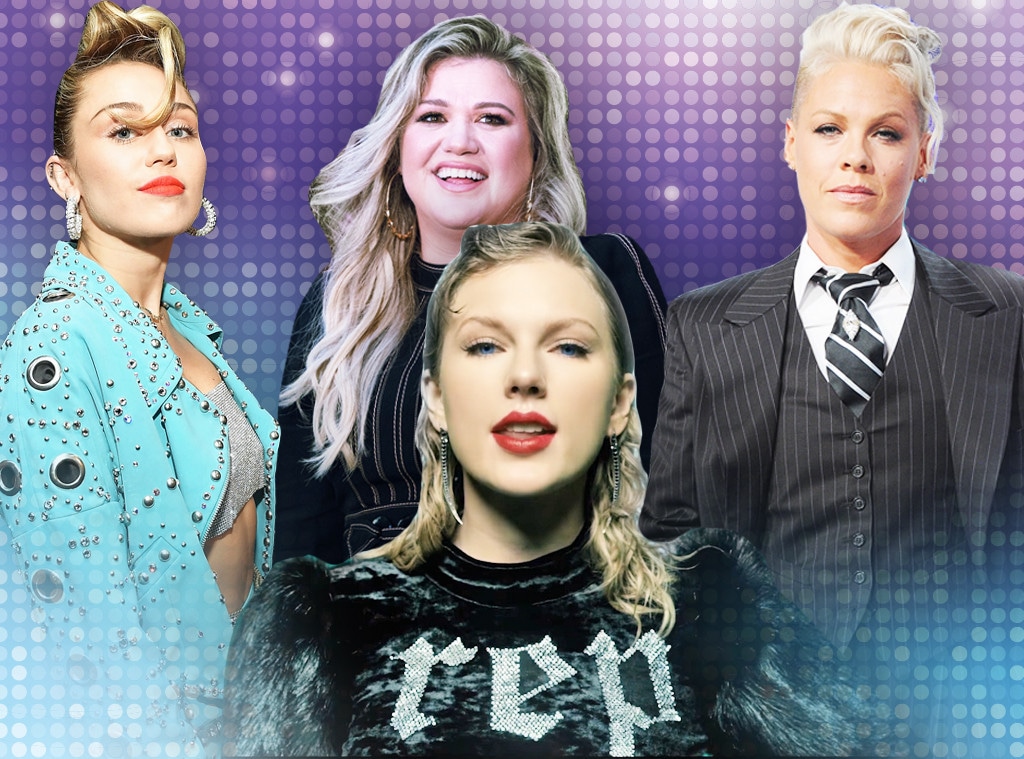 Getty Images; Melissa Hebeler/E! Illustration
Change is a thing you can count on.
Miley Cyrus may be singing about her own latest personal reinvention in her latest single "Younger Now," but if you take a look at the slate of releases coming our way from some of pop's top divas as they gear up for their musical comebacks, you could make the case that she's talking about the lot of them.
As some of the biggest names in music ready to drop their next albums, they're doing so as changed women. And while reinvention is nothing new in the world of music (see: Madonna's entire career), it is a bit remarkable that so many of our faves are returning to the pop landscape at the same time after a considerable amount of time since their last releases with a whole new attitude. From Cyrus to Kelly Clarkson, these women are taking control of their narrative and their image. But is radio—and the world at large—ready for them?
After a whirlwind few years that involved wrecking balls, twerking teddy bears and some Dead Petz, Cyrus began her reinvention back in May when she unveiled "Malibu," her first major label single in four years. (Her 2015 album Miley Cyrus & Her Dead Petz wasn't released commercially and therefore doesn't technically count.) Along with a stripped-down look that leaned into her whole "Happy Hippie" vibe came a stripped-down sound. Long gone were the trap beats of Bangerz or the experimental psychedelia of Dead Petz. And as follow-up singles "Inspired" and "Younger Now" proved, the sweet twangy sound was here to stay.
While fans may not be sure what to make of the new Miley, as evidenced by "Malibu" peaking at No. 10 on the Billboard Hot 100 and "Younger Now" languishing at No. 79, it's clear that Cyrus isn't afraid of making her big shift. "No one stays the same," she sings in the latter. "You know what goes up must come down."
"I'm happy to change because I think sometimes that comes with a derogatory stigma of 'You've changed,' but that should be a celebration rather than be something that we're afraid of," she explained during a September visit to The Ellen DeGeneres Show. "I think changing is awesome. I think too, even just the way that I feel about things, my views, political views, relationships, sexuality, it's OK to change and to say, Hey, I learned something that I didn't know when I made a statement before.'"
Whether the album connects with with a wider audience or not when it's released later this month may not be Cyrus' greatest worry ("My main concern isn't radio," she told Billboard back in May), but it's clear this return to her roots is close to her heart. Case in point? It's the first album she's ever written entirely on her own. "I've had a lot of butterflies performing these songs...because it's really like publishing your diary and allowing everyone in, you know," she told DegGneres. "I've always written my songs, but I've always had collaborators and bounced back and forth ideas. And now this time, it's just saying, 'Hey, here's exactly what I think and feel.'"
For another pop diva making her long-awaited return, her reinvention has been all about delegation. After a two-year absence, Kelly Clarkson is finally putting the finishing touches on her upcoming album Meaning of Life, the first at her new home Atlantic Records. While her new record deal has finally allowed her to make the soul-inspired album her American Idol contract with RCA Records never permitted, the support her new label offered her left the singer feeling for the first time that she didn't have to fight for her vision. Instead, she felt able to trust in collaborators who would honor her vision.
"I don't want my kids to grow up with abandonment issues," she said in the September 15 issue of Entertainment Weekly. "I've been searching for a family my whole life, because it was just me and my mom. It's a very important thing for me. It takes a lot of time to write—you never know when it's going to hit. I don't want to miss anything with my kids."
That's not to say she was removed from the process. In fact, the album stands out as the favorite of her career. "I've never been more proud of every single song," she told the magazine. "This is a grown-ass-woman's record. This isn't a record I could have made at the age of 20. This is a record you make when you've lived."
While the album's first two singles, "Love So Soft" and "Move You," have yet to crack Billboard's Hot 100 as of press time, Clarkson isn't concerned about her fans accepting her new sound—and she credits her Idol tenure for that. "I got to showcase all these different sides of me," she told EW. "Artists never get the opportunity to do that the first time out the gate."
Michael Rozman/Warner Bros.
While Clarkson is eager to embrace a new sound this fall, another pop diva making her return is hoping to find a little bit of her old magic. After a five year absence, Pink is ready to drop her seventh album, Beautiful Trauma, and despite what lead single "What About Us" may have lead you to believe, this record is about bringing some of the happy back into her discography. "There was no other goal than to not have an album full of slow, sad songs, because that's all I had for a while," she told EW. And while "What About Us" sits on the Billboard Hot 100 at No. 28 as of press time, the fearless singer isn't concerned with bending over backwards to impress anyone who isn't already a fan.
"I feel like the people who get it, get it," she told the magazine. "And the people who don't aren't ever going to. I'm at a place where I'm really OK with that. I don't need to court. I'm not speed-dating. I'm just doing what I do."
Mert & Marcus/Big Machine Records
Of course, no talk about pop diva reinventions would be complete without Taylor Swift. Three years removed from the release of her blockbuster 1989 album, having weathered her share of bad press, the singer has taken the public's perception of her and turned it on its head with the promo for her sixth studio album, aptly entitled Reputation. Shots were fired when she dropped lead single "Look What You Made Me Do" in late August, while the Joseph Khan-directed music video, which premiered a few days later during the MTV Video Music Awards, has been subjected to more dissection than the Lost series finale.
But it was the release of second single "...Ready for It?" that proved the New Taylor was more than just a look—it was a whole new sound. And whether or not her full-throttled embrace of electropop is your cup of tea, it's abundantly clear that this reinvention is working. There isn't a record that "Look What You Made Me Do" didn't break, including most plays in a single day on Spotify. Old Taylor is dead. Long live New Taylor.
(Although, it must be noted that, despite all this talk about New Taylor, the old Business Savvy Taylor is still there, partnering with corporations like ABC, Target and UPS, of all things, to support the November release of the album. It would appear that not everything died along with Old Taylor.)
While Swift's chart dominance this fall is a foregone conclusion, the fate of her fellow risk-takers isn't so certain. And whether or not radio or their fans welcome the new sounds with open arms, one thing is for sure: These pop divas aren't afraid of making big swings and staying true to themselves. What more could we really ask for?
Whose fall reinvention has you most excited? And whose rings false for you? Sound off in the comments below!
Cyrus' Younger Now hits shelves Friday, Sept. 29., while Pink's Beautiful Trauma drops Friday, Oct. 13, Clarkson's Meaning of Life drops Friday, Oct. 27 and Swift's Reputation goes on sale Friday, Nov. 10.