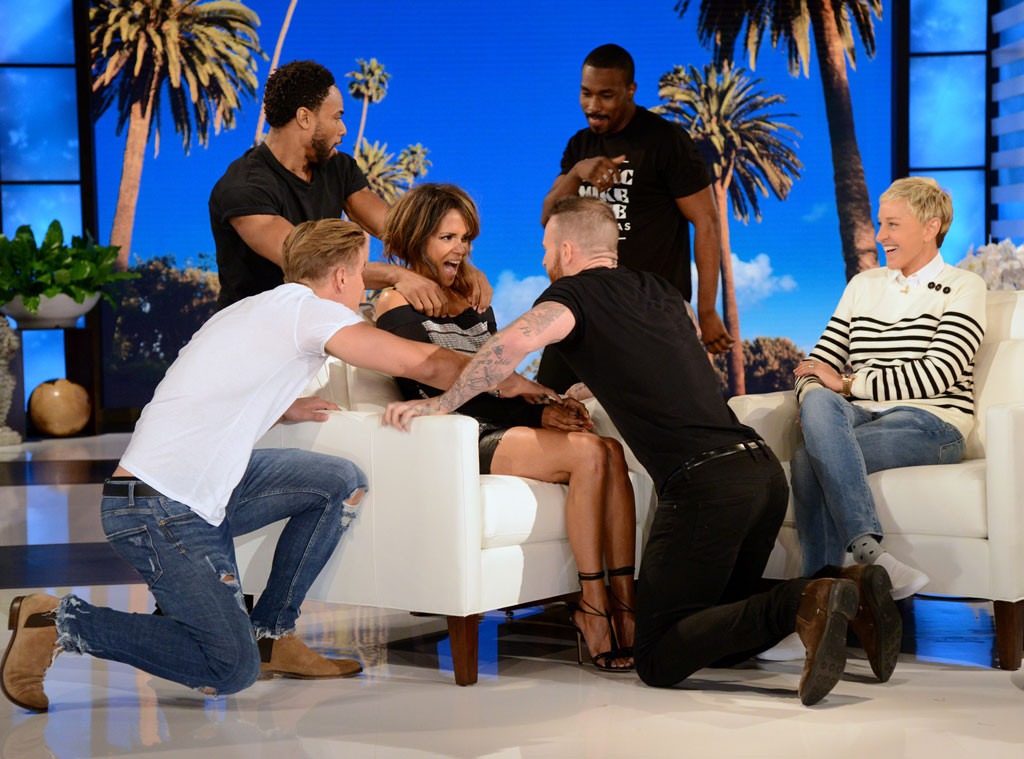 Mark Davis/Warner Bros.
Forget flowers and a card. When Channing Tatum apologizes, he sends sexy male dancers.
While appearing on The Ellen DeGeneres Show, Halle Berry told Ellen DeGeneres that Tatum pulled a not-so-nice stunt at Comic-Con 2017.
The duo were on a panel promoting their movie Kingsman: The Golden Circle in which they play members of the Statesman—a U.S. spy agency that uses a whiskey distillery as a coverup. Berry said that the panel had agreed to take a shot of whiskey as a small nod to the film. But instead of a shot glass, Berry received a full glass, which Tatum filled quite generously.
Berry said Tatum then dared her to drink the glass. Even though she's not much of a drinker, Berry chugged the whiskey down.
But was refusing to back down from a dare worth it for Berry?
"It was so dumb, Ellen," the actress said on the talk show. "It was so dumb. I was sick for, like, three days."
DeGeneres decided to help Berry even the score. As payback, she invited the actress to write down something she wanted Tatum to do when he's on the show next week.
Still, DeGeneres said Tatum felt bad about the stunt he pulled. As an apology to Berry, he sent four dancers from his show "Magic Mike Live" in Las Vegas to give Berry a little performance.
"Oh God! Oh God!" Berry screeched as the men danced around her and then pulled off their shirts.
Hopefully, Berry can forgive Tatum before the film's debut. The movie—which features other megastars like Colin Firth, Julianne Moore and Jeff Bridges—hits theaters Sept. 22.