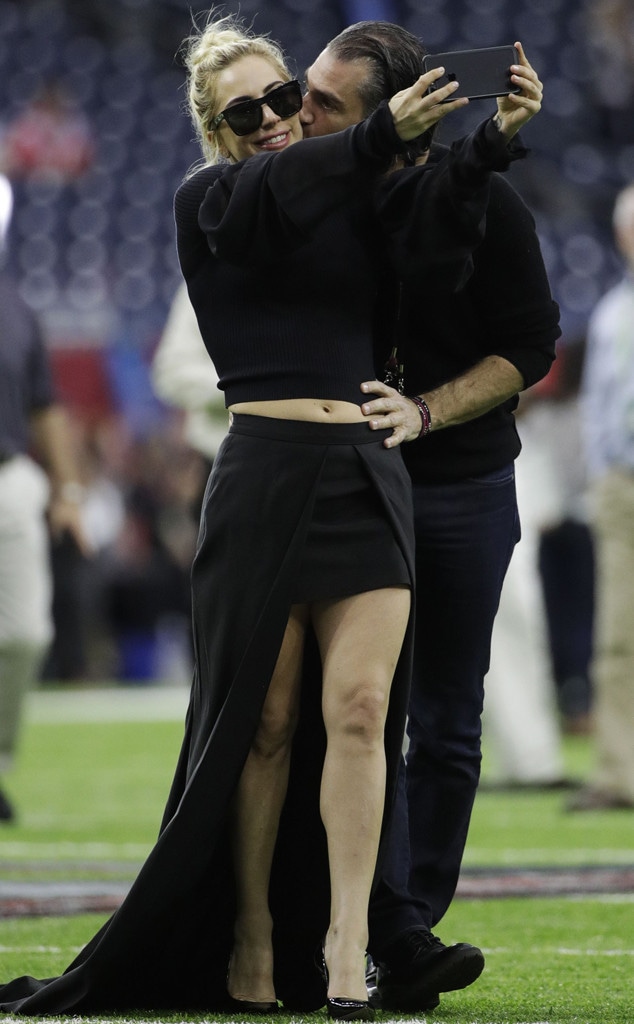 AP/REX/Shutterstock
Lady Gaga is using the "L" word. 
When it comes to beau Christian Carino, it sounds like Mother Monster is totally smitten and isn't keeping it a secret. After roughly eight months of dating, the pop star and her talent agent boyfriend are heating up, signaled in part by Gaga's word choice during her concert at Citi Field in New York City last week. Though her performance was met with a downpour, Gaga went on with her show as her right-hand man cautiously kept watch. 
"When I went backstage, Christian was by the stairs making sure I was OK," the songstress said, as reported by Page Six. "The best part about being in love with someone is having them there to catch you if you fall."
Considering the star has not spoken about her romance at great length, the comment is a significant one. 
Kevin Mazur/Getty Images for Live Nation
Meanwhile, July marked a year since the star and her ex-fiancé Taylor Kinney broke off their engagement in 2016 after several years of dating and more than a year of being engaged. However, Gaga later clarified that they were "taking a break."
"Taylor and I have always believed we are soulmates. Just like all couples we have ups and downs, and we have been taking a break," she wrote on Instagram at the time. "We are both ambitious artists, hoping to work through long-distance and complicated schedules to continue the simple love we have always shared. Please root us on. We're just like everybody else and we really love each other."
Six months later, signals flared that the Grammy winner had a new man in her life after she was spotted kissing Carino during Super Bowl weekend. A month later, Carino was at Gaga's side as she rang in her 31st birthday and earlier this summer, the two headed to the Hamptons for a low-key June getaway. 
Though it seems like the star is happy in her new relationship, her ex is still rooting her on. To the excitement of some fans, Kinney was spotted in the audience of her Chicago show last week and, according to one fan's tweet, later went backstage.