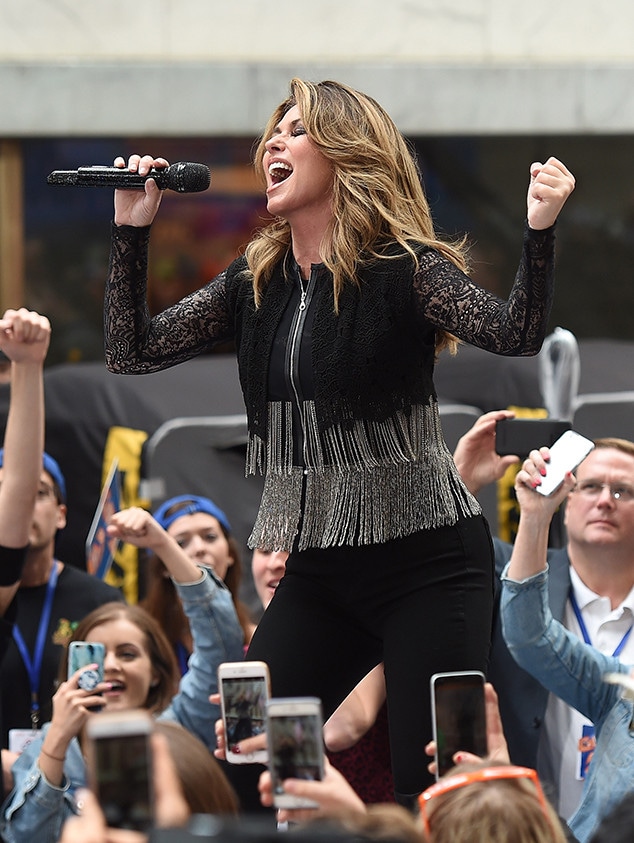 Nicholas Hunt/Getty Images
Shania Twain had done it all by 2004.
The Canadian-born artist, who rebounded from hardship and family tragedy suffered at a young age, had sold millions of albums (one of them the best-selling country album of all time, Come on Over), won five Grammys and dozens of country-specific honors, headlined the Super Bowl and crisscrossed the globe on two major solo world tours. So while fans couldn't have been happy, you could forgive a woman for retiring before she had even turned 40.
While Twain kept it under wraps at the time, she would later reveal in her 2011 memoir that she had developed dysphonia, which constricts the muscles around the vocal cords. Only recently did she reveal that she had also been stricken with Lyme disease more than 10 years ago, and that caused the dysphonia.
"I was on tour, so I almost fell off the stage every night," Twain said in a CBC interview last month, recalling her decision to pack it in at the height of her career. "I was very, very dizzy and didn't know what was going on. It's just one of those things you don't suspect." She added, "It took all these years to determine that. Then it was all about, 'Now what do I do about it? How can I fix it?' So that took several years, just working out what therapy would work for me, without even knowing how well it would work in the end."
But it wasn't just her physical health that kept her out of the spotlight, tucked away at her chateau in Switzerland. A years in-the-making new album was further postponed due to heartache when she and her husband of 15 years, music producer Mutt Lange, abruptly separated in 2008. It turned out he was having an affair with Twain's best friend and assistant, Marie-Anne Thiébaud—which Lange thoroughly denied was the reason for the split at the time.
Twain recalled hearing the news from Marie-Anne's husband, Frederic Thiébaud.
"It was Easter time, and we were two families spending the holidays together, is what I thought," she told Ellen DeGeneres on Ellen in 2011. "Fred and I did not have a one-on-one relationship at all. It was quite a formal relationship, really. He didn't have my personal phone number, for example, but he found out how to reach me. He said, 'I need to talk to you about Mutt and Marie-Anne. Can I come and see you?' He just basically explained that, 'I'd been waiting for a few weeks to tell you, I'd been hoping that they would tell you themselves, and I think you need to know,' and then he told me."
"Of course, I didn't believe him," she added, "and I thought for sure he was making it up. I was obviously just in denial on my part."
Fast-forward to 2011 when she and Thiébaud tied the knot themselves, on the beach at sunset, a Hollywood ending for what started out as a most sorrowful country tale.
But when she and Lange first split up, it was devastating. Twain was blindsided.
"For the first week after finding out about the affair, I was ready to die," Twain wrote in her book, From This Moment On. "To go to bed forever and never wake up. Or to hurt someone. I was ready to do something desperate. But in reality, there was nothing to do but to suffer through it. Fortunately when you're a mom, the responsibility of caring for your child can keep you going."
She and Lange have a son, Eja, together, who was 7 at the time.
The singer had released a few singles since her announced retirement from touring, but a new album that had supposedly been in the works for years kept getting pushed back. Finally in June 2009, she explained that life had definitely gotten in the way. (Her divorce wasn't finalized till 2010.)
"Since then, I've been inspired by my pain to write and use writing as a therapy through the suffering," Twain wrote in a letter to fans on her website. "I truly wouldn't wish this on anybody as a means to get inspired, but it's been a productive period with so much emotion trying to find it's way out. However, there is no telling how long it will take me to actually finish these songs and record them so they can get out to you."
Ultimately it took another couple of years, during which she also grew closer to and eventually fell in love with Thiebaud.
In 2011, however, she was back with a vengeance. She burst back onto the scene with her memoir; a reality show on OWN, Why Not? with Shania Twain, which chronicled her battle back from heartbreak and her vocal issues; a grand return to the CMA Music Festival in Nashville; a new single, "Today Is Your Day"; and a deal for a two-year Las Vegas residency, Shania: Still the One, which kicked off in December 2012. Caesars Palace welcomed her to town with a grand procession featuring the star riding down the Strip on horseback.
Suffice it to say, Shania Twain had forgotten all about retirement.
Jeff Bottari/Getty Images
Her husband, Gladys Knight and Lionel Richie—whom she recorded an "Endless Love" duet with—are said to have been instrumental in her return to singing after years away. "Stage fright, domestic violence in the home as a child, my parents dying, not knowing what's next, just all of these different stages of fear in my life," she told Las Vegas Review-Journal columnist Robin Leach before her residency began. "I've just trapped my own voice, and now I've got to unwind all that. It's been a healing year, but I am now in a very happy place."
She also credited the book with helping with the healing process, telling DeGeneres, "Part of writing the whole book and starting from the beginning of my life was to put that back part of my life into more perspective. It doesn't define who I am and it doesn't define my whole life. My whole life is a much bigger picture, and writing the book from the beginning gave perspective to that one very difficult time. Really, it's just a part of my life."
While maintaining such a rigorous rehearsal and concert schedule can strain any singer's voice over time, Twain had to be extra vigilant due to the struggles she'd had in the past. 
"I am being very conscientious," she told the Las Vegas Weekly. "I take a lot of steam showers, and Bette Midler [who also had a Caesars residency] has recommended some [throat] sprays. Everybody has given me their little tips, and I'm just being very careful. I take good care of myself."
But even though she dove back into performing and impressed her fans much, doing 105 shows in Vegas for a reported 337,500 people, the missing pieces she needed for a new album stayed missing. In addition to the pressure she took on by wanting to write all of the songs herself, her previous three mega-successful albums—The Woman in Me, Come on Over and Up!, each certified Diamond after selling more than 10 million copies—had been produced by her ex-husband.
"The success here in Las Vegas has given me a confidence that I have not had in years. I really have been able to build up more courage and a lot more confidence in myself. I'm ready for more things now. There's a whole new world there for me," she told Leach when her Vegas run ended in 2014.
Not wanting to force the album issue, Twain headed back on tour again for the first time in 11 years, embarking on her 48-city Rock This Country Tour in June 2015—which she billed as a farewell tour, her "last" one, for real. "It took so much effort to get back onstage again, and I thought, 'I'd rather end at the top, in that room, in that town,' " she told the New York Post before a tour stop at Madison Square Garden, saying she initially thought Vegas would be it. "I thought if I managed that, it was time to say goodbye — not to music, but to stage performing." Instead, "I'm going to visit the fans, instead of having them visit me. It's going to be completely different from Las Vegas." (The city stayed in her heart though, as she donated $1 from every ticket sale to Shania Kids Can, the program she launched while living in Sin City to help economically disadvantaged children.)
And then, the album.
"I'm working on the new record as we speak," she told ABC News' Robin Roberts at the time. "I'm on the microphone every day recording. That will be coming up after the tour. I want to enjoy that party and then I'll get back to the record. I want it to come out when I'm 50, so I'm going to make it happen."
Rodrigo Varela/WireImage, Terry Wyatt/Getty Images
Her milestone birthday came and went that August, and still, no new album. Yet she promised she wasn't retiring and was hard at work whittling the 38 songs she'd written down to a polished finished product.
Who knew, as 2016 flew by, whether there would even be a huge interest in a Shania Twain album outside of her most devoted following—or even if there was...would this album be worth the wait?
Toward the end of last year, the excitement started to build. Having done it once before in 2011, when she covered every base possible on the comeback checklist and managed it all without even having a new album to promote, the latest chapter promised to be a breeze—if she could get those songs together. But so began the necessary lead-up to put Shania back on everyone's radar.
First up, Twain was the belle of the ball in October at the 2016 CMT Artists of the Year gala, where she received the Artist of a Lifetime honor and was treated to a medley of her songs by a trio of the Shania-inspired—Meghan Trainor, Jill Scott and Kelsea Ballerini.
Legacy in action, check.
"Really, that is the truest complement ever to hear my songs sung by such exceptional vocalists and performers. Thank you, girls," Twain said onstage. "It's wonderful. It made me cry the whole time. It's ridiculous. But, anyway, I'm flattered.
"I'm glad that it made me emotional. I'm glad when my emotions come out. Music does that to me. I rely on music for that. It's my best friend, in that sense. Music has always been my best friend. I love dogs... but for me personally, obviously, music is my best friend."
Rick Diamond/Getty Images for CMT
Music "never judges me," she continued. "It's always there when I need it. When I need a laugh, it's there. When I need a cry, it's there. When I just want to dance, it's there. When I want to be romantic, it's there. It's those emotions that I want to share with all of you. It's why I live for music."
Twain thanked her fans and CMT for their support, "even in my more rebellious years, in the beginning when I was probably considered controversial. But you still put me up on the air. And I think you for that."
"When I think of years, lifetime, my music life's been very long actually already, I feel," she said. "I've been a singer, an entertainer, for over 44 years. It's a pretty long time. I started very young—I started really, really young, actually. My mother was my first booking agent and my first manager. She was very good at it. She booked me in bars and some strip clubs and things like that that would not be acceptable today...So it's wherever my mother could get me booked. Anyway, I'm very grateful to her and for that start.
"But it wasn't until much later that I got to know all you fans and the industry and CMT. You guys picked up where my mother left off. I thank you very much for your support and for being...I don't know...I would say being my parents through my adult years in this industry. It's such a hard industry and takes so much work."
As she wrapped up, she said that music would carry on "for many more years in my life."
Meanwhile, the pre-album preamble continued. Press tour: check. Festival: check, a headlining appearance at Stagecoach in April. Competition show to work with the kids: check, she appeared on The Voice as the key advisor for the Top 12. Quirky, modern pop culture reference: check, she'll have a cameo on Broad City this season.
"I really loved being on tour and had the best time," she told the Orange County Register, explaining her decision to do Stagecoach after supposedly retiring from performing live in 2015. "It kind of ended too soon."
Twain admitted, "I felt like at that time maybe that was all I had left in me. I really felt that way, but I was so energized by the tour and by the fans. For the first time in my career, I really felt like it was easier—and the fans really gave me more than ever before, for some reason."
And it was also time to speak out about the health troubles that plagued her all those years ago, the ones that could've quieted her for good.
"I'm a different singer now," Twain told Rolling Stone in February. "There was a lot of coming to terms with that. It's been one of the obstacles in my life I've just had to learn to live with." Talking about the songs on the storied new album, she said on the tune "Swingin' With My Eyes Closed" she "was thinking of a boxer taking a swing, or a baby first coming out with his eyes and fists closed. They can't even see yet and they're swinging with their eyes closed."
Christopher Polk/Getty Images for Stagecoach
But in light of the circumstances in which she started writing the new batch of songs, with the wounds from the implosion of her marriage still fresh, the album understandably evolved quite a bit over the years.
"Most of them started off quite melancholy and a lot darker," she admitted. "'Swingin' With My Eyes Closed' was totally dark at the beginning. It's just all of a sudden the light went on and there was light as well as darkness. There's a lot of songs that have that contrast on it that maybe are too subtle for the listener to even realize."
Ironically, Twain told RS she didn't have any imminent tour plans, but once this album was done she wanted to get started on another!
"It helped me come to terms with a lot of things emotionally," she said about making the new LP, which at the time she was hoping to release in May. "It's sort of like when you finish crying. When you're done, you're done and you move on."
OK, so May passed by. But Twain started to deliver in June with her first single in five years, "Life's About to Get Good," which hit No. 1 on the Billboard + Twitter 140 trending chart within hours.
She started off with a happy, peppy Shania-of-yore song, another promise that the album—Now, which has an official release date of Sept. 29— for all of its roots in darkness, wasn't a doom and gloom breakup album.
"I talk a lot more about pain," Twain told Billboard in December, "but I didn't feel the need to be that literal about anger or hate. It's very triumphant in the end. I felt like, 'Whew! I made it through the album! I made it through writing all the songs!' It was an emotional roller coaster, and the lyrics reflect that."
Alas, the follow-up to what will be her first studio album in 15 years may have to wait—but that's because Twain has announced she's heading out on tour in 2018 instead.
She described her love of performing in 2012, telling Las Vegas Weekly, "I like to direct, I like to design, and I like to create. I like to communicate with people, I love the audience, and I want to touch them. I want to know them. I want to interact with my talent with people. That is really what I do, and I made a career out of it, but it is a really personal journey."
She made the surprise announcement last night on The Tonight Show Starring Jimmy Fallon—or rather Jimmy did while announcing her, smoothly adding that tickets are going on sale Aug. 25.
"Summer's here, bring it on," Twain then sang on "Swingin' With My Eyes Closed," the song she once said started out dark but then turned into more of an empowerment anthem. "One more beer, another year, another song."
And, for the first time in a long time, a new album and a tour to go with it. "Only god knows how far it goes," indeed.