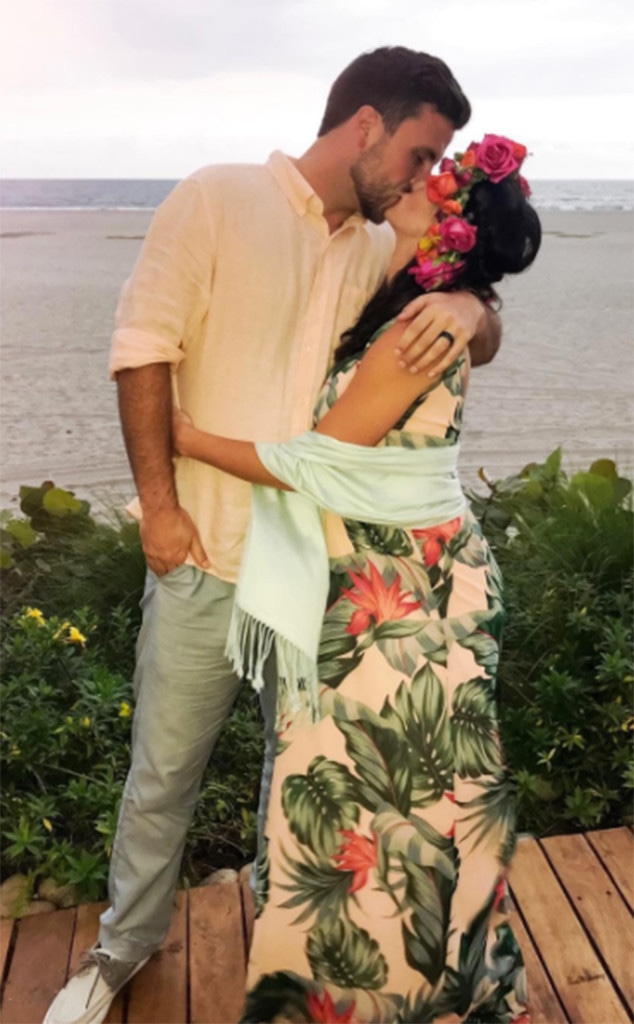 Instagram
Jade Roper and Tanner Tolbert are heading back to paradise!
In anticipation of the birth of their first child together, the Bachelor in Paradise stars flew to Hawaii for a well-deserved babymoon by the beach. Jade teased their upcoming getaway on Instagram with a photo from fellow BIP couple Evan Bass and Carly Waddell's wedding in Mexico last month. 
"The hubs already posted this today, but it's a pretty darn cute pic, so I'm reposting anyway!" the expectant mama, dressed in a tropical maxi dress and floral crown while smooching Tanner, wrote. "This wasn't during our babymoon like some were asking… we actually leave tomorrow for Maui for our 'babymoon' vacation! I'm so excited, I've never been to Hawaii!"
Jade and Tanner updated their social media followers after landing in Hawaii with a pool-bound picture of the mama-to-be showing off her growing bump in a bikini.
After tying the knot in January 2016 following a whirlwind romance that played out on season two of Bachelor in Paradise, the couple announced a baby girl was on the way in March. Only months prior to sharing the wonderful news, Jade gushed about a possible pregnancy while chatting with E! News. 
"I feel like I'm ready for [motherhood,]" the 30-year-old shared. "That's something that was really important to me, was to find somebody who was ready to have a family, and Tanner is at the same stage too so that was definitely very attractive about him. We're thinking about it! I wouldn't be surprised if we had a baby in the next year or two."
And in no time at all, Jade and Tanner's dreams came true! 
The brunette beauty has documented her pregnancy journey on Instagram, and just last week, revealed she reached the 29-week mark. In a snapshot taken from the couple's bed, Jade clapped back at trolls who criticized her glam look.
"Can't believe I'm defending myself," she penned, "but my preggo hormones are ruling over my logic right now. Yes, I slept in my eye makeup, yes I have lash extensions. No, that's not lip gloss, it's vitamin E oil. And yes, I do look this good when I wake up on the mornings I get to snuggle my hubby, because I wake up smiling."
'Nuff said, right? Enjoy the babymoon, you two!