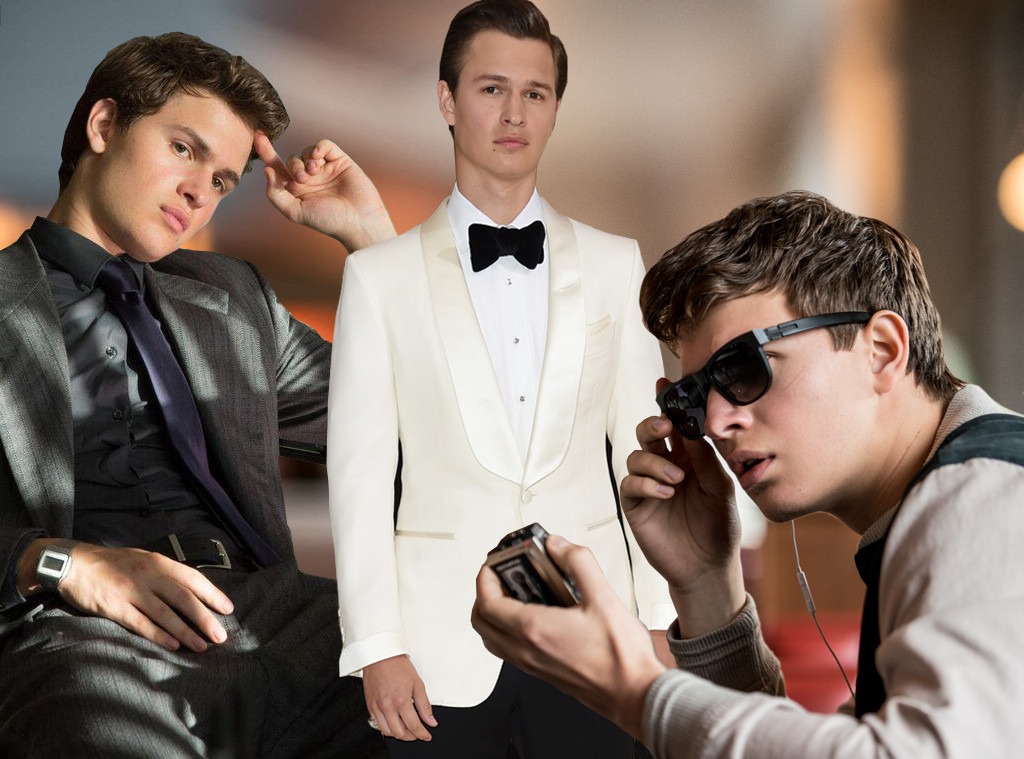 E! Illustration
Efron. Tatum. Hemsworth. Hemsworth. Pratt. Pine. Any other famous Chris' we might have missed. The list of actors in Young Hollywood who can truly be described as heartthrobs on-and-off-screen is relatively short. That's not to say that there isn't a wealth of talent or attractiveness, but rather many belong in categories of their own: The badass actor, the brooding actor, the hot nerd. To truly be a heartthrob one needs to, basically, embody everyone that Zac Efron does. 
And now there's one more person poised and ready to join this exclusive club: Ansel Elgort. 
He came onto the scene the way many of Hollywood's young A-list does: By way of a teen movie. Make that several teen movies. It all started with the now-defunct Divergent franchise—before audiences realized they could only absorb so many dystopian futures, they were flocking to the theater to watch Young Adult novels played out onscreen by the industry's freshest faces. Elgort starred opposite Shailene Woodley (he played her do-gooder brother, Caleb Prior) and he enjoyed the rather instant notoriety that comes along with starring in a major action flick that sends its stars on a worldwide press tours. The painfully adorable baby face didn't hurt either. 
Next came even more fodder for all the tweens who lay claim to their parent's credit cards, the onscreen adaptation of The Fault In Our Stars. Elgort reprised his partnership with Woodley, playing the ill-fated Gus to her ill-fated Hazel. It was a totally sappy teen-love-story-meets-cancer story but it was a great setup for Elgort to begin to become something of a critical (and popular) darling. The flick (and his performance) was so good that it actually helped a YA story receive positive reviews. Maybe he was even so good that his character reduced entire theaters to blubbering messes. Maybe the onscreen death of that adorable, adorable face caused certain people to sit in their cars and weep for a good 15 minutes after the credits rolled. Maybe. 
Elgort had an upbringing that was markedly more sophisticated than many of his acting peers, but still has strong parallels to Zac Efron and other triple (or more) threats. He grew up in Manhattan with his fashion photographer father (who has shot exclusively for Vogue for several decades) and his opera director mother. He trained at the professional performing arts school and LaGuardia High School (you know, the one from Fame), and also auditioned for the American Ballet School, which all collectively accounts for his current impressive dance moves. Efron devotees would probably take this moment to point out that he made it through Hairspray and three installments of High School Musical without ever having any formal dance training, but this story isn't about him, is it?
Ansel's love for all things rhythmic is on full display in the heist action flick Baby Driver, which hit theaters this week. It's a wild ride in the very literal sense of the term, following a sheisty and ragtag group of bank robbers who are intent on terrorizing Atlanta for every penny they can steal. At the helm of it all is Elgort's Baby, who acts as the innocent (relatively speaking) and law-abiding (even more relatively speaking) getaway driver. (His name is Baby and he's a Driver, get it?). 
Baby had a traumatic upbringing (no spoilers here) and found himself indebted to the leader of the robber ring with forced servitude the only way to pay it off: He's a master behind the wheel and is obligated to join in on the heists until the two are even. The entire flick is centered around Baby's love of music—he has tinnitus from a childhood accident and the only way to absolve it is constantly playing music on his many stolen iPods—and every step and line of dialogue that Elgort delivers is to the beat of an incredible soundtrack. 
The movie is currently enjoying a 97% rating on Rotten Tomatoes after a stint at an impressive 100% (you can bet that's certified fresh) and can only be described as the critical darling of the summer. Praise for the movie, and for Elgort's performance in it, has been flowery and practically never-ending. Everyone should see this movie, but even more importantly it has put him at the highest point of his young career. He is the unquestioned star of a summer blockbuster that boasts heavy talent like Jon Hamm and Jamie Foxx and the movie's press tour has involved his covering magazines and doing endless late-night talk show appearances. He's graduated to the big leagues and the A-list should watch its back. 
There were, however, some dark times for the actor on the way to this moment, at least from a perception perspective. As an adult female person trying to digest some of the things he's said in the press in the past, it was hard at times not to label him a bit of a frat bro, to put it lightly. Like the time he listed his ideal qualities for the opposite sex as a willingness to watch him play Grand Theft Auto for hours and a particular talent in the bedroom. Or the time that he boasted about buying his mom a pair of Louboutins, only to have her complain that the heels were too high. Or the time he talked about losing his virginity at 14.
Those weren't great moments, but more likely than not they were a tragic case of a 21-year-old guy being given a platform to air out the thoughts he probably should have censored, rather than any lack of conscious or actual frat bro-ness. 
Then there was the DJ stuff—he fancies himself an EDM producer, he had a residency at Vegas club Omnia, and he called himself Ansolo. That was tough, admittedly. But now he's shed the slightly ridiculous pseudonym and the EDM overtones in favor of a musical persona that uses his actual name and a forthcoming album of tunes he wrote himself. He even has a collaboration with hip hop wunderkind Logic, who he considers a close friend, and who gives him major cool points. 
And then of course there's Baby Driver. Nothing makes a public forgive and forget like a heartbreakingly awesome performance as a heartbreakingly troubled young badass. He's so insanely likable in the movie and the only thing that makes the shoot-'em-up scenes tolerable for people who aren't inclined to tolerate action movies. Elgort is equal parts dopey and awesome, awkward and badass. And man can he dance. It's almost laughable to compare anything in this movie to one of Zac Efron's musical endeavors, because Baby Driver is so much cooler than Hairspray. (Sorry.) 
Elgort is drawing praise from his male costars in the movie as well, with Jamie Foxx telling E! at the film's press junket that this is truly the young actor's big moment. 
"Great movies happen when people are having a great moment in their life," he said. "Ansel had his dance training, his music training and now all of a sudden he's in this [movie]. It has action, it has music and you feel his talent when you watch the film." 
Now all eyes are on Ansel for his next moves. We don't have to recount the potential perils that his peers have experienced. His IMDb profile is chock full, with projects like Billionaire Boys Club and taking on the role of John F. Kennedy for the upcoming Mayday 109. He's also the face of the men's fragrance L'Homme Prada—need we remind you that Efron has a contract to hawk Hugo Man? Probably not. 
It's also going to be more important than ever that he maintain relative composure in the face of all this exposure. He still lives in his native New York City, dates his high school girlfriend and rides the subway regularly—all good signs—although he does admit that his notoriety on the street is growing. At Baby Driver's premiere he told E!'s Zuri Hall that even the guys at his local deli have caught on to his professional endeavors. 
"They're like, hey, it's baby!" he joked. "I'm like, I guess that's what I am to them now."
Elgort has spoken candidly about his attempts to stave off any adverse reactions to fame. In an interview for the most recent issue of Women's Health he detailed the split personality he uses to ensure some normalcy. 
"My work life and my regular life are very different, I feel like it's two personalities," he told the magazine. "There's actor Ansel, where I have to play a role and be 'on.' I take photos with everybody who asks and I try to be professional. But when I'm real-life Ansel, I'm not on all the time. If I'm riding the subway with my father I might not want to take a picture. When I'm home in New York, I feel like that same kid that went to high school here and nobody knew. You can't lose that, you know?"
A regular kid who is poised to unseat Zac Efron, but point taken.