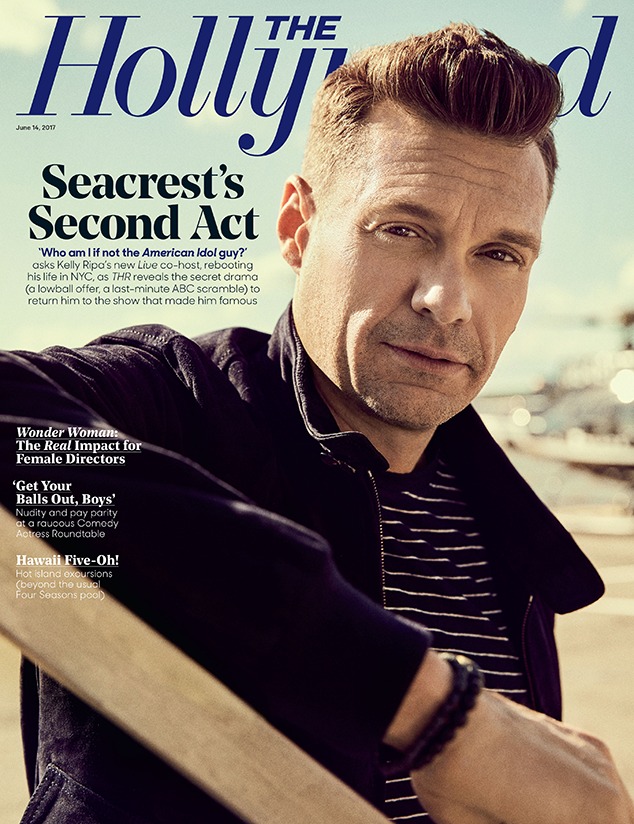 The Hollywood Reporter
After a year-long hunt to find the perfect fit, Ryan Seacrest was announced as Kelly Ripa's co-host on Live! last month.
Of course, before him, several other big names filled that seat, including Michael Strahan and Regis Philbin.
Philbin was the original host of the show for 28 years before he made his exit in 2011. Strahan, on the other hand, hosted the show for a little less than four years. He made his exit in May 2016, which was followed by quite a bit of drama. 
But despite all of the ups and downs the former Live! co-hosts have faced, both Philbin and Strahan extended their congratulations to Seacrest after the news was announced.
Seacrest covers the latest issue of The Hollywood Reporter, opening up about the whirlwind of excitement that surrounded the announcement as well as the former hosts' kind gestures.
He noted that Strahan sent him over a bottle of wine, while Philbin connected with him over the phone.
Seacrest recalled the conversation, saying, "He said to me, 'Ryan, I was most worried about doing something the night before so we had something to talk about in the first 20 minutes of the show [when I first started], so just make sure you're doing something.'"
Disney/ABC Home Entertainment and TV Distribution/Pawel Kaminski
Many people continuously ask the television host how he manages the many various jobs he's taken on over the years, and Seacrest's response is simple: "I've figured out what I'm better at and what I'm not so good at, and I'm doing the things that I'm better at," he said. "The things that I'm not so good at would make me tired and would make me want to slow down."
And speaking of the things he's good at, he knew he couldn't just take on any job at this point in his career.
"I don't act, and I don't sing, and I don't do a lot of other things," he told the publication. "So the question became: What will people accept me doing next?"
Apparently, Live! was that move for him, and Ripa couldn't agree more.
"He's just so seamless," she told THR. "People don't realize that what he does is actually very, very difficult."