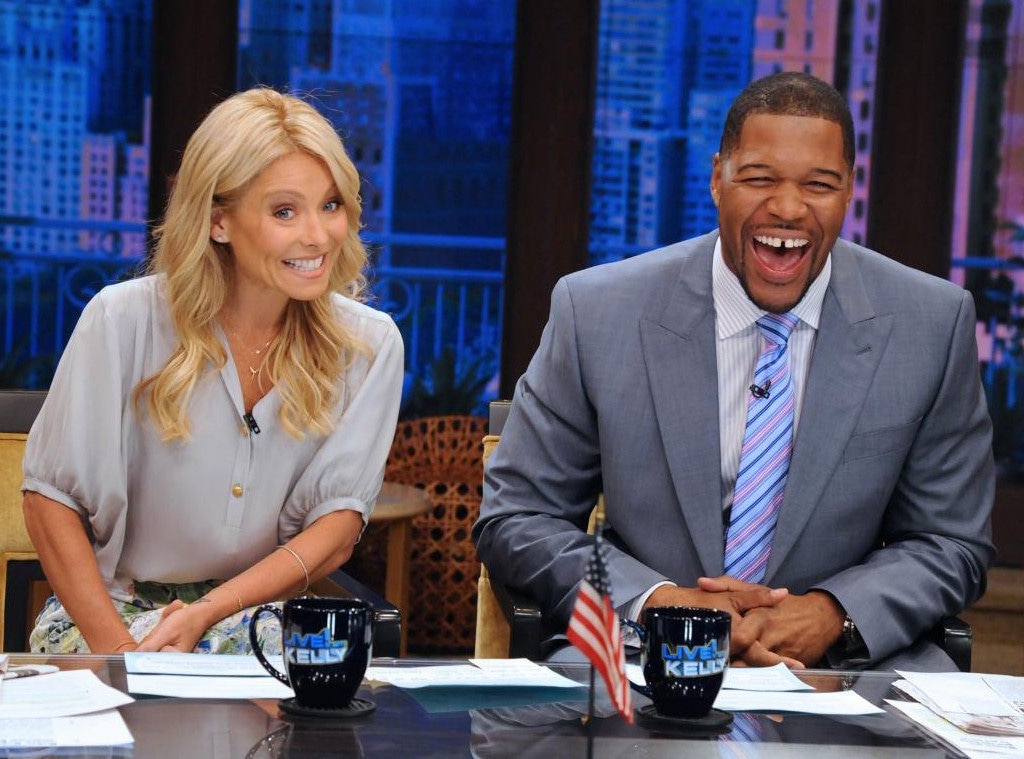 ABC
Start preparing for another goodbye, LIVE! fans.
After spending four years sitting beside Kelly Ripa on LIVE! With Kelly and Michael, Michael Strahan is leaving the morning to join Good Morning America full-time, ABC News announced on Tuesday. 
"I look forward to continuing to work with the incredible team at GMA. It is an exciting opportunity to be able to bring unique stories and voices to the audience," Strahan said in a statement. "My time with LIVE with Kelly and Michael has been transformative, and my departure will be bittersweet. Kelly has been an unbelievable partner, and I am so thankful to her and the entire team. I am extremely grateful for the amazing support I've received from all of the fans."
Strahan, 44, replaced Regis Philbin on LIVE! in 2012 after a 10-month search, and joined the GMA team part-time in 2014, making two appearances a week. The former NFL star will join Robin Roberts, Lara Spencer, George Stephanopoulos and the rest of the team full-time in September. 
There's been no official announcement yet on when Strahan will exit LIVE! and who will replace him, but ABC News noted that the show will kick off the search for a new co-host when the new season begins in the fall.
"Over the past two years on GMA, Michael's proven to be a tireless and versatile broadcaster with an incredible ability to connect with people, from veterans and all kinds of newsmakers to a host of modern American cultural icons," James Goldston, president of ABC News, said in a statement. "He is a great modern thinker and leader, and with our brilliant team in front of and behind the cameras, he will help us drive forward into a very exciting future."
As first reported by The Hollywood Reporter, Strahan's exit was announced by Goldston in an e-mail to staffers on Tuesday morning. 
"I want to share some exciting news about our GMA family. The deeply talented Michael Strahan, who currently joins Robin, George, Lara, Amy and Ginger twice a week, will expand his role to appear full-time in the mornings on GMA starting in September," Goldston wrote. "Michael has been a stellar addition to the broadcast. Over the past two years on GMA, he's proven to be a tireless and versatile broadcaster with an incredible ability to connect with people, from veterans to American pop culture icons and newsmakers. He will end a four year run as Kelly Ripa's co-host on LIVE!, where he has honed his skills as an interviewer with genuine warmth and a quick wit. At GMA he'll now have even more opportunities to tell stories that inspire, inform and empower people.
He added, "I'm delighted to welcome Michael to GMA each and every morning. I can't wait to see what this incredibly talented team will bring our viewers next."
Stephanopoulos took to Twitter to sound off on the good news, writing, "michaelstrahan is the ultimate team player. Couldn't be happier to have him with us every morning on @gma."
Now, let the speculation about Ripa's new co-host begin!