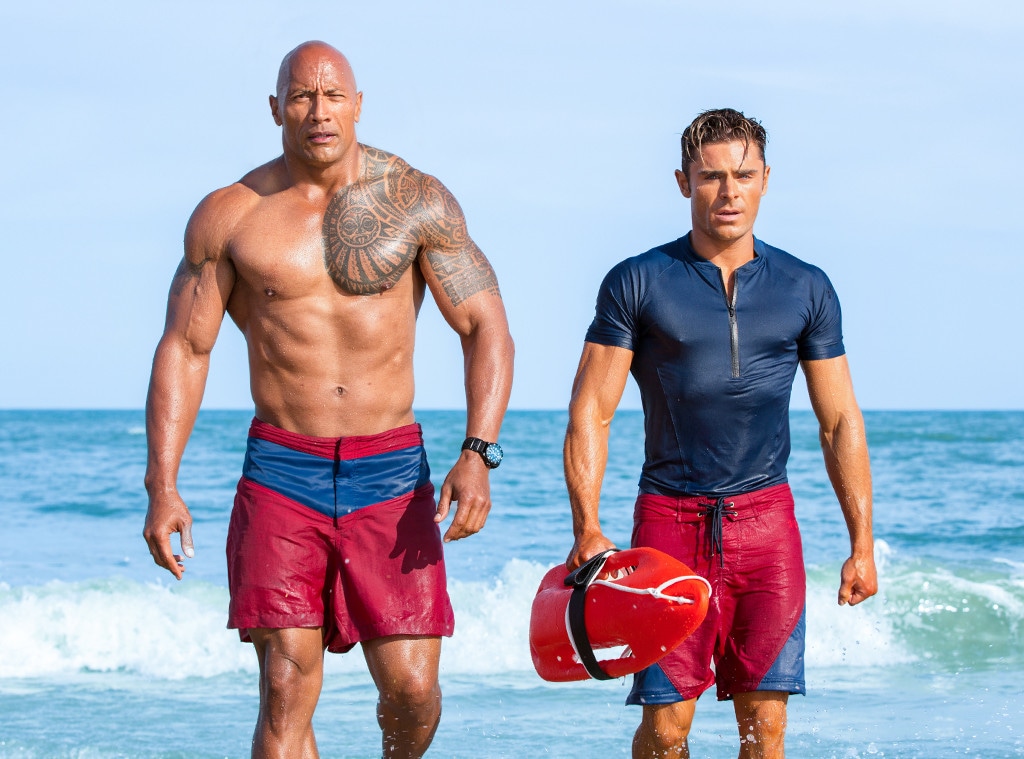 Paramount Pictures
No pain, no gain.
Case in point: Zac Efron, who plays Matt Brody in the 2017 rendition of Baywatch.
The actor, along with co-stars Alex Daddario and Jon Bass, worked with celeb fitness trainer Patrick Murphy four to five times a week for four to six months to prepare for the swimsuit-heavy reboot. If the actors' post-movie bodies are any indication, these workouts were no easy feat.
"Patrick's training was confusing at first...I just thought I was showing up to lift weights and get a deeper six pack (which is hard enough already)," Zac wrote in a statement. "But rather than the typical bodybuilding type of movements I had become accustomed to, Patrick pushed me to my 'functional' limits with a very multifaceted style: strength, explosiveness, fast paced, calculated, diverse and gut-wrenching workouts. It was fun…you never know what he's going to throw at you the next day."
While the rest of the cast did have trainers to help them get in shape, too, the High School Musical alum went the extra mile…many of them, in fact. Along with doing one-hour gym sessions with Patrick, Zac underwent professional lifeguard training (where he struggled with swimming in the ocean) and then would ride for 20 miles on his road bike, according Patrick. Because working out once a week wasn't already hard enough.  
"There are no shortcuts," Patrick told E! News. "Zac got so super lean that he only looked bigger, but he only got a little bit bigger," noted Patrick. "You can see deep lines and muscles popping because he's so lean. He's Bruce Lee-lean."
Translation: The actor has very little fat on his body.
But what workouts did the actor and his cohorts not enjoy so much? Group circuits with power moves. What exactly does this entail? Something like "20 alternating jump lunges in one place, 20 jump squats, 60 mountain climbers, power pushups, followed by a run up five flights of stairs, then one-leg squat hops using a TRX rope," explained the trainer.
Rest…for one minute. Then they would have to do the circuits again…twice. "That's more than 1,000 repetitions on the body," he added.
To prevent fitness plateau, the trainer would switch up the routine to push the actors harder.
"You never know what comes next," said Patrick. "Create change to continue to create results. They would laugh looking back at the first week of training—eight weeks later, it was a whole other ballgame."
The fitness pro, who specializes in corrective exercises (high-reward, low-risk routines that will lessen the chance of injury), is Hollywood's go-to trainer on movie sets, working recently with Keanu Reeves on John Wick: Chapter 2 and Becky G for Power Rangers. His job is to watch and correct posture, alignment or any movement his clients may be doing wrong.
Watch:
How Zac Efron Got His "Abs of Steel" for "Baywatch" Movie
"The biggest mistake is having no idea how to perform the exercises, which creates negative adaptations, creating bad posture and possibility for injury," he said.
To recap, in order to get Zac Efron-status fit, we need to workout three times a day, change up our workouts, listen to our body, correct our form and eat a whole-foods-form diet. Easy.
Baywatch hits theaters May 25.