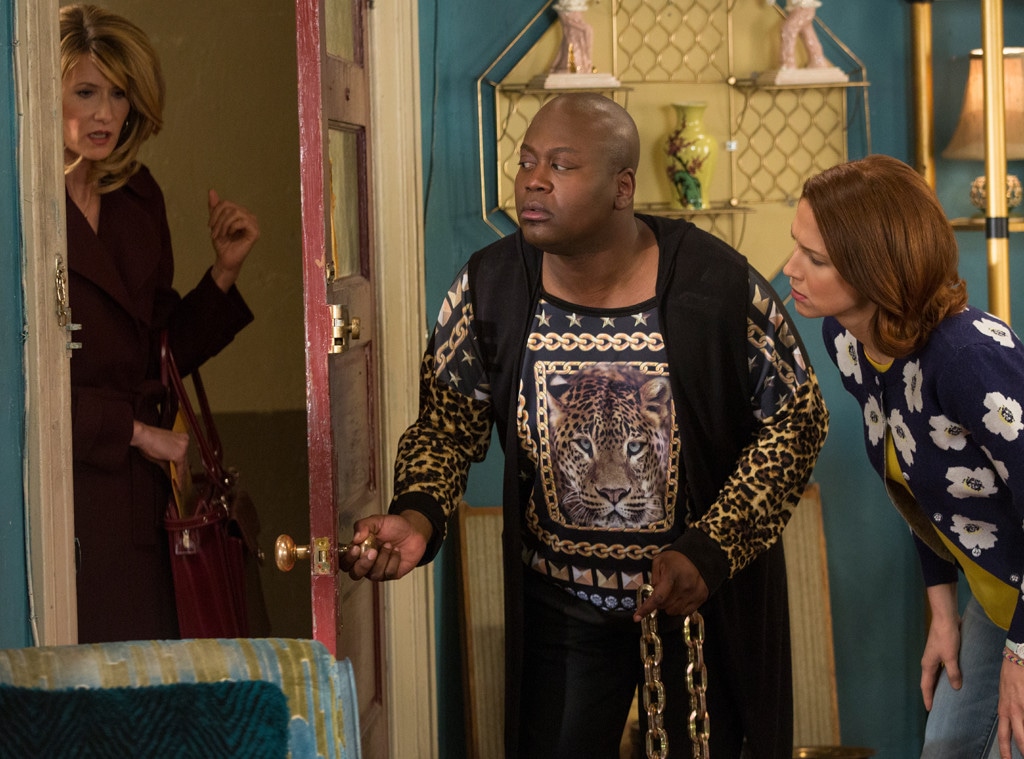 Netflix
In the third episode of Unbreakable Kimmy Schmidt season three, Kimmy (Ellie Kemper) finally addressed what happened to her when she was being held captive by Reverend Richard Wayne Gary Wayne (Jon Hamm): rape.
Laura Dern's character, Wendy, a woman who intends to marry Hamm's incarcerated villain, described her night in Manhattan with Kimmy as a Noel Coward play, because Kimmy is legally married to the Reverend and Dern's character is technically the Reverend's mistress.
"If Noel Coward really was a coward who rapes everybody," Kimmy said to Dern's character about the comparison, confirming years of sexual assault at the hands of the Reverend.
"Look, I think that's the first time we've used that word," Robert Carlock, Unbreakable Kimmy Schmidt co-creator, told E! News.
Carlock said there are other instances where they've touched on the abuse in the bunker, and at its heart, the series is a show about characters overcoming obstacles, whether its Jacqueline (Jane Krakowski) learning to stand on her own and not depend on a man or Titus (Tituss Burgess) escaping the "sort of a prison of fabulousness that he's built for himself."
"I would say Kimmy is the worst of that. And while the show doesn't talk about it much, in part because we have a main character who doesn't want to talk about it and because it's a line to walk, we don't pretend that what happened in the bunker was the Hogan's Heroes version of what happened to Kimmy," Carlock said. "We try to treat it delicately, but I think that's the first time she's really kind of run smack-dab into it."
Kemper told E! News she had questions about what went down in the bunker while Kimmy was a captive from the start, "which is to the creators and everyone behind the show: 'What happened in the bunker? Were they raped?' But she does say, 'If he was a coward who rapes everyone.'"
"There was dark stuff in the bunker and I've always been curious about how that horrible a person is able to be portrayed in a way that when we're watching him we don't hate him. And I think the answer is because he's played by Jon Hamm, who does a really great job of softening the demon that is that man, but essentially, yes I think that there was undesired sexual stuff going on in the bunker. She does literally say rape," Kemper said.
Kemper said Hamm's character is "an awful man," but, "I think to continue to make it watchable you have to lighten those moments in a way."
But there were references to the sexual abuse before. "She doesn't say rape in the original pilot episode, but I think there was, 'There was weird sex stuff in the bunker,' is that what the line is? I'm asking you like you wrote the episode. But yeah, there has to be an acknowledgment," Kemper said about the abuse her character survived.
So why be explicit about it now?
"I think it took her looking at a woman who was planning on having a relationship with this guy for her to be able to say it in some ways. I also think Kimmy doesn't know who Noel Coward is when she says that," Carlock said with a laugh.
Unbreakable Kimmy Schmidt season three is now streaming on Netflix.