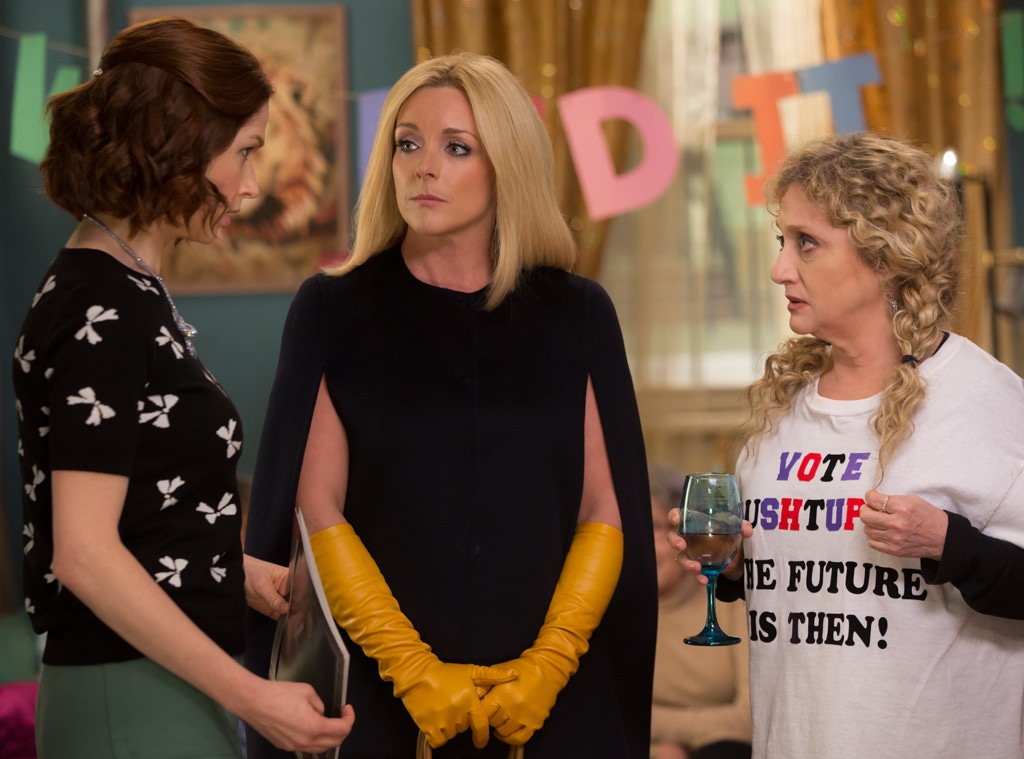 Netflix
It was a brisk, yet tolerable late February morning in Sunnyside, Queens. Titus Andromedon and Jacqueline White were at the bank, yes together. Titus needed to show ID, so he whipped out a birth control pills case with his name on it.
"Just the sugar pills," he said in signature Titus fashion, displaying his unusual identification to the bank teller.
And cut!
E! News was on set as Unbreakable Kimmy Schmidt filmed its season three finale in New York. Things are changing in the world of Kimmy (Ellie Kemper), Titus (Tituss Burgess) and Jacqueline (Jane Krakowski).
When viewers last stepped into the brightly-colored zany world, Titus was performing on a cruise, Jacqueline and Russ (David Cross) had embarked on a quest to get the Washington Redskins to change their name, and Kimmy, well, Kimmy got a call from her husband, Reverend Richard Wayne Gary Wayne (Jon Hamm).
"We do revisit that story. She is indeed married to him. This season we go back and revisit that. I don't know what I can give away and what I can't, except that marriage was real and they're working through it so she can try to figure out how to move forward from that," Kemper told E! News with a laugh. "I thought that was crazy. When we read that in the table read last year, I was like, 'Oh, of course.'"
Over the course of two seasons, Unbreakable Kimmy Schmidt set its lead characters on journeys of self-discovery and emotional development, the likes of which you rarely see on comedies—especially comedies where the jokes fly as fast and furious as they do here. Last season Kimmy Schmidt entered therapy in order to work out issues, you know the kind of issues that stem from being kept in an underground bunker for her formative years.
"I think her big moment at the end of last season was accepting that she can't change people, and she can only control her own reaction to things, and that some things aren't perfect, and she has to accept that…This season she's still struggling with stuff. I think she's still very angry about a lot of things that she can't control," Kemper said.
As for Titus, things aren't necessarily going very well. The premiere date for Unbreakable Kimmy Schmidt season three was teased with the character having a Lemonade moment, right down to the baseball bat and yellow outfit a la Beyoncé.
"You know immediately how this cruise went down at the top of episode 301. Let's just say, once again, Titus is in a precarious situation and it's very, very funny," Burgess said. "He has a huge secret that he's trying to keep from everyone for the majority of season three and then around episode eight it all sort of comes unraveling, very fast."
And because it's Titus Andromedon, you know it will be dramatic.
"Oh, come on! There's no other way. There are layers upon layers upon layers. It's a very funny storyline this season," Burgess said. "Obviously as people can surmise things haven't gone that great with Mikey, so he's back on the playing field trying to figure things out."
As for the episode-long Lemonade moment, Burgess said he was not prepared for that to be the teaser, but it will top "Peeno Noir" for sure "because it's so expansive."
"It really is quite—it's something," he said with a laugh. "I never thought that they would be able to do that, but it's fierce in a way that I never thought they'd let Titus be. It's very, very funny, but the emotional subtext, it's quite moving and really surprising. You're crying, but you're laughing at the same time."
However, he is prepared for Beyoncé not to notice. "I should be so lucky. I am obsessed with her, like the rest of the world. I know Tina Fey is a huge Beyoncé fan. But no, I don't, I don't [expect to hear from the singer]," he said. "I just hope that she watches the episode, but look she's about to pop out twins though, so I'm not sure that Titus's homage to her is on her radar right now."
Back to Jacqueline and Titus at the bank together—those two characters have barely interacted during the first two seasons of Unbreakable Kimmy Schmidt, but that's about to change. The two share way more scenes together, pulling Jacqueline into Kimmy's world even more.
"I'm so happy because prior to this we only buried a robot together…and I only learned his name in season three. In fact that joke continued a little bit and Tina said, 'I think she knows his name by now,'" Krakowski said. "But now I don't know Mikey's name. Now it's Mitchy and whatever. I don't take in names, right Bob? [Laughs.] You're Bob, right?"
As Titus has become more emotionally open and Kimmy dealt with her anger at things she can't control, Jacqueline has embraced her Native American heritage. This year, there's another change for Kimmy's former boss, now friend.
"Jacqueline unexpectedly fell in love with Russ at the end of season two, for reals, and then in season three we pick up with them on their fight to change the name of Washington Redskins," Krakowski said. "But Russ is away for a little while on business, so he's left Jacqueline to take care of all of his matters on her own, which as you know, it's very difficult for Jacqueline to stand on her own two Christian Louboutins. [Laughs.] But as the season grows, Jacqueline really does learn how to stand on her own two feet and take care of herself more."
As the show's theme song says: "Females are strong as hell."
Unbreakable Kimmy Schmidt season three premieres Friday, May 19 on Netflix.