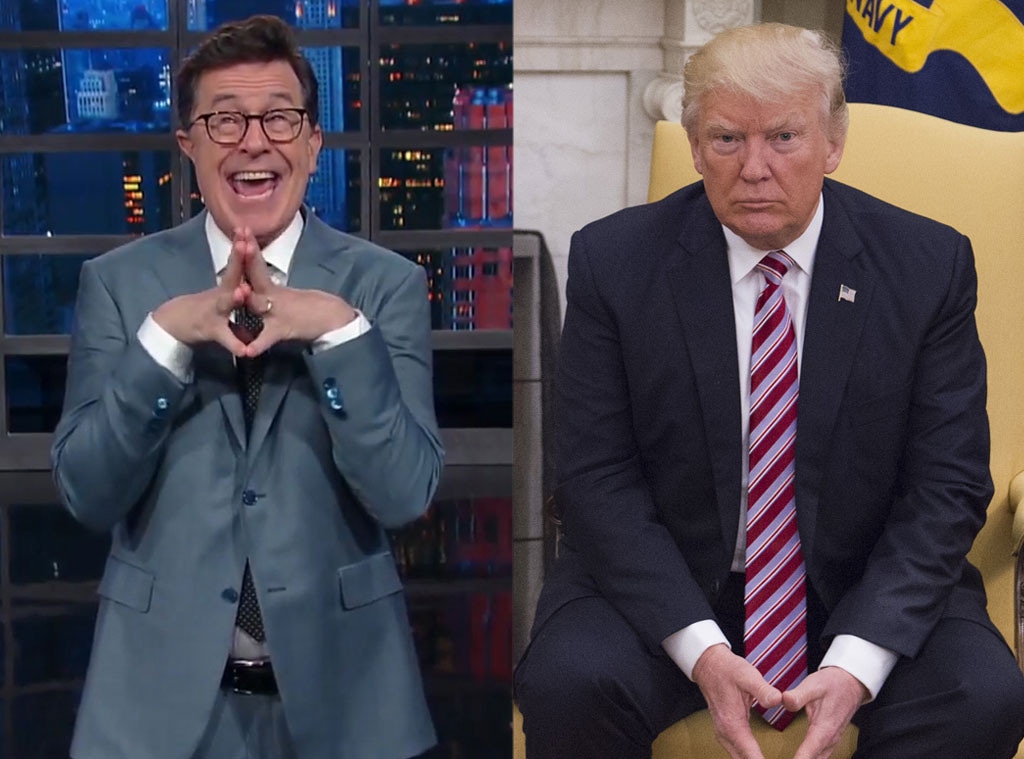 CBS, Molly Riley/ Pool via Bloomberg
The gloves are off in the Stephen Colbert vs. Donald Trump showdown.
The President of the United States had said in a recent interview that the Late Show host, who regularly slams him on TV and recently made a particularly crude comment about him,  is a "a no-talent guy." Colbert responded to Trump on his program Thursday night.
"The president also spoke to Time magazine about the most important issue to him—this show," Colbert said, before proceeding to imitate the U.S. leader saying the words the magazine quoted him as saying.
"The President of the United States has personally come after me and my show and there's only one thing to say. Hee-hee-hee-hee-hee!" the host continued, cackling and clapping his hands gleefully.
"Yay! Yay!" he said, blowing a kiss and waving. 
"Mr. Trump, Mr. Trump, there is a lot you don't understand but I never thought one of those thing would be show business.," the host continued. "Don't you know I've been trying for a year to get you to say my name? And you were very restraining--admirably restrained--but now you did it," he said, whispering, "I won!"
On May 1, Colbert had slammed Trump on The Late Show after the president, who has called much of the mainstream media "fake news," insulted his CBS colleague and Face the Nation host John Dickerson to his face during an on-air interview.
"Sir, you attract more skinheads than free Rogaine," Colbert had said. "You have more people marching against you than cancer. You talk like a sign-language gorilla that got hit in the head. In fact, the only thing your mouth is good for is being Vladimir Putin's c--k holster."
It was the latter comment, which was censored on TV, that spurred scores of viewers to file complaints with the FCC. In addition, "#FireColbert" trended on Twitter.
"Oh no! Oh no! Please, oh please, don't make me trend on Twitter again! Don't throw me in that #briarpatch!" Colbert said on Thursday's show.
Trump had told Time, "You see a no-talent guy like Colbert. There's nothing funny about what he says. And what he says is filthy. And you have kids watching. And it only builds up my base. It only helps me, people like him."
"I will give this to the man. You're not wrong," Colbert said on Thursday's show. "I do occasionally use adult language and I do it in public instead of in the privacy of an Access Hollywood bus and it's true, and it's true—that's dignified. That is dignified."
In October, a month before the election, a 2005 video surfaced in which Trump, then the Republican presidential candidate, made lewd comments about women to host Billy Bush. At the time, both were wearing live microphones as they arrived on set to film an Access Hollywood segment. Trump later said in a statement, "This was locker room banter, a private conversation that took place many years ago. Bill Clinton has said far worse to me on the golf course—not even close. I apologize if anyone was offended.
In his interview with Time, the president said Colbert's show was "dying" before he began "attacking" him on the air, adding, "I've done his show. But when I did his show, which by the way was very highly rated. It was high highest rating. The highest rating he's ever had."
Trump appeared on The Late Show With Stephen Colbert in September 2015. The episode ranked first among its late-night show competitors.
"It's true, the night you appeared on the show, right over there, was very highly rated," Colbert said in response. "In fact, the only episode that got better ratings was the night I had [Republican presidential candidate] Jeb Bush on. That's right. You got beat by 'Low-Energy Jeb.' But don't worry. You won the 'Ratings College.' And making jokes about you has been good for ratings. It's almost as if the majority of Americans didn't want you to be president."
Trump won the deciding Electoral College vote in the November election, while Democratic candidate Hillary Clinton won the nationwide popular vote. 
"But you know, you know who's got really bad ratings these days? You do. Terrible approval numbers," Colbert said.
According to a Fox News poll from late April, about 45 percent of people polled approved of Trump's job performance while 48 percent said they disapproved. A Quinnipiac University poll released Wednesday and carried out between May 4 and May 9 showed 36 percent of people polled approved of his job performance while 58 percent said they disapprove.
"I hear they're thinking about switching your time slot with [Vice President] Mike Pence," Colbert said. "But since all of my success is clearly based on talking about you, if you really want to take me down, there's an obvious way—resign. I mean, that's it, right?...Sir, if you did that, what would I talk about then? Except your resignation, 'cause that'd be fun."
"And here's the thing. A president going after someone telling jokes is unprecedented. That would be like Richard Nixon going after [fictitious MAD magazine cover boy] Alfred E. Neuman. And if I may, Mr. President, I'd like to quote that great man. 'What—Me Worry?'