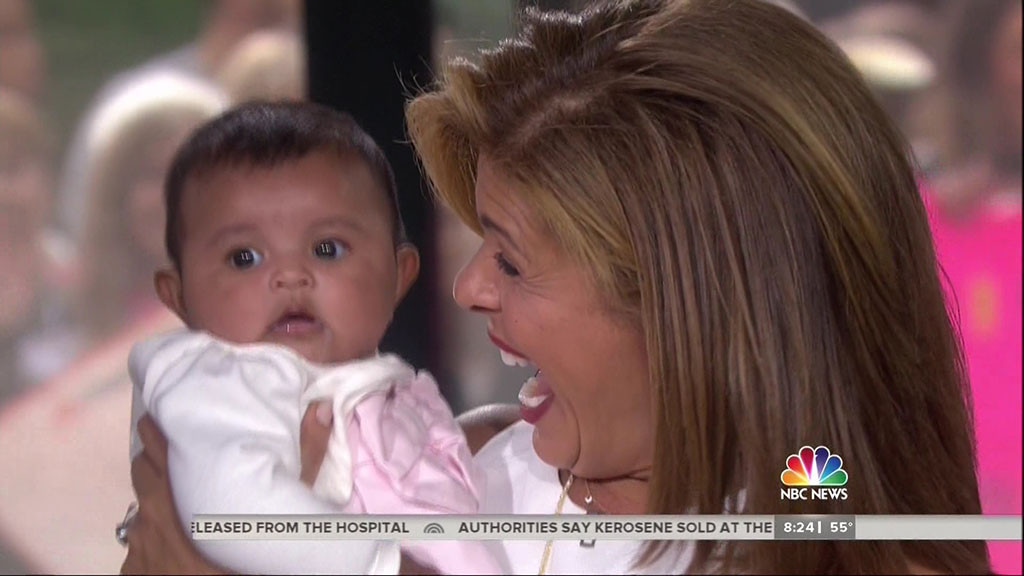 NBC/Today
A star is in the making!
Hoda Kotb got into the Mother's Day mood on Friday morning when she surprisingly brought her newborn daughter, Haley Joy, to the Today set for her first live television appearance on the show. 
"So, this is the love of our lives?" co-host Savannah Guthrie asked as the hosts flocked to the baby girl. 
Kotb was clearly filled with emotion as her two worlds converged. "Can I just say one thing? I'm holding my baby girl on Mother's Day weekend," she realized.
"Haley, do you know you have the best mom in the world?" Guthrie asked the little lady. 
The baby's first TV appearance went off practically without a hitch—except for a little expected drool. Nevertheless, the 3-month-old certainly stole hearts all around the country as she looked into the camera with wide-open, curious eyes. She's a natural, Hoda! 
The entire Today family has been brimming with joy since Kotb announced in February that she had adopted her daughter. 
"It's one of those things where you think you've done it all, you think you've felt it all," she previously told People. "But I just didn't know that this kind of love existed."
"I wake up sometimes and go, 'Oh my God, I have a baby!'" she joked to the magazine. "But it feels totally real. I guess if you've been waiting this long for something, and you wish for it, pray for it, hope for it, wonder if it will ever be, and then it happens, nothing's more real. Nothing."
Something tells us this isn't the last time we'll be seeing little Haley on TV. 
(E! and NBC are both part of the NBCUniversal family.)