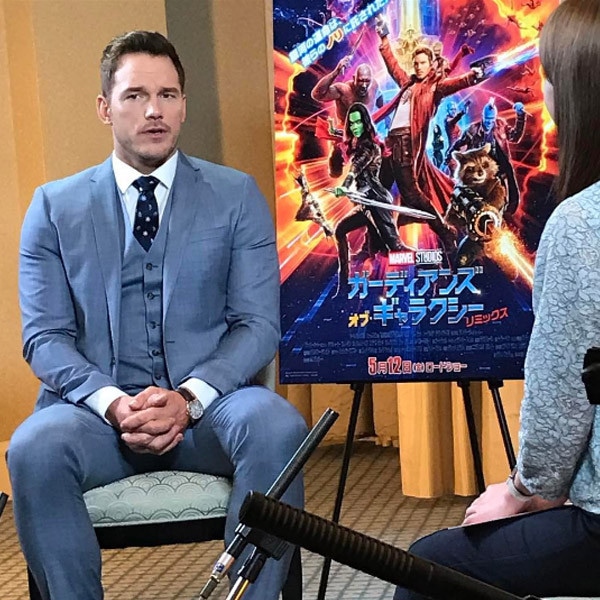 Instagram
Chris Pratt is back on the press tour for Guardians of the Galaxy Vol. 2, which means he's back to his hilarious social media posts.
The actor is currently in Tokyo on the first leg of the tour for his new film, and he's already started with some pretty great posts.
For example, he posted the photo above from one of the film's junkets, writing, "Here I sir [sic] next to a poster for #gotgvol2 discussing how this is probably the greatest movie in the history of cinema. Humbly. #tokyo."
However, the hands-down funniest photo so far is the one in which it appears he's wearing women's clothing.
"My favorite outfit so far. #gotgvol2 #tokyo."
LOL! Do we think that's his wife, Anna Faris' ensemble?
Pratt also posed with a group of GotG fans dressed up as characters from the film and couldn't help but get "emotional," admitting he feels the film's sequel is up there with the best sequels of all time.
"Had a great time greeting fans from Tokyo. These magical lot were dressed up like he Guardians," he captioned the picture. "Moments like this you realize how much a movie can mean to people around the world. I can't believe I get to be one of the stars bringing this movie to the screen. I've been crying a lot on this tour. Because, you know... they just can't get my latte right. And I try to tell them 'Peruvian breast milk!' How hard is that? still nothing. Urrrrgh." 
LOL! OK, but then he gets kind of serious...
"But seriously... The reason I've been routinely breaking down like a baby child is my overwhelming gratitude to @jamesgunn," he continued. "And I'm not even drinking so we're talking about authentic tears. I can't wait for the world to know my secret. #gotgvol2 is unlike any other movie in cinematic history. Up there with Godfather2 for greatest sequel of all time. And is far and away the greatest spectacle film ever. If you don't have tix, link in my bio, probably gonna be sold out if not already. If not no biggie, you'll see it eventually."
But our favorite photo of the bunch isn't actually all that funny at all...it's just plain adorable.
Pratt revealed that Faris and the couple's 4-year-old son, Jack, have joined him in Tokyo.
"My dear sweet @annafaris getting flashbacks from her hilarious role in Lost in Translation," he wrote beside a photo of the couple in front of a Japanese sign. "Thank you for the support honey! You look so beautiful. These press tours can be such a whirlwind. I'm grateful to have you and the boy with me on this one."
He continued, "Although it's 3:00am right now, I was just awakened by a square kick to the back as little man climbed into bed and then must have had a karate dream or something and now I can't sleep. I'm on insta instead. All you dads and moms know what I'm talking about. "