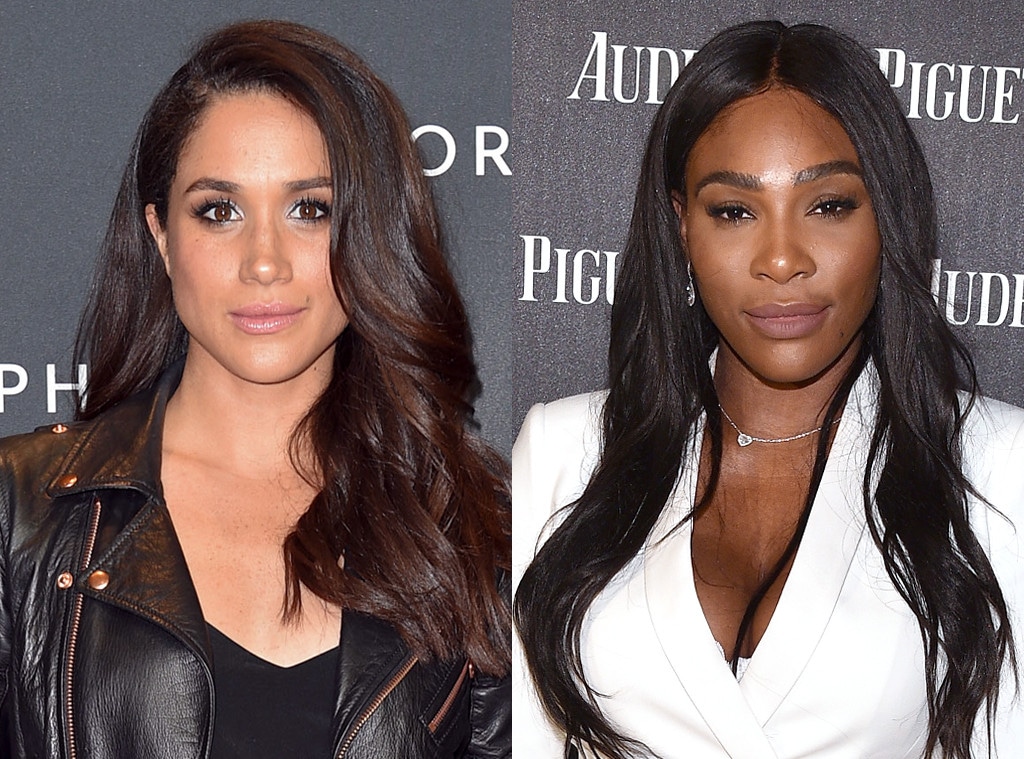 GP Images/WireImage, Bryan Bedder/Getty Images for Audemars Piguet
Meghan Markle and Serena Williams' friendship is the gift that keeps on giving. 
When news of the Suits actress relationship with Prince Harry surfaced last October, there was a singular name included in nearly every roundup of need-to-know facts about the relatively under-the-radar star. Yes, you guessed it—the one and only Ms. Williams. 
In light of reports that Meghan will receive a plus-one invitation to the tennis all-star's upcoming wedding to Alexis Ohanian that will presumably go to her Royal boyfriend, we thought it vital to take a deep dive into one of Hollywood's not-so-unlikely friendships. 
Let's begin, shall we?
Michael Loccisano/Getty Images for DirecTV
Serena and Meghan first crossed paths in February 2014, teaming up to play a game of flag football at DIRECTV's Celebrity Beach Bowl alongside fellow beauties about town, Hannah Davis, Nina Agdal and Shay Mitchell. The duo buddied up without hesitation, and in a Q&A with William posted to Markle's lifestyle website The Tig, Meghan discussed what charmed her about the pro athlete. 
"We hit it off immediately, taking pictures, laughing through the flag football game we were both playing in, and chatting not about tennis or acting, but about all the good old fashioned girly stuff," Meghan wrote. "So began our friendship."
Fast forward seven months, when Meghan cheered on her newfound bestie as she won her third consecutive U.S. Open championship in September 2014. "She did it! @serenawilliams ! #bravo #friends #usopen," she captioned a photo taken from the stands of Williams moments after she became victorious. 
She later celebrated Serena's win at the 2015 Australian Open with a photo from their congratulatory embrace at the previous event. Markle tweeted, "So happy for you @serenawilliams!! I was juuuust hugging you for your win at #usopen. Now @AustralianOpen! #onfire"
Ahead of Meghan's next appearance at a tennis match, Williams lent her support by contributing to numerous blog posts on The Tig. A self-proclaimed inspiration junkie, Markle called on Serena, who she described as one of her "closest friends" (along with Priyanka Chopra, Olivia Palermo and Abigail Spencer), to share her wisdom. 
Then last summer, Meghan flew across the pond to attend Serena's Wimbledon match, and as fate would have it, sat just a few rows down in the Royal Box from Pippa Middleton. And if our calculations are correct, Meghan and Prince Harry reportedly linked up around this time. Suffice to say, we might have Serena and Meghan's lovefest to thank for the next royal wedding down the line!
If Serena and Meghan hadn't reached #FriendshipGoals at this point, the latter's sweet words of encouragement during her New York Fashion Week show in September 2016 totally sealed the deal.
"My eyes are closed but my heart is so open!" Markle captioned an Instagram photo of the darling duo. "So proud of your new collection @serenawilliams Happy I could be there to support you xx #NYFW"
In sum, let's pass it off to Meghan, who described their friendship perfectly. "She quickly became a confidante I would text when I was traveling, the friend I would rally around for her tennis matches, and the down to earth chick I was able to grab lunch with just a couple weeks ago in Toronto," she penned to The Tig.
Markle continued, "We are both the same age, have a penchant for hot sauces, and adore fashion, but what connects us more than those things is perhaps our belief in exceeding expectations–our endless ambition."
Celebrity friendships—they're just like ours!