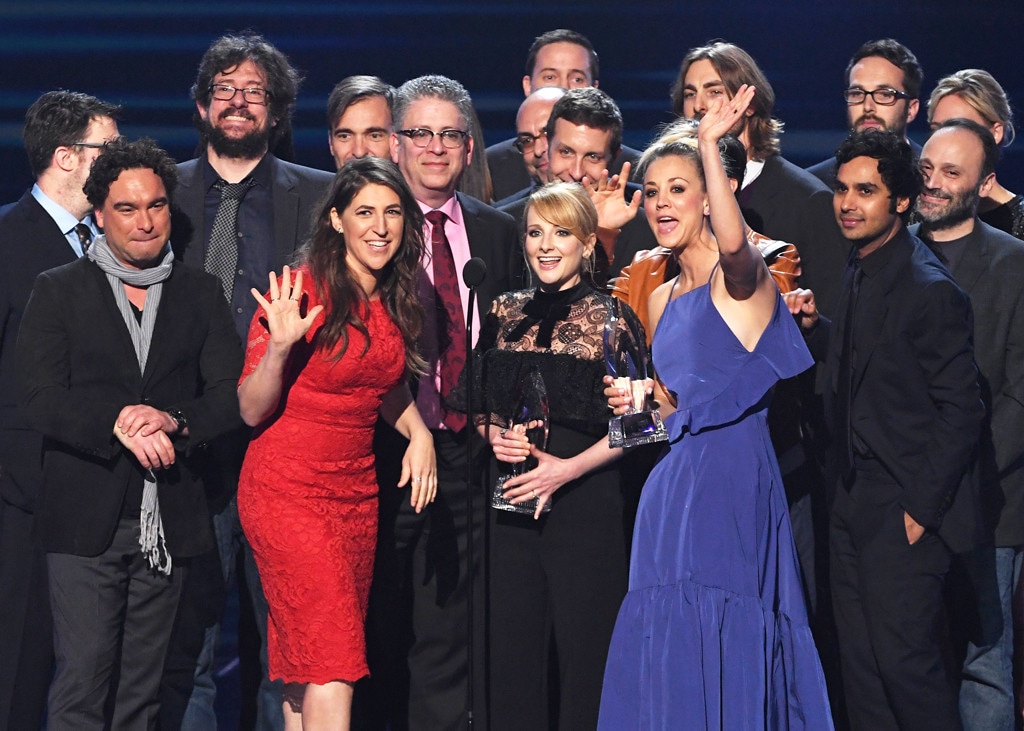 Kevin Winter/Getty Images
The Big Bang Theory didn't exactly upend the TV universe when it first premiered nearly 10 years ago.
The situation comedy about four nerdy geniuses and the hot girl who moves in across the hall from two of them got mixed reviews among mainstream critics, with most agreeing it was serviceably funny, if nothing earth-shattering. It was at least a quality upgrade from creator Chuck Lorre's other big hit, the reliably offensive yet extremely successful Two and a Half Men, which made the most out of Charlie Sheen's then-magnetic appeal and was one of the most-watched shows on TV at the time.
But while The Big Bang Theory started off slow, both in ratings and in concept, it ultimately found not only its rhythm, but also a huge audience.
The change in momentum of an object equals the impulse applied to it, after all.
The biggest season to season bounce of the series' now very long life occurred in 2009-2010, when CBS moved it to 9:30 after Two and a Half Men. Season three averaged 14.22 million viewers, 4 million more than season two.
CBS' hypothesis that The Big Bang Theory was ready to stand on its own paid off—in fall 2010 it was uprooted to Thursdays at 8 p.m. to anchor the network's comedy lineup, and its 13.21 million-strong average viewership was good enough to make it the most-watched comedy on TV that season and the 13th-biggest show. 
And the momentum only grew from there. Kaley Cuoco, Johnny Galecki, Jim Parsons, Simon Helberg and Kunal Nayyar have been starring on TV's most-watched scripted show ever since (almost—they ranked behind NCIS and Sunday Night Football in 2012-2013 but since then nothing has beat it but football)—and before the start of the 2014-2015 season, they famously started being paid like masters of the universe.
That summer, Parsons, Galecki and Cuoco banded together Friends-style to negotiate $1 million-an-episode deals for all three of them, while Helberg and Nayyar teamed up, Howard-and-Raj-style, to venture into high six-figure territory. Even with the gap, spots 1 through 4 on Forbes' 2016 list of the highest-paid actors on television went to Parsons, Galecki, Helberg and Nayyar. Cuoco was second to only Modern Family's Sofia Vergara on the corresponding actress list.
The much talked-about pay raise was an indicator that the cast was a cohesive unit, full of respect and camaraderie at the very least, if not exactly Jennifer Aniston-Courteney Cox level BFFs off-camera.
Yet there is a certain chemistry that has to exist behind the scenes of such a wildly successful show, or else All. That. Money. might start to not seem worth...
Oh, who are we kidding? It's impossible to be concerned for the cast of The Big Bang Theory, expressly because of that money. Yet one does start to wonder what going from being recognizable working actors at most to the lavishly rewarded stars of the biggest show on Earth that doesn't take place on a football field has done to the dynamic over the years. 
"We're really fed by the audience's energy. And Starbucks," Galecki quipped to Glamour last March. "I have a drink with the writers and the crew," Nayyar said, describing his post-work-day routine. "I pull out a bottle of scotch, and I have a little bit of scotch to unwind. And then sometimes, if we're feeling up to it, we'll head to a secret bar that I can't tell you about. We always go and kick back and talk about the episode, you know, nothing major, just an hour or so."
"I don't recommend drugs for sleeping, but I will tell you, for many years of this show, I didn't drink at all, and I had so much trouble sleeping at night," Parsons added. "I don't mean to give a good ad towards alcohol, that's not what I'm trying to do here!"
It's not as if this cast hasn't earned a drink.
Before lightning struck, Parsons and Nayyar had been toiling away in small parts. Helberg had been on the very hyped but not ultimately watched Studio 60 on the Sunset Strip. Cuoco had been acting since she was a kid and her biggest roles had been John Ritter's daughter Bridget on 8 Simple Rules and Billie on a season of Charmed. 
Galecki was arguably the most famous of the bunch going in, thanks mainly to Roseanne. As his star rose with The Big Bang Theory, he had a great turn on Entourage as a d-bag version of himself, a helpful reminder that he isn't actually wimpy or the endearingly bumbling physicist Dr. Leonard Hofstadter, who got the girl for the first time ever when he met Cuoco's Penny. (Nayyar has also lamented the assumption that he's anything like Raj in real life—in 2014 the actor told London's Independent, "So [the tabloids] say, 'oh this shy nerd is dating a former beauty queen.' I'm not Raj, I'm Kunal!" He married former Miss India Neha Kapur in 2011.)
The other big reminder that Galecki probably does just fine with women in real life? The revelation that he and Cuoco dated for two years with no one out of the inner circle being the wiser until after they broke up.
And luckily their split was amicable, or amicable enough, because on a show like The Big Bang Theory, there's no messing with what works, and Leonard and Penny—despite whatever minor obstacles the writers have thrown in the couple's way over the years—work. There's no getting pushed in front of a train in Paris when you show up for work every day and make the fans happy.
Kevin Mazur/Getty Images for TNT
But Cuoco and Galecki really have remained close, and he's gone from beau to filling the best friend/brother-type role—whether he was thanking Cuoco's husband on her behalf at the People's Choice Awards or being there for her when her two-year marriage to Ryan Sweeting ended in 2015.
"We're dear friends, still. Kaley's not just an ex, she's a part of my life," Galecki, who was dating Kelli Garner at the time, told CBS Watch magazine in 2013. "I just don't like to speak about it. And not because I'm trying to be enigmatic; I just worry that it will conflict with people's acceptance of Leonard and Penny."
He said that he understood the curiosity, "but I don't want to distract from the story." 
Cuoco would concur about where she and Galecki were at post-romance.
"We dated, like, five years ago, so I think we've both moved on," Cuoco said on Watch What Happens Live in 2015 (she was still married), when a fan called in to ask if there was any lingering awkwardness on set between them. "Johnny's actually one of my best friends. It's a situation that ended well—I understand sometimes it doesn't, [could've gone] horrible, but he's one of my dearest friends, and Ryan loves him. Johnny loves him...It's been great, I got lucky."
While Parsons, who has won four lead actor Emmys for playing change-resistant, persnickity genius Dr. Sheldon Cooper, has become the breakout thespian among the bunch, also having done Broadway and acclaimed movies such as HBO's The Normal Heart and current Best Picture Oscar nominee Hidden Figures, Cuoco is the breakout A-lister.
She easily makes the most name-driven headlines, whether it's for something she said in an interview, a magazine cover she posed for, an Instagram pic she posted or, most likely, for something related to her personal life. Currently she's happily coupled with professional equestrian Karl Cook, Cuoco herself being an accomplished equestrienne as well as a heart-on-her-sleeve dog lover.
As far as her personal evolution as an actress goes, she knows she's come a long way over the course of her career, and she's grateful.
"I'll look back on season one or two [of The Big Bang Theory] and I'm like, 'How did I get hired? Like, what was I doing? What was that tone in my voice?' I talked up here," she told the New York Daily News in 2015. "Thank god they saw through that. Over the years I've totally settled and gotten that much cooler and better but it's funny, I look back on a lot of shows and you look back to season one and those season ones aren't so good...You're like, 'Oh my god, this was horrible' because now it's so good. Like, it's just such a difference.
"At the time it was great... I can't believe I got hired, let's put it that way. It was not good."
Without a doubt, the addition of more women to the cast in season four helped broaden Cuoco's acting horizons, Melissa Rauch's pint-size scientist Bernadette and Mayim Bialik's buttoned-up neurobiologist Amy Farrah Fowler giving Penny more chances to banter, as well as school socially awkward Amy in the facts of life outside the lab. 
So inevitably there was talk of unrest among the ladies when it came to Cuoco's million-dollar deal. As of last year, Rauch and Bialik (the former Blossom star—and real-life science whiz—being the only one of the entire cast to have once been the star of her own show), as supporting cast members, were making a reported $100,000 an episode.
Bialik, a divorced mother of two who first navigated sitcom stardom in the 1990s, sparked feud rumors when she told the New York Daily News last March that she made enough but not so much that she was carefree about money.
"I don't make as much money as people think I do," she said. "I don't think about the money a lot. I am an employed actor and we are all overpaid. I am grateful to be employed. But I still need to think about what is next and I think about it a lot." She added, "I don't think the pay has anything to do with the quality of the show. We have an extraordinary cast and amazing writing staff and people all care passionately about putting on a show every week."
Of course that turned into someone telling Radar Online that Cuoco was "furious at Mayim for trash-talking her earnings"—even though, see above, that's not what Bialik was saying. It sounded more like she was uncomfortable with the initial question.
No one ever officially put the feud rumor to bed, but the show had to go on—literally. When Bialik said that, everyone was still contracted through season 10, which is at the moment half over.
"We still come in the next morning and we go, 'Did you see the ratings? Did people watch?'" the ever-ebullient Cuoco said on CBS This Morning last May ahead of the season nine finale. "We are genuinely still so excited and surprised that hasn't changed...I love that about our group."
At the time, she couldn't imagine not wanting to do more Big Bang Theory, saying, "I don't want [season 10] to be the last. I can safely say no one wants it to be the last...We got a good thing going and we genuinely like each other and we have a really good job and we want to stay here for, I want to say, many more years."
Fast-forward to now, with the cast having just gathered last weekend at the 2017 Screen Actors Guild Awards, where they were nominated for the seventh straight year for Outstanding Performance by an Ensemble in a Comedy Series. Just as they did at the People's Choice Awards the week before that, where they won favorite TV comedy for the umpteenth year in a row, they looked like a family—entirely comfortable and unable to refrain from teasing each other.
Asked jokingly if Cuoco always had her way on set, Parsons told E! News'  Brad Goreski on the SAG Awards red carpet that as far as he knew, yes—and if she didn't, and she stormed off, he'd totally go with her. "I've turned into as bad as you've become," he assured Cuoco affectionately. "We're morphing into one person," she added.
Watch:
Are Kaley Cuoco and Jim Parsons Fighting?
Cuoco also made a show of being shocked to find out that Parsons would be sitting with the also-nominated cast of Hidden Figures instead of with his TV co-stars.
"They have kindly put our tables close together," he assured her, to which she fired back, mock-seriously, "Would it be weird if I sat at the Modern Family table?" "You broke the news!" Parsons told Goreski. "There's in-fighting on Big Bang."
"I'm just trying to stir up rumors," Cuoco clarified. "A lot of rumors going on about the show, so I just thought I'd keep throwing some in."
First of all, last July, Radar reported that the feud had broadened to everyone vs. Kaley. Pretty much every public interaction among the cast since then has served to disprove that theory, but, it was out there. 
But the time between the ninth season finale and the 10th season premiere did give the entire cast some time to think. Parsons had done Hidden Figures, Galecki shot the horror franchise reboot Rings and Helberg had a breakout role in Florence Foster Jenkins, earning a Golden Globe nomination for his role as the addled accompanist to Meryl Streep's tone-deaf aspiring opera singer.
On the Late Show With Stephen Colbert in August, Helberg was asked right off the bat if season 10 was going to be it.
"Do you know something that I don't?" the actor deadpanned. "No, we're having a great time doing the show, so I mean, you know, I think we'll keep going if people will have us."
As for Cuoco, she had a scene-stealing turn in the 2016 comedy Why Him? as the voice of James Franco's Alexa-like digital assistant Justine, and she's up next in the indie comedy Justine, directed by Jeff Garlin. 
By the time she was talking to Jimmy Kimmel in September ahead of season 10, she sounded more as if she was in the camp that thought perhaps the show had organically run its course.
"It's a very expensive question," she conceded when Kimmel asked if season 11 was a possibility. "For CBS?" "For a lot of people!" she laughed. "Lot of people. Yes! Ten seasons! That's a lot of hair."
"Don't you feel like that's enough?"
"Yes!" she agreed breathlessly, still laughing. "It's a lot of hair. That's a lot of denim sizes...Ten years, all in my 20s. I went from hot to, like, 30. I was 21 when I started the show!"
"We'll put it on for as long as everyone wants Big Bang on the air," CBS Television President Glen Geller echoed Helberg's sentiment at the 2016 Television Critics Association Press Tour last August. "I hope it lasts forever."
Of course, everyone who works on the show has been around long enough by now to know that that's never the answer when it comes to going out on top, which is where it was at the end of 2016.
The 10th season premiere attracted 15.8 million viewers, a 3 million-strong dip from the previous year—but hey, there was an election going on. Even football ratings were down.
Nayyar said during an appearance at MCM Comic-Con London, "Look—next season, as it stands on our contract, could be the last season of Big Bang Theory. To be completely honest…I know people are gonna want to know what happens after season 10. I don't know what's going to happen."
Season 10 is now half over, Wolowitz and Bernadette are parents, Amy and Sheldon have an increasingly amorous relationship and Leonard and Penny are fairly happily married.
"We're very much talking about [the show's future] right now, and it seems that the writers are very confident and excited that they can write some more after this year, which is an incredible testament to them," Galecki told Entertainment Weekly a few weeks ago. "And if the writers are "confident that they can do more, then I know that we're still having a great time with it on stage, so hopefully a bit longer."