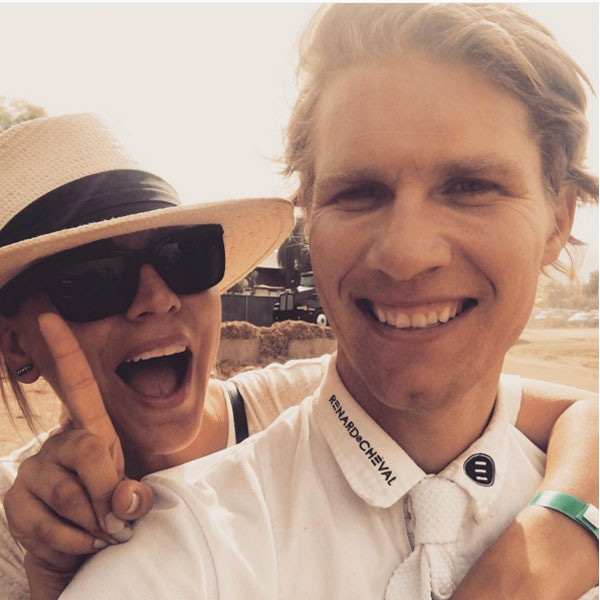 Instagram
Kaley Cuoco loves horses, so it would totally make sense for her to date a fellow equestrian...right?
Enter Karl Cook, the hunky professional rider who is rumored to be romancing the Big Bang Theory star! Kaley, 30, Instagrammed two very couple-y pictures of herself and Karl, 26, but the potential pair have yet to officially declare their relationship status.
E! News reached out to Kaley's rep for comment but did not receive an immediate response. In the meantime, though, here are five things you need to know about the man who might have captured Kaley's heart.
1. He's an Accomplished Equestrian Now, but He Almost Quit the Sport:  Earlier this month, Karl and Farrari took home the blue ribbon in the $25,500 SmartPak Grand Prix and the $15,000 UltrOz Jumper. (In case the prize amounts don't give it away, you should know competitions like this are a big deal in the horse world, and they only represent a fraction of Karl's wins.)
That said, there was a time when the California-based athlete considered giving up the sport completely. After excelling as a young rider, Karl reached a point in the Spring of 2012 where he "started backsliding" and simply "couldn't get back in the groove," The Chronicle of the Horse reported. "He was riding badly, his horses weren't at their best, and he just couldn't seem to find clear rounds, no matter how high the jumps stood."
Fortunately, Karl stuck with the sport. "It sounds silly, but I didn't know how to do anything else," he told the publication. "I really didn't want to go to school, so it was either that and be very unhappy, or really get after riding."
And that he did, largely under the supervision of his new trainer Eric Navet of France. Per The Chronicle of the Horse, this meant "rebuilding [Karl's] program from the ground up," and although it took a lot of hard work, his career success indicates it was well worth it.
2. He's Not the Only Rider in the Family: Karl's mother Signe Ostby is a rider herself and the owner of several of the horses on which he competes. The family's stallions are the creme de la creme and used as studs in Pomponio Ranch's breeding program.
Kaley would likely get along well with Karl's mom and his sister, Annie Laurie Cook, who has also ridden on the competitive level.
3. He's Also Not the Only Big Deal in the Family: According to Forbes' estimates, Karl's father Scott Cook has a net worth of around $2 billion (yes, with a "B.") He founded tax software firm Intuit in 1983--you're probably familiar with the company's QuickBooks and TurboTax programs, which are reportedly used by more than 37 million people around the world.
Mom Signe is quite the entrepreneur herself. Per her University of Wisconsin-Madison bio (she's a co-founder of Wisconsin School of Business' Center for Brand and Product Management), she launched her software startup in 1982 and later launched a marketing strategy consulting practice and worked for companies including Apple, IBM, HP, Radio Shack and more.
4. He's Artistic (Just Like Kaley): In a 2010 interview with Phelps Sports, Karl opened up about his interests outside of the sport, saying, "I enjoy photography and whenever I take a trip anywhere I usually take my camera with me. I am also into making bowls, cups, tables and many other things on a wood lathe. I call it 'lazy turning.' Instead of having to move a carving tool around and care into wood I just sit there and hold a tool under the wood as the machine turns the wood."
5. He Might Already Have the Perfect Last Name: Everyone knows Kaley's dog Norman is the love of her life. Her Instagram handle (@normancook) is in honor of her beloved pup, whose name at least appears to be Cook (rather than Cuoco). Cuoco is also Italian for cook (as in chef), so even if the dog is Norman Cuoco, Norman Cook still has some significance and a nice ring to it. 
We're not marriage-minded just yet, but if Karl has a place in Kaley's future, it'd be nice if he already had the same last name as Norman. Just sayin'.