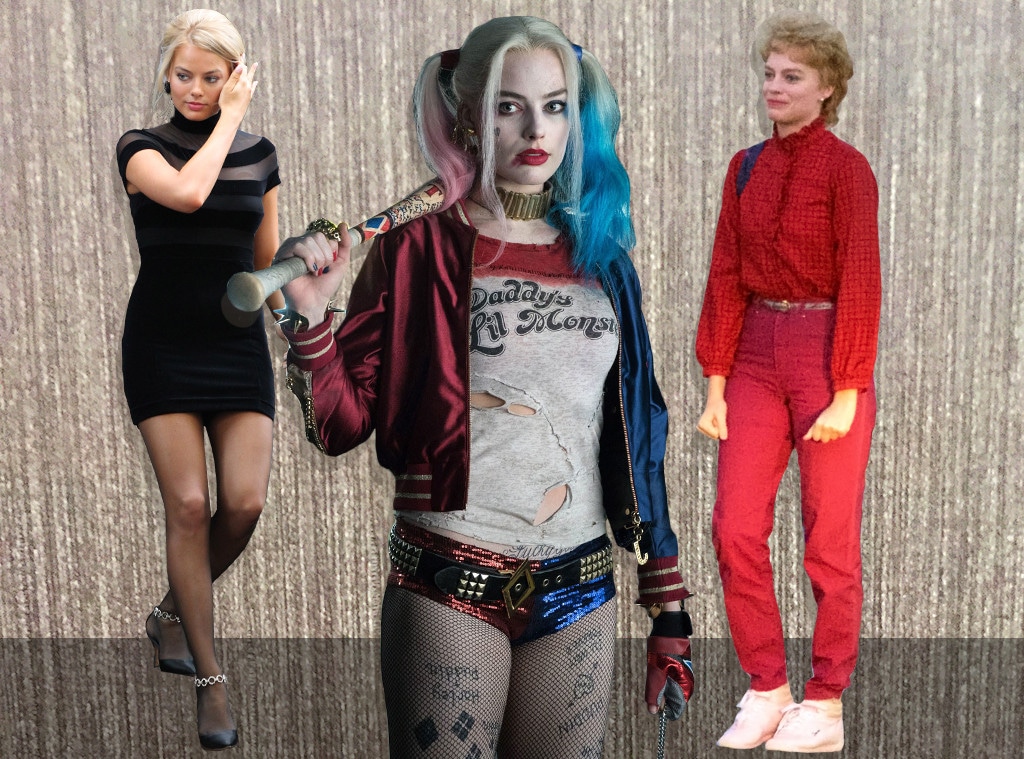 Warner Bros. Pictures; Splash News; AKM-GSI
There are some stars who look the same every time they hit their mark on the silver screen. Margot Robbie is not one of them. 
Instead, the 26-year-old welcomed a physical challenge early on in her career, shedding her Australian accent and piling on the diamonds and leopard print to play the "Duchess of Bay Ridge," Naomi Lapaglia, in The Wolf of Wall Street, complete with a thick, classic Brooklyn accent. 
"I kind of do things all or nothing," she told Good Morning America's Lara Spencer of the role in 2013. "It's a really fun accent to do and it's actually easier to do coming from an Australian accent." 
Despite any claimed ease, Robbie's portrayal was so convincing, new fans hardly sensed Robbie actually hails from Queensland, nearly 10,000 miles away from the Brooklyn Bridge. Meanwhile, though it wasn't the first role on her resumé, it did catapult her to blockbuster stardom alongside the likes of Leonardo DiCaprio and director Martin Scorsese.
Suddenly, people all over the world knew Margot's name. However, she wasn't interested in fans gawking over her classic Hollywood looks. 
"I want to keep looking for roles where the main interest will be in the character and her importance in driving a story forward rather than her relationship with a male character," she said in an interview with Woman's Day. 
Fast forward just a few years later and Robbie was ready to perform another personal vanishing act for the role of Harley Quinn in Suicide Squad. 
Donning multicolored pigtails, smeared makeup, chipped nail polish and a ratty ripped t-shirt emblazoned with "Daddy's Lil Monster," she had brought the bat-toting maniacal comic book character to life. Soon, Quinn's signature "puddin'" became an accepted term of endearment while Halloween stores filled their aisles with matching versions of the get-up. Robbie had successfully turned the gritty femme fatale with a crooked love life into somewhat of a style heroine and inspired a spin-off in the process. However, it wasn't all criminal fun and games. 
"The worst thing were the gold bangles. They had spikes on them, and I'd always stab myself," she told The Washington Post. "I hated them."
Now, the star is playing yet another blond, but with a look all her own—Tonya Harding. To portray the infamous Olympic figure skater for the upcoming biopic, I, Tonya, Robbie has been spotted sporting facial prosthetics, a body suit and a series of hairstyles selected to mirror the athlete's signature '90s locks. Meanwhile, the photos have fans doing double takes as they search for remnants of the actress under the look. 
While the film is still underway and not slated to hit screens until at least 2018, Robbie's flair for metamorphosis has us wondering—will her talent to transform ultimately win her acting gold? We'll just have to wait a year to find out.