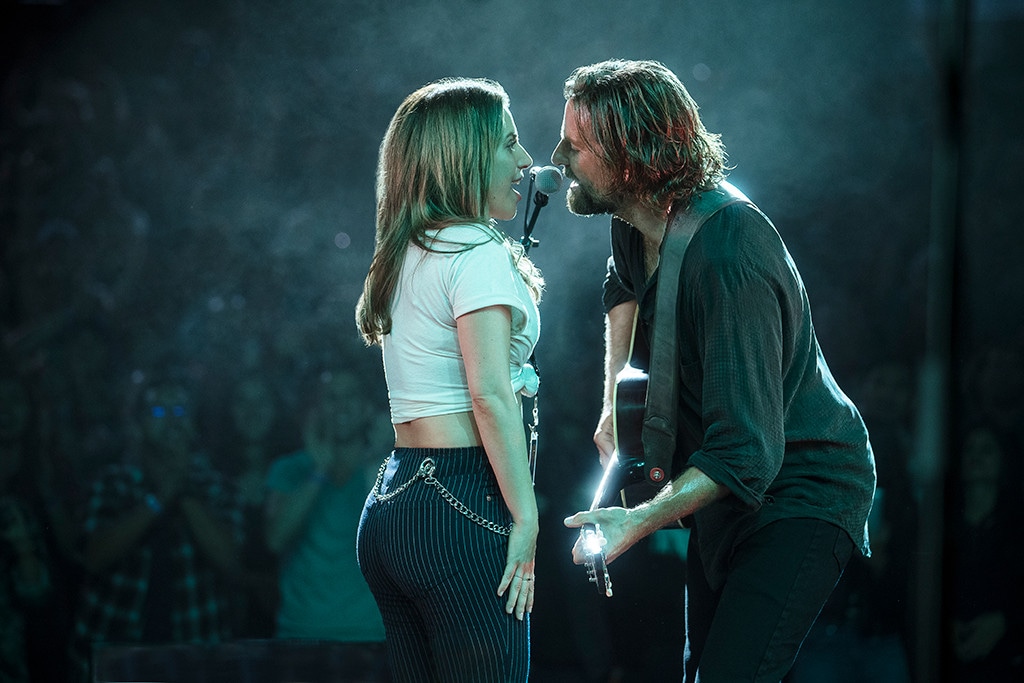 Clay Enos/Warner Bros.
When a star successfully belts it out on the silver screen, they might as well prepare their Golden Globes speech. 
After more than seven decades, the annual awards ceremony continues to honor the Hollywood risk-takers who test their professional fate with a movie musical. While projects in the genre are not frequent nor guaranteed hits, when stars hit all the right notes with their cinematic song and dance, the Hollywood Foreign Press Association notices and honors them accordingly, many for the first time in their careers. 
With 2016's standout musical comedy, La La Land, racking up countless accolades, including seven Golden Globe nominations at the 74th annual show, the industry had its eyes glued to the film's leads Emma Stone and Ryan Gosling, both of whom had not yet won a statue in their lengthy careers. Lo and behold, when it came time to announce the winners for Best Actress and Actor in a Musical or Comedy, their names were called and they exited The Beverly Hilton as first-time victors. 
Such may be the case for Bradley Cooper, a longtime actor who has been nominated twice for a Golden Globe in years past. As award buzz builds around his latest project, A Star Is Born—for which he directed, produced, co-wrote, acted and sang—one must beg the question: will this be the role that lands him the statue? After all, he picked up the microphone for the first time.
"It's so hard to sing," he previously told Ellen DeGeneres. "I've really been awakened to the phenomenon of singing. I just hope I can be believable enough so that you can watch [Lady Gaga] just shine because she's incredible."
His performance certainly got her seal of approval. "He sings from his soul. He sings from his gut," the pop icon has previously said. "There are people who can do many acrobatics with their voice, but to tell a story with his voice is a different animal."
If the following silver screen history of his successful musical predecessors is any further proof, it may just be a few more months until we're calling him a Golden Globe winner, too.
Dreamworks / Paramount Pictures
When Jennifer Hudson turned viewers to tears with her heart-wrenching performance in Dreamgirls, she was a relative Hollywood unknown with not a single award nomination to her name. She ultimately swept the awards season that year, including a Golden Globe statue along with her co-star Eddie Murphy. It was also the first and only Golden Globe win for the comedian thus far. 
"I have always dreamed, but never, ever this big," a stunned Hudson said during her acceptance speech. "This goes far beyond anything I could have ever imagined." 
Renée Zellweger was equally shocked when she landed the Golden Globe for Best Actress as Roxie Hart in Chicago. "I don't believe this! Probably not as much as my brother doesn't believe this. He used to yell, 'Shut up' down the hall and slam the door when I tried to sing Paul McCartney. How about that, brother Drew!" she quipped at the podium. 
She wasn't the only one to reap success from a standout performance in the film adaptation. Co-star Richard Gere also won the Golden Globe for Best Actor while Catherine Zeta-Jones, John C. Reilly and Queen Latifah racked up nods, Latifah for the first time since her start in show business. 
The trend continues with the cast of 2012's Les Misérables, which collected four nominations and wins for lead Hugh Jackman and supporting Anne Hathaway. It was the first time both stars ever took home a statue. 
Despite criticism for her casting in the 1996 film adaptation of Evita, Madonna proved her naysayers wrong when she also walked away with her first and only Golden Globe in an acting category. "I felt like the movie was a chance for me to basically challenge myself in all areas of my career—singing, dancing and finally, acting," she told Dick Clark in a post-win interview. 
Unlike the pop star, Nicole Kidman was hardly considered a professional singer when she took on the role of Satine in the 2001 Moulin Rouge! That quickly changed. 
"This is really, really special because I never thought I would be in a musical, let alone win an award for one," she admitted at the podium upon accepting her statue for Best Actress.   
Still, perhaps the most significant testament to the power of a musical job well done at the Golden Globes is Julie Andrews. The Hollywood icon has won the award three times thus far in her career—all for performances in movie musicals. 
(Originally published January 4, 2017 at 1:51 p.m. PST)