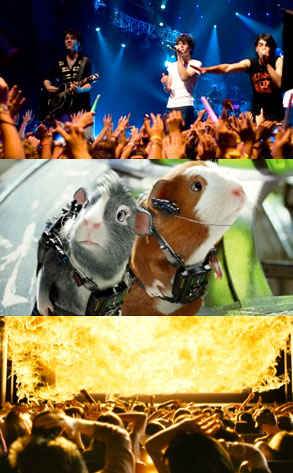 Disney, Lionsgate
What's with all these 3-D movies? I don't care if a movie is in 3-D. Does anybody?
—Darwin, Tennessee
You may not care right now, but what if I tell you that—seriously, hold on to your promise rings for this one—the Jonas Brothers are slated to appear in all three dimensions for a concert movie set for release on Feb. 27?
I know, right?!
This really is the year for digital 3-D, with tons of flicks out or on their way, including Coraline, G-Force, a rerelease of Toy Story and James Cameron's Avatar. Oh, and Steven Spielberg just started production on the 3-D ordeal The Adventures of Tintin: Secret of the Unicorn, due out in 2011.
Truth is, though, it's too soon to say whether adding a dimension to movies is going to make a difference to anyone. Here's how I know...